Hoya (Pentax):
"Net sales were up 1.5% to 108,449 million yen year-on-year, and operating income rose 4.7% to19,897 million yen. Net income was up 12.0% to 13,210 million yen, and earnings per share were 30.62 yen compared with27.24 yen in the same period last year.

The profit of the camera business also exceeded our expectations this quarter due to the channel consolidation and focused promotion of new SLR cameras; K-5 and K-r."
"Samsung's Digital Media businesses, which encompass Visual Display, Digital Appliances, IT Solutions, and Digital Imaging, posted quarterly revenues of 15.97 trillion won for the October to December period, up 3 percent year-on-year. The businesses registered a loss of 0.17 trillion won despite improved performance in TV and IT products. For the full year 2010, the Digital Media businesses' combined revenue totaled 57.26 trillion, up 12 percent from 2009, with an operating profit of 0.49 trillion won."
Fuji: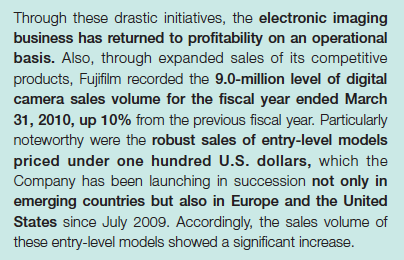 Sony:
"Operating profit at the main Consumer, Professional and Devices Group, the division that makes TVs, Cyber-shot cameras and semiconductors, fell 47 percent to 26.8 billion yen, about a third less than the median analyst estimate. Revenue gained 4.2 percent to 1.09 trillion yen."
After Kodak's fourth quarter profit dropped 95% there are rumors that Kodak may completely pull out of the camera manufacturing business.
Leica reported record profits sales in third quarter of fiscal year 2010/2011.
Nikon's sales are up, income is down – they sold more cameras and lenses than initially expected.