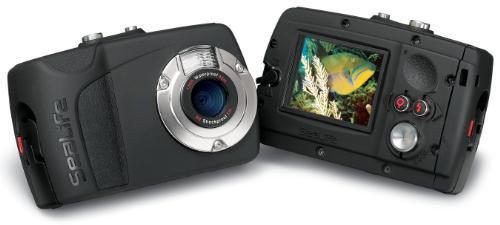 SeaLife will introduce a new Mini II underwater camera in March of 2011. The camera will be waterproof up to 130ft (40m) and will cost $259.95. The camera has also an unbreakable, ruggedized, crushproof body as you can see in the next picture:
MOORESTOWN, N.J., Feb. 15, 2011 /PRNewswire/ — SeaLife, the world-leader in underwater photographic equipment, has introduced its revolutionary 9-megapixel go-anywhere Mini II Dive & Sport digital camera to capture all of your great underwater and outdoor adventures. With its new intuitive interface, the Mini II makes it easy to capture life's most exhilarating moments in the most punishing environments.
The exceptionally rugged Mini II is truly amphibious, bringing an end to the days of protecting your camera from the elements with plastic bags and hard cases. Waterproof and shockproof, the Mini II has been tested and guaranteed to operate underwater at depths down to 130 feet—without an external housing—and in addition to ensuring a sure grip, rubber armoring has provided for flawless operation after extensive 6-foot drop testing. Under the armoring is an unbreakable ruggedized body that makes the Mini II virtually crushproof.
The Mini II's new underwater modes are easy to use and eliminate the common blue hues of images taken underwater. The Land Auto mode automatically controls exposure and internal flash. The Sea Mode brightens up the exposure while eliminating the "blue effect," and the Snorkel Mode controls exposure and color correction in shallow-water settings. An External Flash Mode allows for the integration of an external strobe to further enhance color and image brightness underwater.
An Easy Set-Up Mode provides a 1-2-3 graphic guide on its large 2.4-inch color LCD screen, taking the guesswork out of camera setup. The Mini II also features a 30-frames-per-second Video Mode with sound. A Spy Mode also allows the user to program the camera to automatically shoot continuous strings of images at pre-set intervals, making it perfect for capturing images of wildlife, sealife or other subjects that get scared off by people. When the camera is in Spy mode, aim it at the desired scene, push the shutter button and the camera will do all the shooting. This mode has helped capture close up images of foxes, birds, and underwater eels.
Wherever your adventures lead you—orienteering through Costa Rican rainforests, climbing Washington's Cascades, paddling West Virginia Class-V whitewater, snorkeling with stingrays of Grand Cayman, skiing the Alps, diving in the Great Barrier Reef, hunting hippopotamus in Botswana, or simply fishing your local stream, SeaLife's new Mini II will be there to record every moment. It's simply the most versatile camera on land and sea.
Powered by two AAA batteries, the Mini II accepts SD and SDHC storage cards up to 8 GB. It is expandable with popular SeaLife accessories including the Digital Pro Flash, Photo-Video Light and Mini Wide Angle Lens. The suggested retail price of the Mini II is $259.95.
For more than 25 years, Pioneer Research has created the worlds' most popular underwater cameras. Pioneer developed SeaLife Cameras in 1993, as a new breed of cameras that made it easier and more enjoyable then ever before to take pictures underwater. In 2000, SeaLife pioneered underwater imaging with the introduction of its first digital camera that revolutionized the industry. Today, SeaLife offers a wide array of popular underwater digital cameras, as well as underwater camera lights, strobes and accessories. For additional information on SeaLife, visit www.sealife-cameras.com, or write to SeaLife, 97 Foster Road, Suite 5, Moorestown, NJ 08057.
SeaLife Mini II Specifications:
Image Sensor:
9.0 megapixel
Waterproof:
130ft (40m)
Shockproof:
6ft (2m)
Color:
24-bit (RGB)
Image Resolution:
9mp (3472×2604)
Picture File Format:
JPEG
Movie Resolution:
VGA (640×480 at 30 frames per second)
Video File Format:
MJPEG (.avi)
Lens Aperture:
f3.0
Focal Length:
7.9mm (film equivalent: 45mm)
Focus Type:
Instant fixed-focus lens (from 2 feet to infinity)
Zoom:
3X digital
Shutter Speed:
Land: 1 to 1/2000 sec., UW: 1/60 to 1/2000 sec.
Flash Modes:
Auto, Fill, Off, Red-Eye Reduction
Shooting Modes:
Single, Spy
LCD:
2.4-inch color LTPS TFT LCD
Memory:
Internal: 28 MB, External: up to 8 GB SD or SDHC card
Power:
AAA battery x2
Battery Life:
Approx. 100 images w/Alkaline, 500 w/Energizer Ultimate
Tripod Mount:
Standard 1/4-20 thread
Warranty
1-year limited