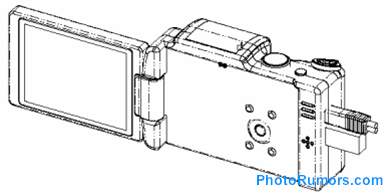 This is the drawing of the rumored Pentax RZ-18 Optio compact camera that was used either in a recent patent or a Trade Mark/Design office filing (I do not have any details on the origin of this image). I was expecting this camera to be announced at the CP+ show in Japan last month, but it seems that the new date will be around June 2011.
In addition to the RZ-18 Optio, Pentax is expected to release its new mirrorless NC-1 camera in May 2011.
The Pentax RZ-18 Optio is expected to be very small in size and should have a 3″ swivel LCD screen, 14MP sensor, 18X optical zoom (28-504mm) and a price tag of around $300.