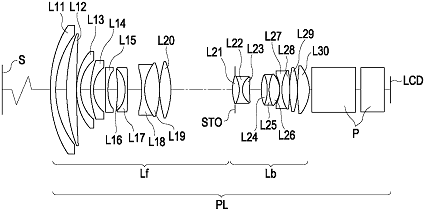 Patent details:
- Patent: 2011-65138
- Focal length: 11.1mm
- Aperture: 2.0
- Angle of view: 49.7°
- 3 aspherical surface
"We produced steady results, including the development of CMOS sensors with an ultra-high pixel density capable of capturing details invisible to the naked eye. We showcased some of our achievements at "Canon EXPO" events held in New York, Paris, and Tokyo from September through November, where we also introduced our future vision with our imaging technology and products. Many who attended these events expressed praise and high expectations for that vision."