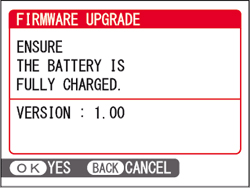 As previously reported, FujiFilm released the first firmware 1.01 update for the X100 camera today. There seems to be only one minor fix in this update, but there are already speculations online about other "hidden" fixes:
If the images are shot with ISO Bracketing mode when "QUICK START MODE"(*1) is set to "ON" and turn off the camera,the camera cannot be turned on again even with ordinary operation.
Fuji X100 won the TIPA Best Premium Camera award for 2011 (no surprise here).