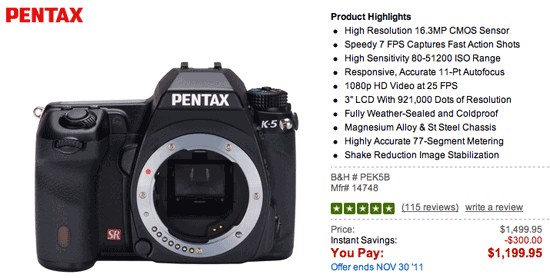 Pentax just announced a new rebate and a price drop for their K-5 model valid till November 30, 2011. Maybe there is a new model coming out?
This is Adorama's version of the rebate (with $100 worth of free goods: 8GB SD memory card, spare DL-I90 battery, slinger camera bag, digital memory case):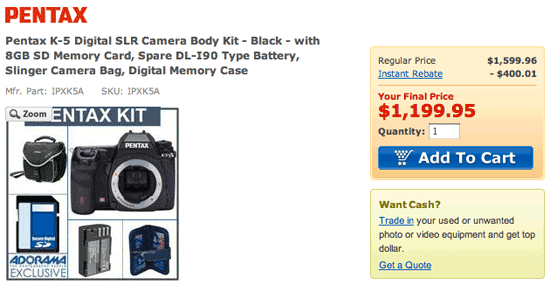 PENTAX ANNOUNCES PRICE REDUCTION AND TEMPORARY INSTANT REBATE ON K-5 DIGITAL SLR: Combined Savings Total $400 USD
GOLDEN, CO.  (September 1, 2011)…PENTAX Imaging Company has announced a price reduction on the PENTAX K-5 Digital SLR.  Effective today, the price of the K-5 has dropped $100.00 USD to $1499.95 USD (body only) and to $1,649.95 USD (for the K-5 lens kit w DA 18-55 WR lens).  In addition, from now until November 30, 2011, a $300.00 instant rebate is in effect on any qualifying purchase of either kit configuration.  The combined savings brings the K-5 to $1199.95* (body only) and $1,349.95* (for K-5 lens kit w DA 18-55 WR lens).
* While the price reduction is permanent, the instant rebate is valid only for a limited time for purchases made on either K-5  camera configuration from now until November 30, 2011.
PENTAX INSTANT REBATE PROGRAMS offer several consumer advantages, including no need to submit or track claims or wait several weeks for a rebate check.  More information about the program, the products and where to buy is available at: http://www.pentaximaging.com/slr/K-5/
First announced in September 2010, the K-5 features:
•    A high resolution 16.3 megapixel CMOS sensor with integrated AD conversion circuitry.
•    High sensitivity 80-51200 ISO range with improved noise performance.
•    Speedy 7 FPS captures fast action shots.
•    Highly responsive and accurate 11 point SAFOX IX+ autofocus system with dedicated AF assist lamp and light wavelength sensor.
•    Widescreen 1080p HD video at 25 FPS, with sound via built-in or external 3.5mm stereo microphone jack.
•    Large 3 inch LCD with 921,000 dots of resolution.
•    Fully weather sealed and coldproof design.
•    Durable magnesium alloy covers surround a rugged stainless steel chassis.
•    Highly accurate 77 segment metering system.
•    Pentaprism viewfinder with 100% field of view and 0.92X magnification.
•    PENTAX body-based Shake Reduction (SR) stabilization system.
•    A maximum 1/8000 second shutter speed.
•    HDMI port outputs high definition images and video (and sound).
•    Native support for both PENTAX PEF and Adobe DNG 14 bit RAW files.
•    Improved in-camera HDR image capture.
•    A wide range of in-camera image processing and special effects filters.
•    Customizable RAW/Fx button.
•    Built-in electronic level with tilt scale display.