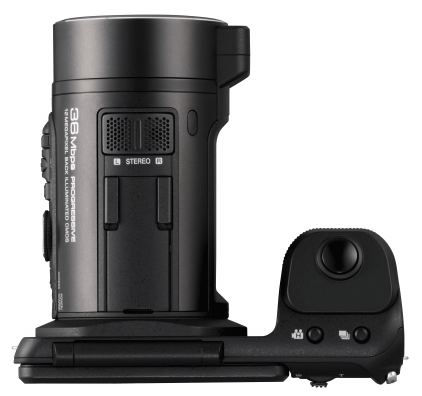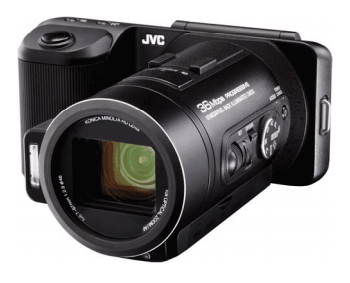 At the begining of 2011, JVC announced a new hybrid still and video digital camera and at the IFA show in Berlin yesterday they introduce a second version of this model, the GC-PX10:
"GC-PX10 allows you to capture scenes and discover what's really there — through high-resolution digital stills at 60 frames per second, or progressive Full HD videos from which you can grab the best frame as a digital still, or with 300 fps high-speed recording to slow the action down and see what you've been missing."
Toronto, Canada, September 1st, 2011 -JVC (Victor Company of Japan, Limited) is launching the new GC-PX10 digital memory camera to select markets around the world. This camera is capable of satisfying users both in terms of digital still photography and video recording, and offers unique advantages of being a "hybrid" camera. In addition to being able to take 12 Megapixel stills and Full HD video with a single camera, it also lets users capture pristine stills from video. Since video is recorded in progressive format, with an amazingly fast 36 Mbps sampling rate to enable the intake of larger amounts of visual data, each frame of video is a crystal clear still image without blur. Adding to its appeal are consecutive still shooting at 60 shots per second, as well as high-speed video shooting at 300 frames per second to yield super-slow motion footage. Its design emphasizes stable shooting of both still and moving images, thus featuring an "L" shape similar to SLR cameras (but with much less bulk) to encourage two-handed holding.
GC-PX10 was created based on a single premise — that beautiful video consists of a series of beautiful still images. This camera succeeds in putting both beautiful moving and still images into the hands of virtually anyone. Video is Full HD 1920 x 1080, but more importantly, Progressive recording means each individual frame offers complete visual information unlike interlace in which each frame only includes half the visual information. And since the sampling rate is an extremely fast 36 Mbps, the visual information included in each frame is extremely clear and detailed. What this means for the user is that he or she can shoot hours of video and later go back to pick out any moment and save it as a high quality still image — just by pressing a button. With this function, anybody can take impressive "hero shots" that would otherwise be missed, like ensuring a return on your investment.
Of course, the camera allows digital still shooting in real time also, with up to 12 Megapixel resolution (4000 x 3000). An ISO6400 mode is available for increased sensitivity when shooting in dark environments. Rapid-fire still shooting is also possible (3840 x 2160), at 60 shots per second, up to 130 shots total per burst. This actually surpasses the capabilities of other Digital SLR cameras currently on the market.
Super-slow motion is an effective tool for analyzing form and technique of athletes. GC-PX10 can shoot video at 300 frames per second, which when played back, slows movement down to 5-times normal speed. Image resolution is VGA (640 x 360), making it more than sufficient for online posting and viewing. But more importantly, this camera allows this mode to be used for up to approximately 2 hours straight. So, to offer an extreme example, it's possible to record an entire soccer game in super-slow motion.
Key to all of this visual capability is JVC's high-speed imaging engine, FALCONBRID. This JVC-original processor was released in December 2010 and has since been featured as the core technology in JVC's 3D camcorder GS-TD1, as well as the latest Everio lineup. In terms of performance, FALCONBRID is a next-generation ready 1-chip technology that's actually capable of processing 4K2K images. As such, it is readily able to handle the high-speed processing of both high-resolution moving and still images required for GC-PX10. Other support technologies that went into the GC-PX10 include the 1/2.3" 12.75 Megapixel Back-Illuminated CMOS sensor, Optical Image Stabilization with Advanced Image Stabilizer function, KONICA MINOLTA HD LENS, 19x Dynamic Zoom* with no image degradation when zoomed, K2 technology for high quality sound, 32GB internal memory, tiltable 3" Touch Panel monitor, HDMI output, and bundled LoiLoScope FX software (for Windows®). GC-PX10 is scheduled for launch in September.