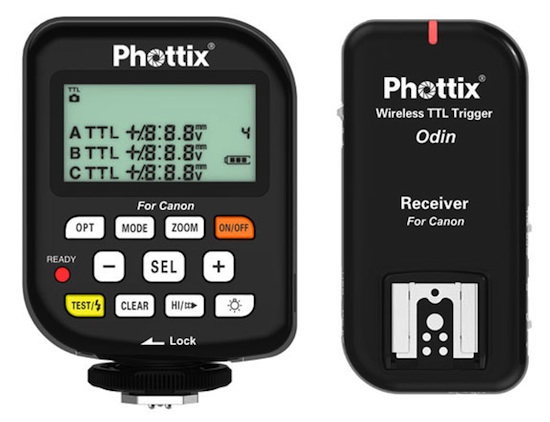 Phottix teaser from few days ago was for their Odin TTL flash trigger (Canon version) – it will start shipping next week.
PRODUCT DESCRIPTION
Phottix is proud to announce the availability of a revolutionary new product: The Phottix Odin TTL Flash Trigger for Canon.
What can the Odin do?
Photographers can wirelessly trigger TTL flashes, retaining full TTL functions, as well as remotely control power and flash zoom settings. Shooting with off-camera TTL flash has been made incredibly easy.
Say goodbye to manual mode, proprietary flash-based triggering, or setting values on your camera LCD – reliable wireless radio-based TTL triggering and remote power control is here.
Functions
Wireless 2.4GHz. TTL and Manual Flash Triggering
Remote power control of groups in TTL with +/- EV adjustments (3 stops in 1/3 stop increments  – 18 different levels.)
Mix TTL and Manual flash – fire some groups in TTL, others as manual.
Remote power control in A:B ratio modes with +/- EV adjustments
High speed sync – shutter speeds up to 1/8000 sec.
Second curtain sync functions
Remote manual mode flash power control
Remote flash head zoom adjustments – auto or manual
Compatible with Phottix Strato 4-in1 and Phottix Strato II Multi 5-in-1 Wireless Triggers.
Upgradeable via built-in USB ports.
What does the Odin offer?
The Phottix Odin TTL Trigger consists of an on-camera transmitter and control unit (TCU) and receiver units for compatible hot shoe flashes.
The Odin offers photographers four wireless channels and three flash control group designations. Flashes can be controlled in traditional Canon TTL ratio modes A:B with EV +/- adjustments of three stops.
What makes the Phottix Odin unique is the ability to designate groups in TTL/Mixed mode. Individual groups, A, B, C, can also be controlled in TTL mode with EV +/- adjustments. Groups can also be set to Manual mode, adjusting power levels remotely, or turned off.
Zooming ahead
Flash head zoom can be set to be dynamically adjusted as photographers adjust their lenses. Flash zoom can also be easily adjusted manually and set statically from 24 to 105 mm. The Phottix Odin system will also trigger compatible non-TTL flashes and studio strobes.
Compatible with the Phottix Strato series
The Phottix Odin TTL Flash Trigger for Canon is compatible with with Phottix Strato 4-in1 and Phottix Strato II Multi 5-in-1 Wireless Triggers. Current Phottix users will have no problem adding the Odin to their current triggering systems. As the world of cameras and flashes is always changing the Photix Odin system can be upgraded when needed using the built-in USB ports.
Specs and Pricing
The four-channel, 2.4 GHz, transmitter and receiver units work at ranges of more than 100 meters and accept AA batteries. Phottix Odin TTL Flash Trigger sets with a TCU and Receiver will be available, as will as individual receivers.
What's included:
Phottix Odin TCU Transmitter
Phottix Odin Receiver
4x AA Batteries
3.5mm to PC Sync Cable
3.5mm to 3.5mm cable
6.3mm adapter
USB Cable
Lanyard
Instructions CD
Technical Specifications
Frequency: 2.4 GHz
Distance: 100m+
Channels: 4 channels
Groups: 3 groups – A, B, C
Batteries: 2 x AA batteries (TCU and Receiver), 5V DC on receiver (external power port)
Max sync speed: 1/8000 sec*
Output: Hot shoe, 3.5 mm port (receiver)
Input: USB port (transmitter and receiver)
Attachment: 1/4 tripod lug, cold shoe (Receiver)
Input voltage:2.4-3.2V
Flash port voltage handling: 6V (transmitter)  ≤300V(receiver)
Body dimensions: 94(L) x 66(W) x 35(H) mm, (transmitter), 90(L) x 45(W) x 40(H) mm (receiver)
Weight: 105g (transmitter), 66g  (receiver) – without batteries
Operating temperature: -15—65 C
Storage temperature: -30—85 C
Compatible: Canon EOS Digital Cameras and Flashes. Some third party TTL flashes may function with the Phottix Odin. Due to the vast number of third party alternative Phottix will not test, support or troubleshoot third party flashes.