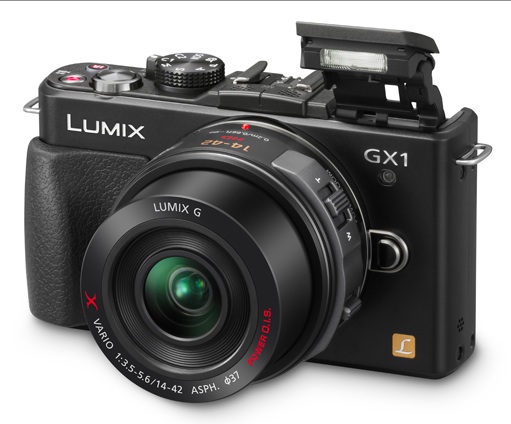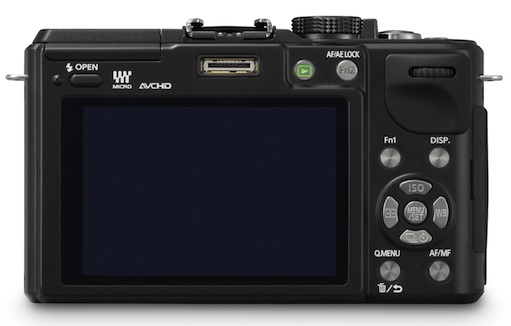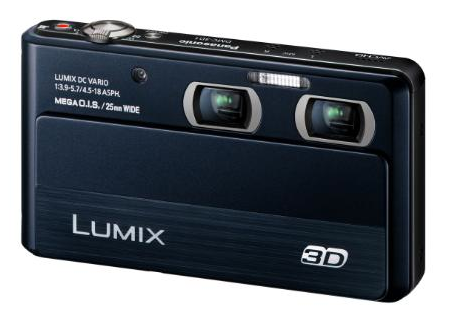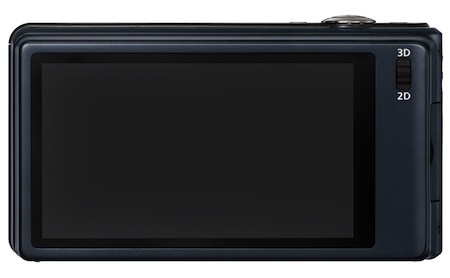 As previously reported, Panasonic announced their new Lumix DMC-GX1 and DMC-3D1 cameras. The Panasonic GX1 brochure will soon be available here. The GX1 is available for pre-order on Amazon for $699.99 (see all available options here). The Panasonic 3D1 camera costs $499.99.
Full press releases:
The LUMIX GX1 Finds the Perfect Balance of Size and Performance – Making it the Ideal 'Everyday' Digital Camera for Professionals and Photo Enthusiasts Alike
SECAUCUS, NJ (November 7, 2011) – Panasonic today announces its latest Compact System Camera (CSC), the LUMIX DMC-GX1, which joins Panasonic's award-winning LUMIX G Series of digital cameras, which are acclaimed for their high image quality with small and compact body and lenses.  The new LUMIX GX1 features a 16.01-megapixel Live MOS sensor and Venus Engine, helping to ensure real-to-life images through excellent resolution, image rendering and color reproduction.  Even in low-light situations and at maximum 12800 high ISO sensitivity, the LUMIX GX1 can produce stunning photos and videos, and because of its compact size it can be easily carried for daily use.
"Panasonic expects the LUMIX GX1 to please a lot of photo enthusiasts who have been eager for a technology upgrade comparable to the LUMIX DMC-GF1, which continues to be a very popular digital camera with dedicated followers who appreciate the compact size, yet high quality of photos and video," said Darin Pepple, Senior Product Manager, Imaging, Panasonic Consumer Electronics Company. "The LUMIX GX1 is an extremely flexible and capable digital camera with fast AF speeds and outstanding image quality.  Plus with a built-in flash and a hot shoe allowing for accessories like an external view finder, the GX1 is a powerful compact system camera that is small enough to be a photographer's everyday camera choice."
The LUMIX GX1, like all the models in Panasonic's LUMIX G Series of CSC, adopts Contrast AF for its focus system, so focusing is controlled by the image sensor.  When compared with the Phase difference system AF, Contrast AF achieves higher accuracy especially when shooting with a bright lens with small F value. For instance, the accuracy of Contrast AF is approximately 90% while Phase difference AF is approximately 60% at F1.4. Additionally, with the precise Contrast AF system, the LUMIX GX1 achieves high resolution through an optimal balance of resolution and noise reduction, thus producing lifelike image rendering and highly precise Auto Exposure and white balance. To further advance the Contrast AF, the LUMIX GX1 incorporates full-area focusing, making it possible to set focus on any point in the field of view. With the LUMIX GX1's 3.0-inch touch LCD screen, frame composition is intuitive and easy.
The LUMIX GX1 features an ultra high-speed Light Speed AF*, which means it can Auto Focus in approximately 0.09 second. This is achieved by reducing the detection time for focusing by the synchronizing the lens and sensor at 120 fps.  Plus, the newly-added focus mode AFF (AF Flexible) locks on the focus when the shutter button is half-pressed, however, if the subject moves, the focusing is reset to get the best results. Combined with the Touch AF control, setting and focusing on the subject is incredibly easy and quick.
The touch-control system of the LUMIX GX1 lets users set the focus on the subject by simply touching it on the large, 460,000-dot wide-viewing angle LCD.  Users can even release the shutter by touching the screen.  Once locked on the subject with a touch, the LUMIX GX1 tracks the subject, even when it moves, using the AF tracking function. With a touch on the screen, users can select the part and the size of the AF area, choosing from 1-area AF, Multi-area AF with 23 AF areas and Pinpoint AF, which allows extremely precise focus setting.
Despite its compact size, the LUMIX GX1 is extremely intuitive to operate, with an optimized layout of control buttons, a mode dial and dedicated function buttons. Users can customize the two external buttons and two menus tabs to settings they most frequently use so they are easily accessible.  In addition, a total of four custom setting patterns can be stored to the camera's model dial – one on 'C1' and three on 'C2.'  Furthermore, the LUMIX GX1 was designed to enhance its ergonomics, with a grip that fits naturally and comfortably in the hand, despite its flat profile and compact design.  Plus, the LUMIX GX1 has a more tactile texture and the mode dial is easy to turn and features print that is easy to read and won't easily wear.
The LUMIX GX1 can record 1920 x 1080 at 60i, with sensor output of 30p, full-High Definition videos in the AVCHD format which excels in both compression efficiency and compatibility with AV equipment for playback.  In addition to the practical full-time AF, the Touch AF in video recording also lets users enjoy professional-like rack focusing. Just by pointing at the subject, the focus is shifted so it stands out. With a dedicated video record button on the top, users can instantly start recording videos while shooting photos without any having to make any extra setting adjustments. Along with the full-HD video capabilities, the LUMIX GX1 also features high-quality sound, recorded with Dolby® Digital Stereo Creator. Videos can also be recorded in MP4 format for playback on a PC or other portable electronic devices without having to convert the files.
Other features of the new Panasonic LUMIX GX1 compact system camera include:
A new Level Gauge, which lets the camera detect the horizontal/vertical angle of view with its internal level working with the sensor. In addition, photos shot in portrait aspect will be automatically displayed vertically, regardless of which lens is used.
One Push AE adjusts exposure with a single press of the "Fn" (Function) button when it is over/under exposed, which is especially useful when shooting outdoors with open aperture or indoors with fast shutter speed.

 

Dust Reduction System helps to eliminate dust or foreign matter getting inside the LUMIX GX1 when lenses are being changed. By placing a supersonic wave filter in front of the Live MOS sensor that vibrates vertically around 50,000 times per second, the filter repels dust and other particles effectively.
Zoom operation can be controlled with touch control when either of Panasonic's new LUMIX X Power Zoom lenses are attached. And the zoom speed can also be adjusted in two steps for more precise control.
Popular iA and iA Plus modes for beginners looking for automatic shooting in both still and video modes.
Increased energy consumption and an approximately 11%** longer battery life when compared to the LUMIX DMC-G3, which also uses the same battery pack DMW-BLD10.
The LUMIX G Series is a robust system of bodies and lenses, featuring a total of 14 Micro Four Thirds lenses including the new power zoom X lens – standard zoom lens, telephoto zoom lens, single focal length lens, wide-angle lens, fish-eye lens, macro lens, and even a 3D lens – to fit a variety of shooting scenarios and occasions.
The Micro Four Thirds System products are joining today's Four Thirds System products to provide customers with even higher levels of performance in a digital interchangeable lens camera. In addition to LUMIX G lenses, the LUMIX DMC-GX1 can use any interchangeable lens that complies with the Four Thirds System standard via an optional mount adapter for the unlimited number of lens properties.  The LUMIX GX1 system camera offers a wide variety of options to choose from to match every shooting situation and shooting style, including: external flashes, PL filters, ND filters, MC protectors, remote shutter, zoom level, battery packs, AC adaptor, DC coupler, straps, cases, bags and more.   Plus, with the LUMIX GX1's hot shoe on the top, users can attach the optional tilt-shift Live View Finder (DMW-LVF2), with approximately 1.4x and 1,440,000-dot equivalent, 100% field of view.
The Panasonic LUMIX DMC-GX1 will be available in black and silver bodies in mid-December and in the following kit options: DMC-GX1-X with the LUMIX G X VARIO PZ 14-42mm / F3.5-5.6 ASPH. / POWER O.I.S (H-PS14042) lens will have a suggested retail price (SRP) of $949.99; the DMC-GX1-K with the 14-42 standard zoom for an SRP of $799.99; and the DMC-GX1, body only for an SRP of $699.99.
* The time for focusing on the subject is measured with LUMIX G X VARIO PZ 14-42mm / F3.5-5.6 ASPH. / POWER O.I.S (H-PS14042) to move the lens position to "2m" from the "infinity" position. The zoom is positioned at its widest end. Panasonic measurement method
**Based on a CIPA Standard.
New LUMIX 3D1 Digital Camera Features Twin-Lens Design for 3D Images, or to Shoot Video and Still Photos Simultaneously 
SECAUCUS, NJ (November 7, 2011) – Panasonic today announced the LUMIX DMC-3D1, a cutting-edge digital camera that employs two newly-developed lens units with folded optics design in a stunningly compact body that can capture crisp and clear 3D and 2D photos and videos.  The LUMIX 3D1, with a twin-lens design, features 25mm ultra-wide angle lenses with 4x optical zoom that offer the outstanding capability to record high resolution 8-megapixel 3D photo and 1920×1080 60i high quality 3D HD video using side-by-side method.  The LUMIX 3D1's optics give users a wider range of composition possibilities with approximately169% larger viewing space compared to that of 35mm cameras.
Featuring a unique shooting option, the new twin-lens system allows the LUMIX 3D1 to capture 2D images and video simultaneously. The LUMIX 3D1 can shoot 12-megapixel 2D photos and record 1920x1080i full HD 2D videos.  In conventional standard digital compact cameras, users must shoot in either photo or video mode and when photo mode is selected, video recording is interrupted.  The twin-lens design of the LUMIX 3D1 breaks through these conventional barriers with two separate mechanisms for image capturing, allowing for dual shooting capabilities.  Additionally, the two-lens design allows users to record photo or video in different angles of view simultaneously.  For example, users can record an entire party scene with one lens while zooming in on and capturing the photo of a specific person with another lens. Users can easily switch between 2D and 3D mode with the dedicated 2D/3D switch conveniently located on the back of the camera.
"Panasonic continues to lead the industry in 3D entertainment, giving consumers the opportunity to create their own content and then view it within their homes, and the new LUMIX 3D1 is an innovative digital camera that excels with its 3D imaging technologies, but also offers outstanding 2D photo capture options," said Darin Pepple, Senior Product Manager, Imaging, Panasonic Consumer Electronics Company. "With its twin-lens design, the LUMIX 3D1 can even shoot HD video through one lens and 2D photos from the other – thus getting still and moving content simultaneously, a unique shooting feature which Panasonic provides so users can stretch their creativity."
The 12-megapixel High Sensitivity MOS sensor and the Venus Engine allow the LUMIX 3D1 to achieve high-quality images and easily process image sensitivity and speed. Multi-process Noise Reduction applies optimal noise reduction according to the brightness of different areas of an image, thus creating crisp and beautiful photos and videos. Both high frequency noise that occurs in the dark area, and low frequency noise in the light are of a photo are suppressed even though occurring simultaneously in a photo. As a result, images recorded in low-light situations are dramatically clear, even when recorded at a high ISO setting.
The LUMIX 3D1 boasts extremely fast consecutive shots at 8 fps (without auto focusing) and 4 fps (with auto focusing) in full resolution.  Utilizing quad-CPUs the Venus Engine processes large amounts of 1920x1080i Full-HD data at high speeds in either AVCHD or MP4 formats.  Although using two sets of lens units and sensors, energy consumption of Venus Engine stays minimized to maintain the camera's battery life for as long as that of a single lens compact digital camera.
Though the LUMIX 3D1 utilizes advanced functions to shoot exciting 3D and 2D content, it is easy enough for anyone to shoot beautiful 2D photo and videos using iA (Intelligent Auto) mode.  iA mode combines a suite of functions to help users achieve the perfect shots, including: MEGA O.I.S, AF Tracking, Intelligent Scene Selector, Face Recognition and Intelligent ISO Control, Intelligent Exposure and Intelligent Handheld Nightshot, which generates beautiful night scenery with illumination by layering multiple images shot consecutively, allowing bright, glamorous night scenery to be recorded without using a tripod. The LUMIX 3D1 features a large 3.5-inch Smart Touch screen on the camera's back which allows users to easily move through camera functions and recorded photos and videos.
The Panasonic LUMIX DMC-3D1 will be available in December 2011 for a suggested retail price of $499.99. For more information, please visit www.panasonic.com/lumix.