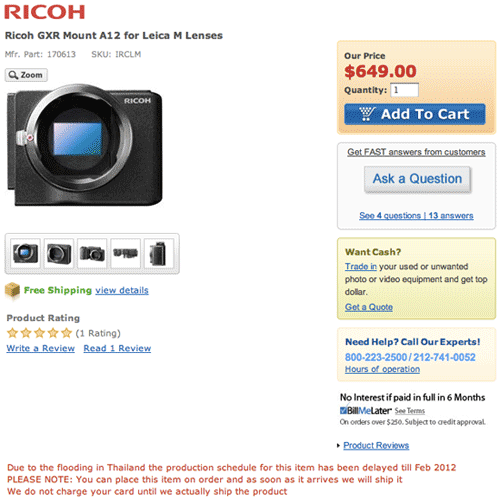 In addition to Sony and Nikon, Ricoh will also delay the GXR A12 unit (Leica M mount) as a result of the flood in Thailand. This is what Adorama published on their website:
"Due to the flooding in Thailand the production schedule for this item has been delayed till Feb 2012.

PLEASE NOTE: You can place this item on order and as soon as it arrives we will ship it
We do not charge your card until we actually ship the product."
Update - here is a quote from the PEN weekly newsletter:
"Ricoh announced the flood in Thailand brought short supply of its M-mount units for Ricoh GXR including the GXR MOUNT A12. While the firm is not producing the digital cameras in Thailand, the flood is affecting the facilities to which Ricoh practically commissioned production or purchases products from."