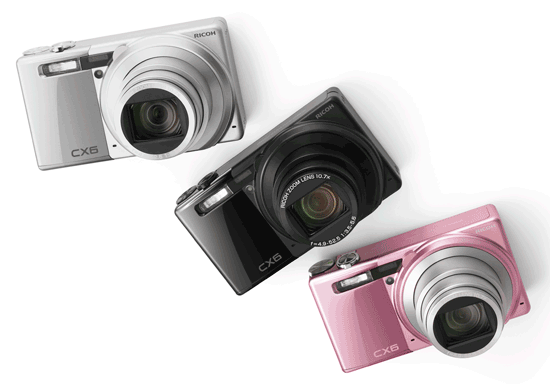 Ricoh announces the CX6 compact digital camera featuring high-speed autofocus as fast as 0.1 seconds and zoom assist monitor for easier telephoto photography:
Tokyo, Japan, November 15, 2011—Ricoh Co., Ltd. (president and CEO: Shiro Kondo) today announced the development and release of the CX6, a new digital camera featuring a high magnification 10.7x (28-300 mm) optical wide-angle zoom lens that achieves even shorter autofocus (AF) times through the introduction of a new AF system.
With the adoption of a new system enhancing both the hardware and software of the hybrid AF system introduced on the CX5, the new CX6 achieves AF focusing times as fast as 0.1 seconds. You will be sure to capture that fleeting shutter chance.
The high-brightness LCD monitor is approximately 1.7 times brighter than the previous model for better visibility outdoors. The CX6 also adds a function for automatic adjustment of brightness based on the level of brightness of the subject, and this make it possible to minimize the loss of visibility that can occur due to changes in the shooting environment. In addition, for telephoto shooting, the new zoom assist monitor function displays a small image on the LCD monitor so that you can always check the framing of the shot.
The new aperture/shutter-speed priority modes enable you to more richly express the atmosphere of the subject, and the snap movie function lets you more easily enjoy shooting movies. A release button especially for movies has also been added, and a wider range of functions (autofocus, zoom, etc.) are available for movie shooting.
The CX6 compact digital camera takes the design concept of "A tool you will want to use every day" another step forward. Available in three colors: Black, Silver, and Pink.
– – – –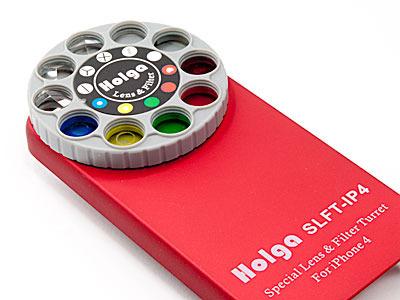 New: Holga iPhone lens filter kit SLFT-IP4 (link)
Holga have now decided to cast a little of the photography magic on the iPhone world with this awesome special effect lens kit. Simple to install this kit slips onto an iPhone 4 or 4S just like a case. But a case with a difference! Once fitted you now have access to 9 different and crazy special effects and filters without any software or app installed. Cunningly designed like an old school telephone just dial in your preferred special effect and behold the Holga craziness that follows! This Holga Kit is available in a choice of Red, Blue, White, Black or Silver.
– – – –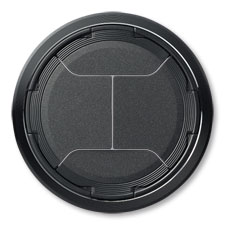 DSLR Brand Share:
| | | |
| --- | --- | --- |
| Rank | Brand | Share |
| 1 | Canon | 43.7% |
| 2 | Nikon | 41.4% |
| 3 | Pentax | 7.3% |
| 4 | Others | 7.6% |
| | Total: | 100% |
ILDC (Mirrorless) Brand Share:
| | | |
| --- | --- | --- |
| Rank | Brand | Share |
| 1 | Olympus | 37.1% |
| 2 | Panasonic | 29.5% |
| 3 | Sony | 29.3% |
| 4 | Others | 4.1% |
| | Total: | 100% |