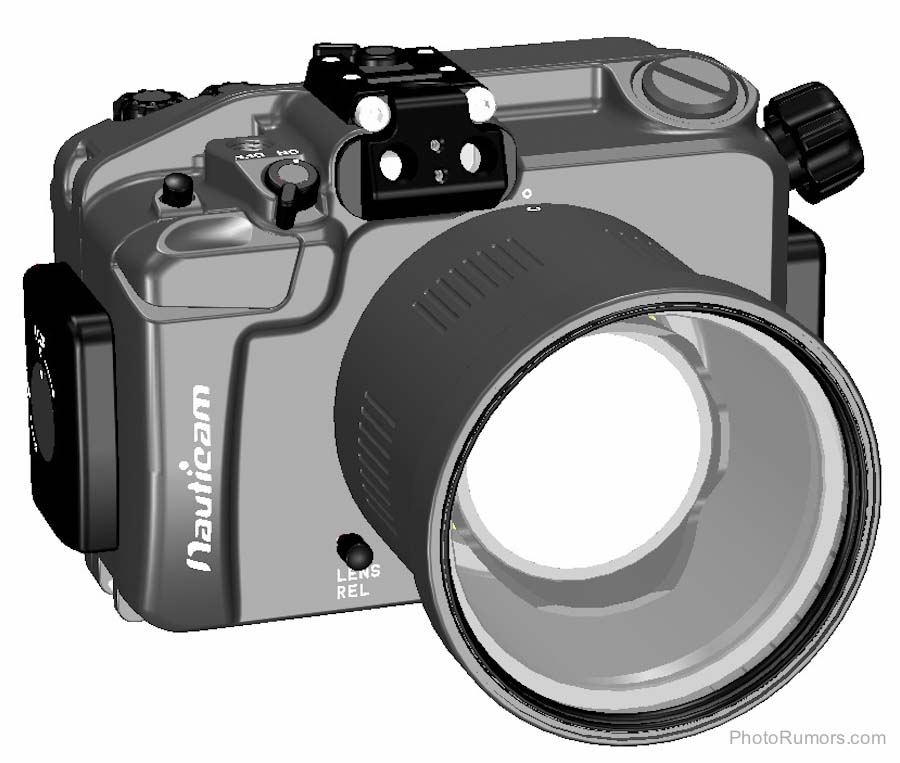 Nauticam announced the NA-NEX7 housing for Sony's top of the line mirror-less interchangeable lens camera, the Sony Alpha NEX-7 ($1,199.99). Nauticam's leadership in the Alpha NEX arena continues as it brings the first NEX-7 underwater housing to market. With DSLR quality imaging and performance packed into a housing that is small enough to take anywhere, NEX-7 is now ready to explore the depths.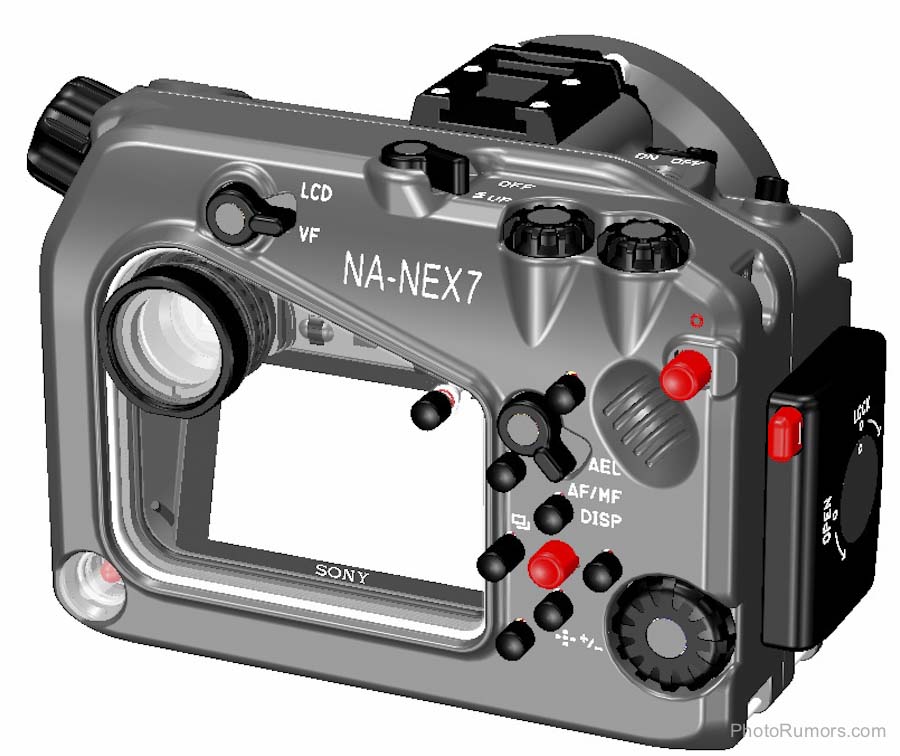 The Sony Alpha NEX-7 expands the Alpha NEX lineup by adding features and performance worthy of enthusiasts and professionals alike. Specification-wise, the NEX-7 might be closer to Sony's flagship DSLR, the A77, but the body size is only slightly larger than the NEX-5N.
With a new 24 Megapixel CMOS APS-C sized sensor, ultra fast performance, new three dial user interface, built-in flash, magnesium alloy body, 190K dot LCD and stunning 2.4M dot electronic OLED viewfinder (EVF), NEX-7 is a photographic dynamo. Of course the basics are there as well, including RAW shooting, manual exposure, and automatic flash exposure compensation (TTL), even in manual shooting mode.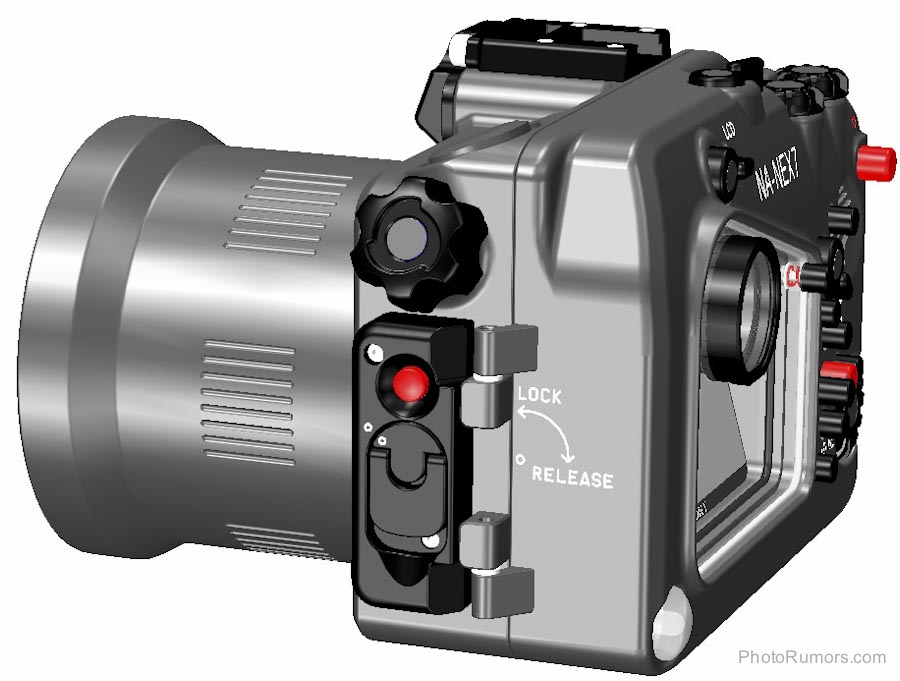 The camera is packed with additional features, including built-in High Dynamic Range (HDR) mode, sweep panorama, anti-motion blur, articulating LCD, HDMI output, burst mode, custom white balance, Creative Style, Picture Effects, and more. Lens compensation (for chromatic aberration, distortion and vignetting) is built in. Battery life is excellent.
Manual focus is often difficult with non-SLR cameras, but NEX-7 adds a key feature that will allow users of the EVF to fine-tune manual focus. Called "peaking", it highlights in-focus area of an image in real-time, allowing the shooting significant control over what part of the image is in focus.
The NEX-7 also shoots 1080p 60fps HD video using the AVCHD Progressive format at up to 28Mbps for best quality, or MPEG4 for quick sharing. Where the NEX-5 and NEX-5N are limited to automatic exposure in video, NEX-7 allows for manual control including changing settings during a shot. Continuous autofocus is available as well, and even the Picture Effects can be active during video shooting. Thanks to the NEX-7's fast processor, review is lightning fast with no delay scrolling through multiple photos.
NEX-7 comes standard with the excellent 18-55mm OSS mid-range zoom lens, a very useful focal range for all-around shooting, including underwater. Other keys lenses for underwater use include the 16mm pancake lens, 16mm + Fisheye Adapter, 16mm + Wide Angle Adapter and the new 30mm macro lens.
As mentioned when the NEX-5N was released, underwater photographers have long had to choose between the excellent image quality of a DSLR versus the compact size of point and shoot cameras. With the NA-NEX7 housing from Nauticam, that paradigm has now changed, and radically so. With NEX-7, you can expect image quality rivaling any DSLR in a housing that is incredibly small and light – plus fine control over all camera settings.
Building on the success of the NA-NEX5 and NA-NEX5N housings, the NEX-7 supports all of the new controls on the NEX-7, including the triple command wheels. Not only are all the key controls supported, but they are logically placed and easily reached without moving the hand out of position. The shutter release is sculpted right into the housing such that the hand naturally finds it. A choice of hand strap and left/right handle means the shooter can customize the housing to meet their specific needs.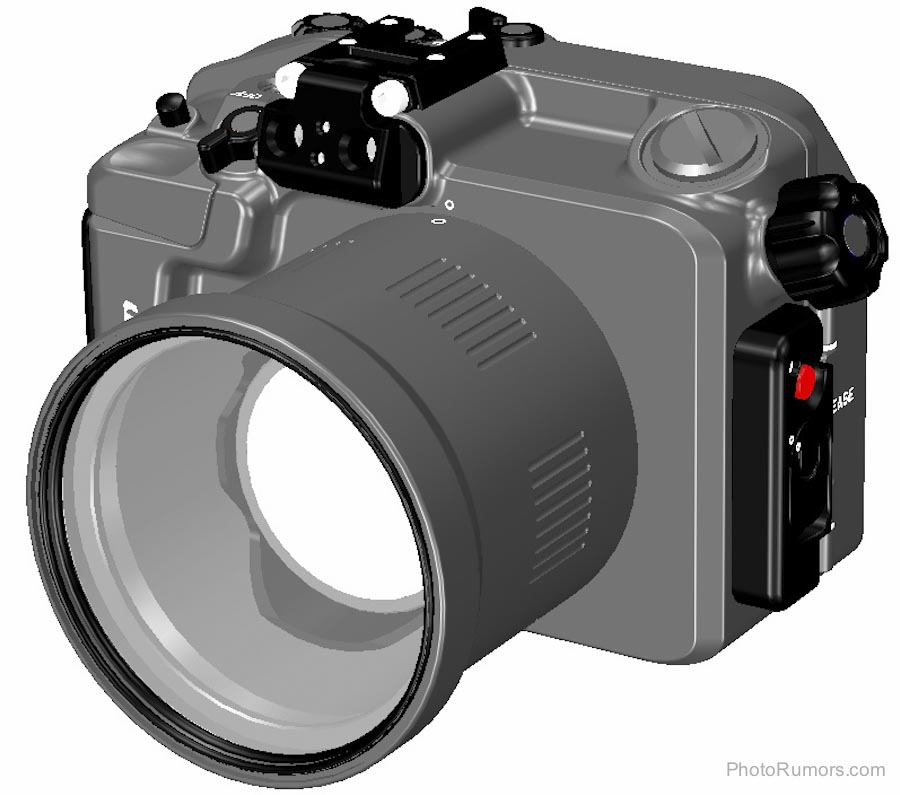 Where the NEX-5 has a simplified user interface, the NEX-7 takes advantage of its 3-dial interface to make manual shooting changes as easy as turning a dial. The housing fully supports the 3-dial interface, and all 3 dials are easily reached with the right thumb. The NEX-7 also adds a programmable focus lock control, prominently placed on the housing right next to the thumb groove.
This housing also features optical correction for the excellent electronic viewfinder (EVF), letting the user dial in critical focus. An easy to reach, patent pending lever lets the user quickly switch between the EVF and the LCD. The housing takes advantage of the NEX-7 tilting LCD display and angles it up at approximately 15º for easier viewing.
The popup flash is controlled with a clever single lever that both pops the flash up and disables it to allow for silhouette shooting. Fiber optic flash is of course supported, as is, optionally, electronic sync cord flash.
The NA-NEX7 housing uses the same Nauticam patented locking port release system as in the NEX-5, allowing easy and secure port changes. Ports are available for the major lenses that are useful underwater, including the Sony 18-55mm, 16m pancake, 16mm pancake + FE adapter, and the 16mm pancake + WA adapter, and the new Sony 30mm macro lens.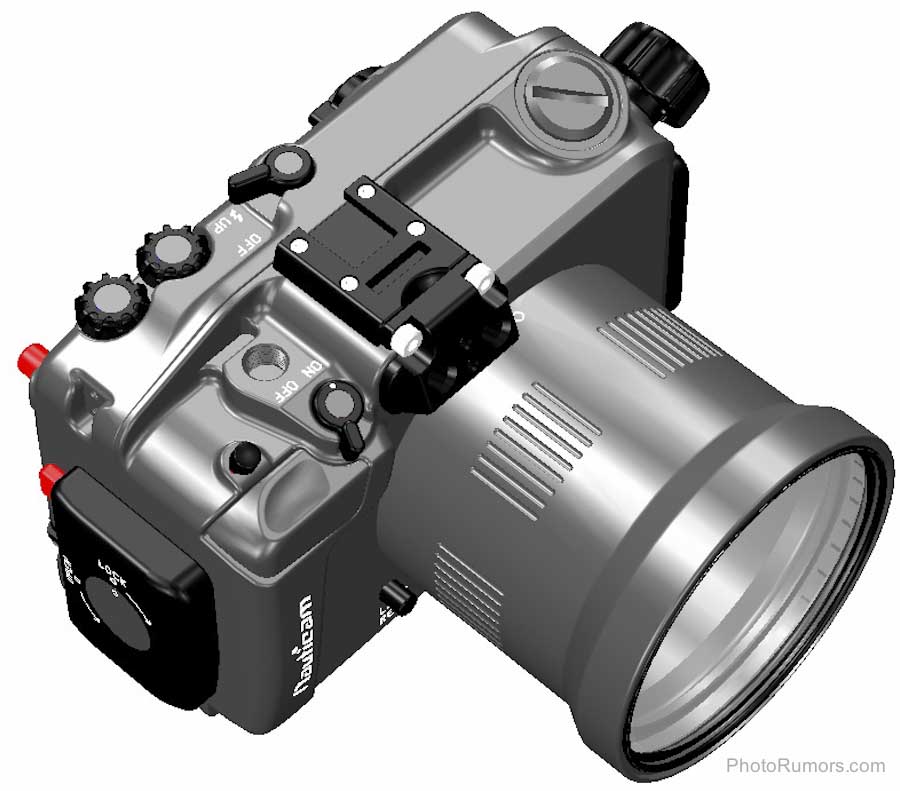 Locking Rotary Latch
The housing back is sealed with an easy to operate safety clasp. A safety release button must be pressed in order to begin rotating the clasp, eliminating the chance of accidental opening.
Nauticam Build Quality
Only the finest materials and cutting edge manufacturing processes are used to make Nauticam housings. The housing body is machined from solid aircraft grade aluminum, then hard anodized making it impervious to salt water. The large acrylic LCD window is treated with an anti-reflective, scratch resistant coating.
Optional Rubberized Ergonomic Handles
Nauticam uses a sophisticated over-mold process to produce extremely comfortable rubberized ergonomic handgrips. The soft feel and ergonomic design make the housing easy to grip and minimize hand fatigue on long dives. Both single and double handle configurations are available for complete customization, and each handle can be adjusted laterally allowing the user to dial in perfect fit. A hand strap is also available for those wishing an even smaller profile.
Optical Flash Connectors for Inon S-TTL, and Sea & Sea DS-TTL
Reliable automatic flash exposure is available with Nauticam housings and a variety of optically fired flashes. Inon Z-240, D-2000, S-2000, Sea & Sea YS-110 Alpha, and YS-01 strobes provide automated lighting, precisely reproducing the camera's onboard flash at a proportionally greater intensity. This system yields accurate TTL flash performance with no electrical sync cables to flood! With NEX-7, optical TTL is enhanced even more since NEX-7 can perform TTL in manual exposure mode.
Electronic sync cables will also supported via an optional bulkhead for Nikonos style connectors.
Strobes can be attached to the housing via optional strobe mounting balls on the handles or a single strobe mounting ball point on the housing. The housing also features a cold-shoe mount for even more mounting options.
Specifications
Depth Rating: 100m
Dimensions: 183mm x 133mm x 81mm
Weight: 0.88 kg (1.9 lbs.)
Model Number: 17403
USA Retail Price: $1850
Estimated Shipping Date: Jan 15, 2012