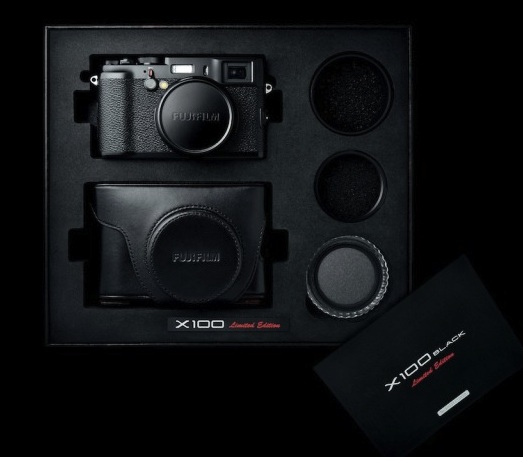 Mississauga, ON, January 9, 2012 – FUJIFILM Canada Inc. responds to numerous requests for a special edition of its popular X100 premium compact digital camera with a new black body in a fully accessorized bundle — the Fujifilm X100 Black Premium Edition. Only 10,000 units will be released worldwide in a limited quantity.
The X100 Black Premium Edition contains the X100 compact digital camera, a genuine leather ever-ready case, lens hood, adapter ring and protective filter. Each package comes with a numbered card for authenticity.
About the Fujifilm X100 digital camera
The X100 is a premium compact camera that features the Fujinon 23mm (135 equivalent: 35mm) F2 lens and 12 megapixel APS-C CMOS sensor to deliver premium quality images. Another renowned feature is the world's first "Hybrid Viewfinder" that switches between the optical viewfinder (OVF) and electronic viewfinder (EVF). The Fujifilm X100 premium compact digital camera incorporates cutting-edge digital functions while offering luxury design features of traditional cameras with an aperture ring at the lens and exposure compensation dial on top. Since its launch, this camera has won numerous awards including TIPA, EISA and Camera GP2011 Editors Award.
The FUJIFILM X100 Black Premium Edition will be available in March 2012 at a suggested retail price of $1,699.99. For more information, go to www.fujifilm.ca/x100 or check out the Fuji Guys videos at www.youtube.com/fujiguys.