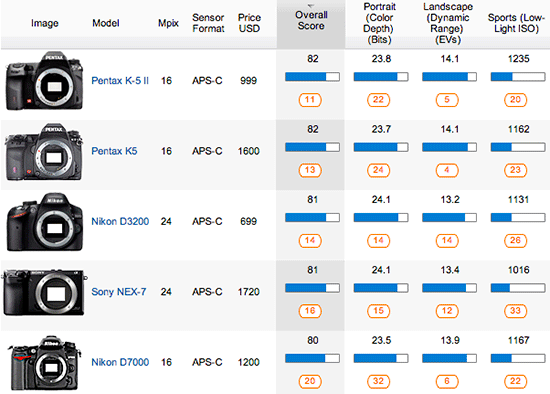 DxOMark published their test results for the Pentax K-5 II ($1,196.95) and the camera received the highest score in the APS-C category (including DSLR and mirrorless):
"With an overall score of 82 the Pentax K-5 II (and its predecessor the K-5) are at the same level as the likes of the Canon EOS 5D MKIII, which scored 81. At the time of writing, it is actually eleventh out of ALL current cameras, only trailing behind offerings from Phase One and Nikon, each costing many times as much.
The Pentax K-5 II is a remarkable piece of kit, it scores better in the DxO mark tests than several very highly thought of, full frame DSLRs, beating all the cameras made by Canon! It manages to do this in a body that is very reasonably priced."