Update: B&H is now taking pre-orders for the new Blackmagic Pocket cinema camera.
The Blackmagic Pocket Cinema Camera is now officially announced. You can get more details on the new camera from John Brawley's blog where he writes:
"What BMD have done with this camera is to take a super 16 size version of the exact same awesome sensor that's in the current BMCC and shrink the form factor down to that of an iPhone with a lens mount. Then they added what many have clamoured for. An internal battery that can be easily switched out.

The camera has an ACTIVE m4/3 lens mount.  That means you can use any of the Panasonic / Lumix or Olympus m4/3 lenses that are already out there, and using dumb adaptors you can mount almost any other lens to the camera, including SUPER 16 cinema lenses, which will cover the sensor perfectly, and are ideal if you want that vintage look."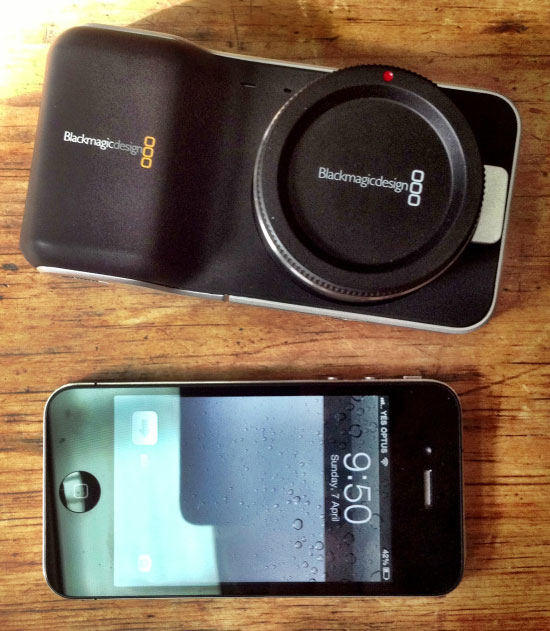 Press release:
Blackmagic Design Announces Blackmagic Pocket Cinema Camera
NAB 2013, Las Vegas, USA – April 8, 2013 – Blackmagic Design today announced Blackmagic Pocket Cinema Camera, a beautifully designed, pocket sized digital cinema camera that includes powerful features such as Super 16mm sized 1080HD sensor, super wide 13 stops of dynamic range, built in SD card recorder for Apple ProRes, lossless compressed CinemaDNG RAW capture and active Micro Four Thirds lens mount, all in an attractive compact design for only US$995.
Blackmagic Pocket Cinema Camera will be demonstrated on the Blackmagic Design NAB 2013 booth at #SL218.
Since the original Blackmagic Cinema Camera was launched at NAB 2012, it has been celebrated by industry professionals for its amazing film look and accurate and cinematic color. The new Blackmagic Pocket Cinema Camera has most of the features of its bigger brother, including its feature film look, but has been redesigned with a dramatically smaller size that is less than an inch thick and can be held easily in your hand.
This compact design allows the Blackmagic Pocket Cinema Camera to be used in more situations where a larger camera would not be practical. It's so small that it can be used in situations in the field where a larger camera could be dangerous. The camera's film look even allows personal video to be shot with the style and creativity of a motion picture film!
The Blackmagic Pocket Cinema Camera features an industry standard Super 16 sensor size, so it's perfect when using Super 16 cine lenses via MFT adapters, as the shooting experience is the same as using the same lens on a Super 16 film camera. The 13 stops of dynamic range look of the Blackmagic Pocket Cinema Camera is almost identical to shooting on a professional Super 16 film camera. The Micro Four Thirds lenses offer a wide range of low cost lenses with amazing image quality, and they are compatible with mount adapters such as PL mounts for large lens and professional motion picture film rigs.
One of the most important features of the Blackmagic Pocket Cinema Camera is its super wide dynamic range of 13 stops, allowing feature film quality images. A common mistake in the television industry is the assumption that more resolution means higher quality. Most cameras, even ones with higher than HD resolution, can produce"video" looking images that suffer from highlight and black clipping that limits details. Blackmagic Pocket Cinema Camera's wide dynamic range eliminates this problem and provides film quality with dramatically more detail retained in black and whites in the image. Once the shoot is complete, DaVinci Resolve Lite color correction software can be used to adjust images and take advantage of this extra range in the images.
To eliminate the damage that low bit depth and high compression video storage creates, the Blackmagic Pocket Cinema Camera includes a easy to use SD card recorder that allows the full sensor dynamic range to be recorded in professional ProRes 422 (HQ) format, as well as 12 bit Log RAW lossless compressed CinemaDNG format. These files can be read by high end video software as they are all open standard. In addition to the regular CinemaDNG RAW format, Blackmagic Design will also be implementing a QuickTime wrapper for the open standard CinemaDNG and companion codec, allowing the camera to record in a format that allows RAW editing in popular editing software.
Blackmagic Pocket Cinema Camera has been designed as the perfect companion to editing software such as Final Cut Pro X and Avid Media Composer. Unlike other cameras, which require the use of custom video file formats, the Blackmagic Pocket Cinema Camera includes absolutely no custom video file formats, and every file type included is open standard.
The built in large LCD display makes focus easy, and allows playback of captured files. Blackmagic Pocket Cinema Camera includes a built in microphone, as well as external jack based mic/line level balanced audio connections. When reviewing recorded clips, audio can be played through the built in speaker and routed through the headphone port or micro HDMI output. The HDMI output includes all camera data such as timecode, transport control, shutter angle, color temperature setting and ASA information overlaid in attractive anti aliased fonts.
"This is an extremely exciting camera and its been amazing to work on. Our original Blackmagic Cinema Camera was small, but this new model is so much smaller than the original, we almost cannot believe it features very similar image quality," said Grant Petty, CEO, Blackmagic Design. "We think customers are going to really enjoy this new model and use it both personally and professionally. It's going to allow shooting in situations that could never have been achieved at this quality level previously. It's also going to be the camera that thousands of new up and coming cinematographers use as their first camera for their independent films. It's going to be exciting!"
Blackmagic Pocket Cinema Camera Key Features
High resolution 1080HD Super 16mm sized sensor with superior handing of image detail.
Super wide 13 stops of dynamic range allows capture of increased details for feature film look.
Compatible with extremely high quality Micro Four Thirds lenses. Compatible with other mounts via common third party adapters such as PL mount and Super 16 cine lenses.
Built in SD card allows long duration recording with easy to use media.
Open file formats compatible with popular NLE software such as ProRes 422 (HQ) and lossless compressed CinemaDNG 12 bit RAW. No custom file formats.
Features all standard connections, including mini jack mic/line audio in, micro HDMI output for monitoring with camera status graphic overlay, headphone mini jack, LANC remote control and standard DC 12 power connection.
Built in LCD for camera settings via easy to use menus.
Supports 1080HD resolution capture in 23.98, 24, 25, 29.97 and 30 fps.
Compatible with DaVinci Resolve Lite color grading software.
Availability and Price
Blackmagic Pocket Cinema Camera is available in July for US$995 from Blackmagic Design resellers worldwide.