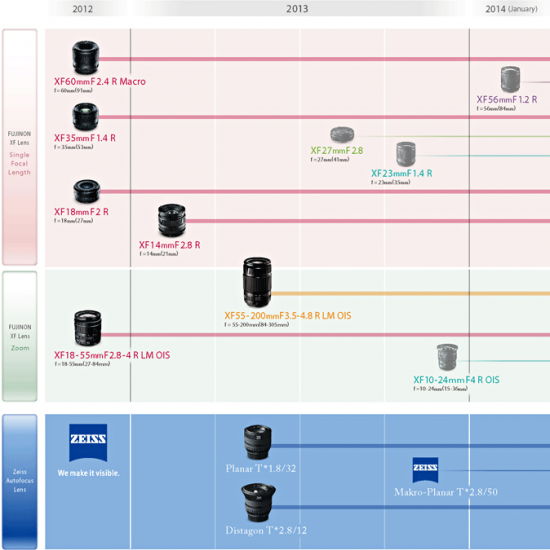 In addition to the new XF 55-200mm f/3.5-4.8R LM OIS lens, Fujifilm also published an updated XF lens roadmap which includes one small change: the upcoming XF 56mm lens will have a f/1.2 aperture instead of the previously planned f/1.4. The new roadmap includes also two (Planar T* 1.8/32 and Distagon T* 2.8/12) of the upcoming Zeiss lenses for Fuji mirrorless cameras that should be announced soon.
Press release:
FUJIFILM Corporation (President: Shigehiro Nakajima) is issuing an updated version of the roadmap for FUJIFILM X-mount lenses for its FUJIFILM X-Pro1 and FUJIFILM X-E1 compact system cameras. This is further to the last XF lens roadmap issued in June 2012.

In response to the large amount of feedback and many requests from users regarding its interchangeable lenses, Fujifilm aims to further improve the quality and has carried out a review of the lens design and has added new technology.

When you combine the below 10 XF Lenses with the three X-Mount Lenses that Carl Zeiss announced in September 2012*, there will soon be 13 high-performance lenses available for the X-Mount system which should meet the needs of every photographer and will support a wider range of photography from ultra-wide-angle at 15mm to super-telephoto at 305mm.