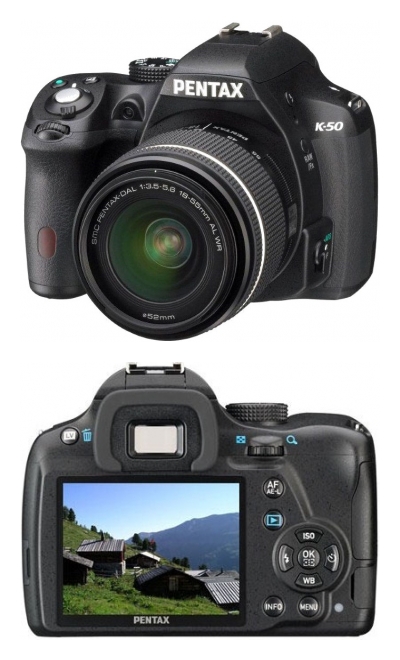 The French website digit-photo has a listing for a new Pentax K-50 DSLR camera priced at €699. The main specs are:
16.28MP CMOS APS-C sensor
Built-in image stabilization
Full HD video
ISO up to 51,200
6fps
Max shutter speed of 1/6000
3″ LCD screen
100% viewfinder coverage
Lithium-ion or AA batteries power
Weather sealed body
Here is the Google translation of the camera's specifications:
Type DSLR autofocus interchangeable lens
Stainless steel frame structure and magnesium alloy
housing splatter with 81 seals
KAF2 Bayonet Lens Mount
Lenses compatible bayonet KAF3, KAF2, KAF, and motorized zoom KAF2
> Image Sensor Type and size of the CMOS sensor 23.7 x 15.7 mm sensor with primary color filter
image processor PRIME M
Number of pixels Approx. 16.28 Megapixel – effective, 16.49 total megapixels
per sensor shift stabilization system (gain 4 speed / shooting freehand)
Anti-dust cleaning system vibration (Dust Removal II) and
Super-Protect processing (SP ) sensor
sensitivity range ISO auto, man. (100 to 51,200)
Registration RAW image formats (DNG), JPEG (Exif 2.3), DCF 2.0
RAW and JPEG (simultaneous available)
Setting the JPEG: 16M (4928 x 3264), 12M (4224 x 2816), 8M (3456 x 2304 ), 5M (2688 x 1792 pixels)
quality levels RAW (12 bit): DNG, JPEG: 4 levels of quality (good, very good, excellent, premium) RAW: 16M (4928 x 3264)
Color Space sRGB, Adobe RGB
Compatible Support SD, SDHC and SDXC, Eye-Fi
LCD Type 3 inch Color LCD (7.6 cm diagonal), 921,000 dots
color low temperature polysilicon TFT,
Screen Calibration
Field of view 100%
Viewing Angle Vision Extra-wide 170 ° horizontal and vertical
Live View AF contrast detection + face detection, tracking, selection spot. Angle: approx. 100%, Magnification (2x, 4x, 6x), graph display (4×4, framed, graduated), warning areas over / under exposed histogram.
Viewfinder Type pentaprism
Focusing Screen Interchangeable Natural Bright Matte III
Coverage Approx 100%
Magnification Approx 0.92 X (with FA 50mm f / 1.4)
Eye Relief Approx 21.7 mm from the center of the lens
Diopter about -2.5 1.5 m-1
horizontal Electronic Level Display
Viewfinder Information Benchmarks beach development, Spot AF, AF
Focus Type SAFOX IXi + in phase detection TTL
AF Points 11 points individually selectable, automatically or
center AF
luminance range 1 to 18 EV (ISO 100)
AF Modes Auto, (single, continuous), manual
AF Support Support LED in low light ( built-in flash)
Exposure Control Metering Modes TTL 77 segments
Choice multizone measures, weighted or Spot
Metering Range 0 to 22 EV (at ISO 100 with a 50mm f/1.4 lens)
Exposure Program Mode (P), Shutter Priority (Tv) , Aperture Priority (Av), Sensitivity Priority Auto Exposure (Sv), Shutter Priority opening &
Auto Exposure (TAv), Manual (M) Bulb
Auto Picture mode: self-selection. from Standard, Portrait, Landscape, Macro, Sports, Night Portrait modes, Noc turne, Blue Sky, Forest
Scene modes: Portrait, Landscape, Macro, Sports, Night Portrait, Sunset, Blue Sky, Forest, Night, Night Scene HDR *, Night Snap, Food, Pet favorite children, Surf & Snow, Silhouette, Candlelight, Concert, Museum
Exposure Compensation ± 5 EV (1/2 or 1/3 EV)
Memo. the Exposure Lock Detected exposure value by pressing the AE-L button
Shutter Type Electronically-controlled focal-plane
shutter Auto and manual speed: 1/6000e to 30 seconds
(in increments of 1/3 EV or 1/2EV), Bulb (in M mode)
Flash Built-in flash guide number of approximately 12 (ISO 100 / m)
measurement system integrated retractable auto flash control series P-TTL
Flash Coverage Wide-angle lens (28mm equivalent in 35mm)
Flash Modes P-TTL manual (on / off), red eye reduction, slow sync, 2nd curtain sync, high-speed sync,
and wireless sync with PENTAX-compatible external flash
synchronization flash 1/180 sec, high speed, P-TTL wireless
Correction exposure + / – 2EV or + / – 1 EV (in increments of 1/2 EV)
Power Supplies Batt battery. Rechargeable Lithium-ion battery D-LI109,
Battery D-LI109 * With battery: approx. 410 pictures (50% flash), 480 im.
no flash, 270 min. in playback mode
with AA batteries: approx. 710 pictures (50% flash), 1250 im. no flash,
560 min. playback mode
Other Tray 4 AA batteries (for 4 batt. AA lithium, Ni-MH rechargeable or alkaline gible) and adapted. K-sector AC128E optional
Interfaces USB 2.0 (high speed compatible) USB connection MSC / PTP
Video NTSC / PAL video output
Settings shooting Modes Single, Continuous (Hi, Lo), Self-timer (12sec., 2sec.), Remote control of (0 sec, 3 sec..), Auto Bracketing (3 views)
Rafale fast speed: approx. 6 fps JPEG, slow cadence: ca.3 fps JPEG
Balance Pre-recorded White (Daylight, Shade, Cloudy, Fluorescent [D: daylight, N: daylight white, W: white light L: warm white] , Tungsten, Flash, CTE, Manual, Color. Fine adjustment (± 7 steps on AB axis or GM), auto (combination CMOS sensor and light source detection), Manual (configuration using the display settings up to 3) , color temperature, Copy balance of a recorded image white.
Customization features 22
Memory Mode 12 modes
Custom Image Bright, Natural, Portrait, Landscape, Vivid, Coul. vibrant, Muted, Bleach Bypass, Slide, Monochrome, Trait. cross
Noise Reduction Slow shutter speed, high ISO
settings pl. Levels dynamic adjustment areas under or over-exposed
Correction Lens Correction distortion, chromatic aberration adjustment
Digital Filters Extract Color, creative photos, Retro, High Contrast, Shadow, invert color, Auto Adjust color..
shot Auto HDR, HDR 1, 2 HDR, HDR 3, patch composition, value bracketing
ting expo + / -1 to 3 EV.
Multi-exposure Number of shots: 2-9, adjusted AE..
Interval Interval: 3 sec to 24 hr, Shots: up to 999 start: immediate
from the zone set
Fixed Horizon SR On: Correction to 1 degree, SR Off: Fixed rows to 1.5 degrees
> Video File Format MPEG-4 AVC/H.264, up to 25 minutes **
Pixel Full HD recording (1920 x 1080, 16:9, 30/25/24 fps), HD (1280 x 720p, 16 9, 60/50/30/25/24, VGA (640x480p, 4:3, 30/25/24 fps)
Quality Levels Good, Very Good, Excellent
Sound stereo microphone, volume control of the reg.
video processing Custom Image "Custom Image" (Bright, Natural, Portrait, Landscape, Vivid, faded, slide, monochrome), cross processing, digital filters (retro, creative photos, high contrast, color extraction, color)
Video Interval Interval: 3, 5, 10 or 30 sec, 1, 5, 10 or 30 min or 1 hr recording time:. 4 sec to 99 hr, starting interval: immediate, set schedule * The file format is Motion JPEG (AVI).
Divide Video Editing or deleting video, JPEG image retrieval
More info World Time 75 cities, 28 time zones
Languages ​​English, French, German, Portuguese, Spanish, Italian, Dutch, Danish, Swedish, Finnish, Polish, Czech, Hungarian, Turkish, Greek, Russian,
Korean, Chinese (simplified and trans.) , Japanese
User Mode Up to 2 trimmings recorded.
IM. button / dial button RAW / Fx (point file format Bracketing expo., PREVIEW. optical PREVIEW. Digital, adj. Compos., AF point selection), AF / AE-L (activate AF1, AF2, deact. AF button Lock expo.AE)
Playback Display 1 image, multiple (4/9/16/36 or 81), Grossiss. (Jq'à 16x faster zoom), Rotate, Histogram Indicator areas over / exp., Copyright, Calendar, file playback, slideshow, transfer eye-fi
delete an image, all, selection, file
filters num. (Read) Monochrome, extract color, creative photos, Retro, High Contrast, Shadow, invert color, color, amplification tones, sketch filter,
watercolor, pastel, posterization, Miniature, Soft, Sparkle, fish-eye filter, stretching, adjusted . Basic parameters
viewfinder electronic level display (horizontal uniqu.) LCD screen (horizontal and vertical)
Processing RAW file format (JPEG) image capture settings, Lens Correction (distortion, chromatic aberration), Custom Image, White Balance, ty awareness, Reduc ° High ISO noise, shadows Compensation
Other resizing, cropping, index, edit video, JPEG extraction from a video, RAW Development, copyright.
System Requirements PC OS: Windows XP SP2, VistaTM and 7, 8
Mac OS X 10.5 or later
Supplied Software SILKYPIX Developer Studio 3.0
Dimensions and weight Dimensions 129.0 mm × 96.5 mm × 70.0 mm (WxHxD)
Weight 590 g body only
650 g loaded and ready with Li-ion battery and SD card. * Results obtained with a lithium-ion battery at a temperature of 23 ° C. Capacity Reg. of view taken approximate demonstrated during CIPA-compliant testing. Performance may vary depending on the presets. * Results obtained with 4 AA rechargeable batteries Energizer Ultimate Lithium, at a temperature of 23 ° C. Capacity recording taken approximate view demonstrated during CIPA-compliant testing. The performance may vary depending on the presets. ** automatically stop recording when the internal temperature of the camera becomes too high.
ACCESSORIES Lithium-Ion Battery D-LI109
Charger Kit K-BC109
USB Cable I-USB7
Strap O-ST132
Software CD-ROM S-SW138
eyepiece shutter
cover-claw
plug housing
Weight Package: 0650 Kg
Via PentaxOne