Sony officially announced the Cyber-shot RX1R ($2,798.00) and RX100M2 ($748.00) compact cameras – check the key features of the new models at the bottom of this post. Several new accessories were also introduced:
Sony VFA-49R1 49mm filter adapter for RX100, RX100M2 and RX1R ($29.95):
Easy on/off with one-touch release
Receiver securely attaches to lens barrel
Using the VFA-49R1 adapter, now it is easy to expand the DSC-RX100/100M2's shooting creativity by easily adding high-quality
Sony AG-R1 attachment grip for RX100/RX100M2 ($14.95):
Provides reliable and secure grip for active shooting
Durable rubber-like material
Easily attaches with double-sided tape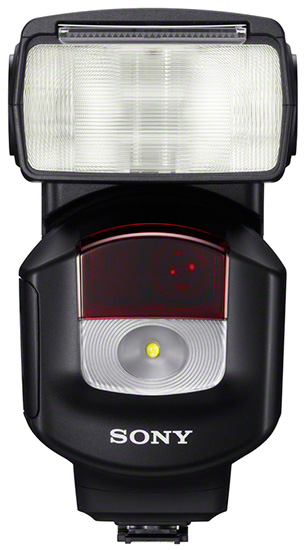 Sony HVL-F43M TTL flash for Sony cameras: (Adorama):
High-power illumination (guide number: 43)
Longer effective range of over 30 ft. (10.5m)
The innovative "Quick Shift Bounce" system allows the HVL-F43M to orbit 90 degrees left and right, allowing you to maintain horizontal light distribution even when shooting vertically. In addition to pivoting side-to-side, the flash unit can also tilt down 8 degrees or back 150 degrees, ensuring customers the lighting freedom they need to capture that perfect shot.
Versatile bounce angles: 90° up, 90° left. This allows the flash head to be rotated while maintaining the set bounce angle, so you can quickly switch between horizontal and vertical format without changing the light angle.
The built-in bounce sheet can be used even when shooting in a vertical position without changing the angle of reflected light.
Auto white balance (signals color temp. to camera)
Auto zoom optimized for camera sensor size
Dust and Moisture resistant design: sealing materials are set at joints of outer materials (body, LCD panel, Mounting Foot etc.) and around movement/operating parts thereby increasing the life of your flash unit.
Modeling light capability allows the HVL-F43M to pulse, helping photographers determine where shadows will fall before taking the picture, so they can alter lighting or subject positioning as necessary.
Retractable wide-angle panel (15mm angle)
Wireless Ratio Control allows customers to wirelessly control up to three groups of flashes, as well as specify the luminosity ratio for each group, so they can enjoy multiple-flash lighting techniques without the need for special equipment or tedious exposure settings.
Simple controls, test button, power saving mode
TTL metering capability, high-speed sync
Fast recharging — up to 38% quicker than HVL-F36
There is also a new "premium leather-like" case for RX-100 & RX-100M2 ($84.95)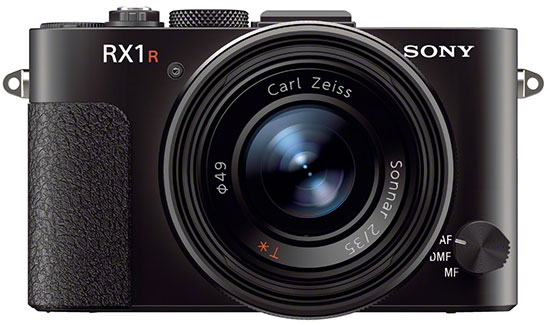 Sony DSC-RX1R/B key features
24.3 MP 35 mm Full Frame Sensor
A whole new world of high-quality images are realized through the 24.3 MP effective 35 mm full-frame sensor, a normal sensor range of ISO 100 – 25600, and a sophisticated balance of high resolving power, gradation and low noise. The BIONZ®image processor enables up to 5 fps highspeed continuous shooting and 14-bit RAW image data recording.
DSC-RX1R: Ultimate resolution
The RX1R is a special edition of the RX1 for photographers who want to take full advantage of the sensor's capabilities, and whose workflow normally includes computer based post-processing. The optical low-pass (anti-aliasing) filter that is built into the RX1 to minimize the occurrence of moiré and color artifacts has been removed from the RX1R, allowing the full resolution of the sensor to be achieved without compromise. The RX1R takes RX1 resolution to the limit.
Bright F2.0 Carl Zeiss®Sonnar T* lens
Carl Zeiss®lens expertise meets Sony optical precision in a sophisticated large-aperture lens that earns the coveted "Sonnar" name by offering remarkable brightness reminiscent of the sun. Whether taking casual snapshots, highly precise close-ups, or seriously composed landscapes and portraits, the Carl Zeiss Sonnar T* 35mm F2.0 fixed focal length lens ensures exceptional image quality.
Full HD 24p video and stereo input
Create movies of amazing clarity at Full HD resolution with manual control and stereo recording. Movies can be recorded at 60i for super smooth playback or 24p for a cinematic look. You can also use P/A/S/M modes to expand your moviemaking creativity. The DSC-RX1R Multiinterface shoe has been upgraded to record stereo sound when using the optional ECM-XYST1M external microphone.
Amazing Low-light performance
Experience incredible low-light shooting without a flash. The camera captures six images in a fraction of a second. Combining the data from all six, it creates a single image with a reduction in noise equivalent to two additional steps of ISO sensitivity. Sensitivity selectable up to ISO 25600. (Recommended for still subjects.)
High speed Auto Focus
Focus fast and accurate with high speed AF precision. To improve focusing speed and sensitivity, the Exmor®CMOS sensor uses its rapid throughput to deliver high-quality image signals to the camera's BIONZ processor, which provides intelligent response data to a new high speed actuator motor in the lens. The result is fast, DSLR-like focusing speeds even in low light.
Full frame burst shooting
When subjects are moving quickly, you can capture the decisive moment by shooting continuously at 5 frames per second — while maintaining maximum image quality at full 24.3 effective megapixel (approx.) resolution made possible by the BIONZ®image processor.
Three control lens rings
Full manual operation is intuitive on the RX1. Users can keep their eyes on the subject and concentrate on the composition while comfortably adjusting the dedicated aperture, focusing, and macro switching rings.
Conveniently placed dials
Quick access to conveniently placed exposure compensation and focus mode dials.
TRILUMINOS Color
The DSC-RX1R support Sony's proprietary TRILUMINOS Color technology, allowing you to experience photos and movies in rich, natural colors on any TV equipped with a TRILUMINOS Display. The expanded color gamut immerses you in those unforgettably colorful moments, from the complex shades in a shimmering blue sky to the delicate skin in a baby's face.
Expressive Full HD movie recording
As when capturing photographs, you can take full advantage of the bright lens and sensitive 35mm full-frame sensor to create movies of breathtaking quality in various lighting. Movies are recorded at Full HD resolution (1920 x 1080 pixel) in the AVCHD Ver. 2.0 progressive format, and movies can be recorded at 60i or 60p for super smooth playback or 24p for a cinematic look, or other frame rates for other effects. Full-time continuous AF ensures clear results even when capturing fast-moving subjects. Moreover, Creative Style settings and Picture Effect expand your moviemaking creativity while P/A/S/M modes enable manual exposure control.
Customizable buttons personalize operation
For the ultimate in user-friendly operation, you can easily reassign five buttons to activate other functions you frequently use. These buttons (Custom, AEL and Left/Right/Down) can be reassigned to activate any of the following functions:
Drive mode, Flash mode, Autofocus Area, Face Detection, Smile Shutter, Auto Portrait Framing, Soft Skin Effect, ISO,
Metering mode, Flash Compensation, White Balance, DRO, Auto HDR, Creative Style, Picture Effect, Image Size, Quality,
Registration, AEL hold*, Spot AEL hold*, AEL toggle, Spot AEL toggle, AF/MF Control Hold*, AF/MF Control Toggle, Smart
Tele-converter, Zoom, Focus Magnifier, Aspect Ratio, Monitor Mute and Not set. * Cannot be assigned to left, right and down buttons.
Bright high-resolution display
The 3.0" (1,229k-dot) Xtra Fine LCD enhances shooting ease by displaying scenes with impressive brightness and accuracy. Brightness is boosted by the white pixels of WhiteMagic™ technology, while blacks are displayed blacker thanks to various
Sony technologies including an AR (anti-reflection) coating on the LCD surface and a layer of resin between the LCD and reinforced glass that together suppress light reflection even when shooting outdoors. An illumination intensity sensor also optimally adjusts brightness depending on your shooting environment.
Quick Navi simplifies navigation
Easier to navigate than conventional menus, Quick Navi lets you confirm current camera settings at a glance and promptly change settings with the cross keys and control dial/wheel. User-friendly icons further contribute to easy operation that doesn't require looking into menus — a capability that especially comes in handy when using the optional viewfinder.
Memory Recall (MR) memorizes combined settings
Whenever you find a perfect combination of camera settings for a certain type of shooting situation, you can save it in memory by using the Memory Recall mode. Should a similar situation arise, you can immediately activate the saved combination via dial. This mode can memorize up to three groups of settings (including exposure modes, shutter speed, Drive mode, ISO, White Balance, Metering modes, etc.).
Grid lines support balanced compositions
You can display grid lines on the LCD to support more accurate horizontal and vertical alignment of the camera with walls, streets and other elements in your scene. There are three styles to choose from (Rule of 3rds Grid Line, Square Grid Line, and Diagonal + Square Grid Line). For extra assistance, the Dual-axis Digital Level Gauge can be used to check for camera roll and pitch.
Finer focusing via MF Assist and Peaking functions
During manual focusing, use MF Assist to enlarge the displayed image up to 11.7x (approx.) and more clearly see the results of your finest focusing adjustments. A Peaking function can also be activated to enable focusing confirmation at a glance by colorizing the most sharply focused areas.
More natural gradations through D-range Optimizer (DRO)
In difficult lighting conditions such as backlit scenes, DRO analyses and corrects your image in real time to achieve smoother, more natural gradations with more detail in the highlights and shadows that more closely match what you see with your naked eye. You can choose the amount of correction up to 5 steps and even apply DRO during continuous shooting to achieve better results during sports photography. Note: The effects of DRO vary depending on the scene and conditions.
White balance versatility for desired color tones
Auto White Balance (AWB) produces more natural colors by compensating for the type of lighting in your scene. The RX1/RX1R also provides a full range of white balance presets (Daylight, Incandescent, Fluorescent, etc.) a Color Temperature & Color Filter function, and Custom white balance adjustment options. You can even intuitively adjust white balance on a chart — in the amber-blue and green-magenta directions — during real-time monitoring of your scene* to achieve desired colors. * When a flash is used, the color tone can be adjusted after the image is shot.
Image Data Converter Ver. 4.2 RAW image development software
This powerful PC software provides advanced features for developing, editing and managing your 14-bit RAW (Sony ARW format) images. For example, you can expertly adjust exposure, white balance, tonal curves and more to match your creative intentions; convert the color space; save images in the JPEG, 16-bit TIFF and other formats; create thumbnail portfolios with image ratings; or apply Creative Style settings. The software can be downloaded for free from the Internet.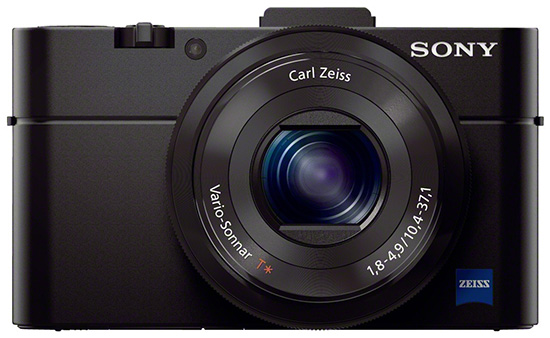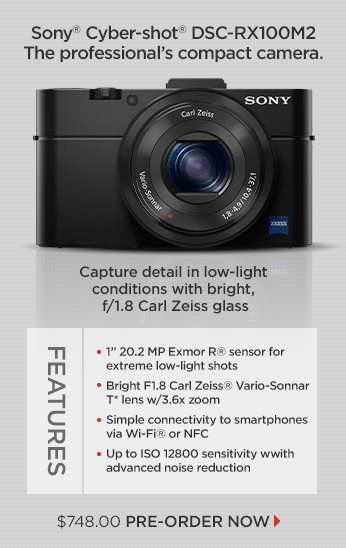 Sony Cyber-Shot DSC-RX100M II key features
New 20.2 MP 1-inch Exmor R®Sensor
The world's first 1.0" CMOS sensor featuring an Exmor R®image sensor technology. With this back-illuminated technology, the sensor doubles light sensitivity and combines with Sony's Column A/D Conversion to reduce noise by half — a great help when photographing in dimly lit environments. Markedly reduced noise is evident even when high-sensitivity settings are used for capturing night landscapes or indoor scenes.
Carl Zeiss®T* F1.8 3.6x optical zoom
The large-diameter F1.8 Carl Zeiss®Vario-Sonnar T* lens delivers refined background defocusing (bokeh). A premium multilayered T* coating also dramatically reduces ghost and flare caused by light reflection.
Simple connectivity to smartphones via Wi-Fi®or NFC
Connectivity with smartphones for One-touch sharing/One-touch remote has been simplified with Wi-Fi®/NFC control. In addition to Wi-Fi support for connecting to smartphones, the DSC-RX100M2 also supports NFC (near field communication) – a first for Sony digital cameras – providing "touch connection" convenience when transferring images to Android™ smartphones and tablets. Users need only touch devices to connect; no complex set-up is required. Moreover, when using Smart Remote Control — a feature that allows shutter release to be controlled by a smartphone — connection between DSC-RX100MR and the smartphone can be established by simply touching devices.
Expanded ISO Sensitivity
With a new Exmor R®sensor that features the same adaptive noise reduction technology from Sony's flagship SLT-A99V, the DSC-RX100M2 easily offers a wide range of sensitivity from ISO 160 to ISO 12800.
High speed Auto Focus
To improve focusing speed and sensitivity, the Exmor R®CMOS sensor uses its rapid throughput to deliver high-quality image signals to the camera's BIONZ®processor, which provides intelligent response data to a new high speed actuator motor in the lens. The result is fast, DSLR-like focusing speeds even in low light.
Comfortable control ring for manual operation
A unique control ring around the lens works in combination with an intuitive, displayed user interface for meticulous SLRtype control over settings that satisfies even the most fastidious users. The control ring can be assigned to adjust various features (at various values) from basics like zooming and aperture to creative functions like Picture Effect. Moreover, it turns smoothly and seamlessly, allowing quiet, click-free usage while shooting movies including a new step-zoom function that enables instant selection of commonly used focal lengths.
Capture JPEG files, RAW files, or both
The DSC-RX100M2 saves pictures as compact JPEG files and/or ultra-high quality RAW files. RAW files save images prior to de-mosaicking, white balance, sharpness and color enhancement. This retains maximum latitude for enhancing the image on your PC.
New Multi Interface Shoe connector
Users can expand photographic and movie shooting possibilities by attaching optional accessories via the Multi Interface Shoe, including an electronic viewfinder, powerful external flash and stereo microphone. You can also connect with a compatible remote control via Multi Terminal.
Full HD Movies at 60p/60i/24p
Capture HD Movies in your choice of super-smooth 60p, standard 60i or cinematic 24p, all at Full HD 1920×1080 resolution. AVCHD™ codec delivers stunning picture quality. MP4 codec offers smaller files for easier upload to the web.
Tiltable 3.0" Xtra Fine LCD™
The tiltable 3" (1,229k dots) Xtra Fine™ LCD Display makes it easy to photograph over crowds or low to capture pets eye to eye by swinging up approx. 84° and down approx. 45°. Easily scroll through menus and preview life thanks to WhiteMagic™ technology that dramatically increases visibility in bright daylight. The large display delivers brilliant-quality still images and movies while enabling easy focusing operation.
Auto Object Framing
Give your photos a professional look with Auto Object Framing. Featuring advancements like exceptional two-person portrait capability along with Face Detection and Tracking Focus, Auto Object Framing not only turns ordinary photos into stunning compositions but does so automatically recognizing the scene then cropping accordingly.
Expanded ISO Sensitivity
With a new Exmor R®sensor that features the same adaptive noise reduction technology from Sony's flagship SLT-A99V, the DSC-RX100M2 easily offers a wide range of sensitivity from ISO 160 to ISO 12800.
Customizable function button
Assign up to seven different functions to the function button, to allow quick access to your most frequently used functions.
Optical SteadyShot®with 3-way Active Mode
Optical SteadyShot® image stabilization reduces shake and blur by countering camera movements in both horizontal and vertical directions. Active 3-Way stabilization adds digital rolling control that counters clockwise and anti-clockwise rotation, resulting in more stable videos even at long focal lengths. Active 3-Way stabilization adds digital rolling controlthat counters clockwise and anti-clockwise rotation, resulting in more stable videos even at long focal lengths.
Auto HDR mode
Captures more scene dynamic range than a single exposure can handle—and more range than photo film. Combines the best highlight detail from one shot, the best mid-tones from a second and the best shadow detail from a third for one incredible shot (up to 6 EV stops). Captures in a split second. (Recommended for still subjects.)
Face Detection/ Registration technology
The camera can automatically detect and register up to eight individual faces and adjust focus, exposure, white balance and flash to help deliver crisp, properly lit images of family and friends. Can prioritize children or adults
Multi-aspect ratio recording for still images
Capture still images in any of four aspect ratios — 1:1, 2:3, 4:3, or 16:9 (vertical to horizontal). This provides the freedom to choose a ratio that matches the scene or the specific shooting purpose.
3.6x optical/7.2x Clear Image digital zoom
Most digital zooms use electronic cropping to get closer to the subject, resulting in unsharp images. With Clear Image Zoom the powerful processor compares patterns found in adjacent pixels and creates new pixels to match selected patterns, resulting in more realistic, higher-quality images. Clear Image Zoom digitally doubles optical zoom for closer photos.
Picture Effect mode
Realize your creative potential with Picture Effect, a fun and simple way to convert ordinary landscapes and portraits that come to life by heightening mood and emphasizing certain attributes. Effects are Soft Focus, Posterization, Retro Photo,
High Contrast Monochrome, Rich-tone Monochrome, Miniature, Soft High-key, Toy Camera, Pop Color, Partial Color, Watercolor Painting, HDR Painting, and Illustration.
Creative Style settings
Control how the camera processes your images with six finishing styles: Standard, Vivid, B&W, Sunset, Portrait and Landscape. You can even fine-tune contrast, saturation, and sharpness to your personal taste.
Sony RX100M2 sample videos: