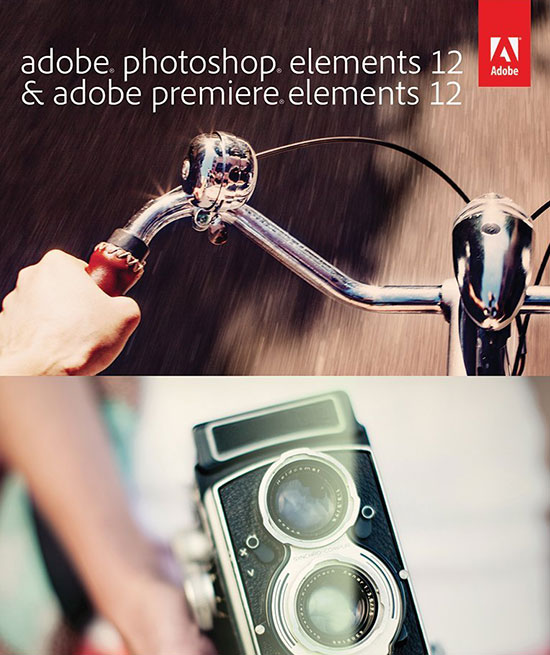 Adobe officially announced Photoshop Elements 12 and Premiere Elements 12. What's new in Photoshop Elements 12 video:
Take your photos with you wherever you go: Easily view, relive, and share your Elements photos on your smartphone and tablet. And finally—unlock the photos from your mobile device, and see them in your Elements albums back at home.
Share: Quickly and easily post on Facebook, YouTube, Vimeo, Twitter, and more. Share your Elements photos in Private Web albums, and view them on your smartphone or tablet.
Easily move objects: Move objects in a photo and have the background automatically filled in with Content Aware Move.
Add your personal touch in an instant: Use one-touch Frames, Effects, and Textures to add depth to your snapshots.
Correct pet eye: Remove green, yellow, and other "pet eye" discolorations as easily as you remove red-eye in photos of people.
Make it uniquely yours: Get intelligent photo corrections with Auto Smart Tone, which learns your preferences in a snap.
What's new in Premiere Elements 12:
Take your videos with you wherever you go: Just like in Photoshop Elements 12, you can view, relive, and share your Elements videos on your smartphone or tablet.
Learn as you use: Use Guided Edits to learn advanced editing techniques with built-in video tutorials. Build your moviemaking savvy in no time.
Get Hollywood effects and styles: Discover more FilmLooks (Comic, Trinity, Yesteryear, Cross Process) to add Hollywood effects and styles to your movies.
Add music to your movies: Enhance your video with over 50 musical scores. Use over 250 sound effects to add depth and drama to your movies.
Spotlight your subject: Add graphics, text, and effects that move with your subject with the help of Motion Tracking.
Share your stories: Make your debut by uploading your finished movies to Vimeo, YouTube, or your personal website. Premiere Elements 12 will optimize and format your movie for specific destinations, so your movies will always look great!