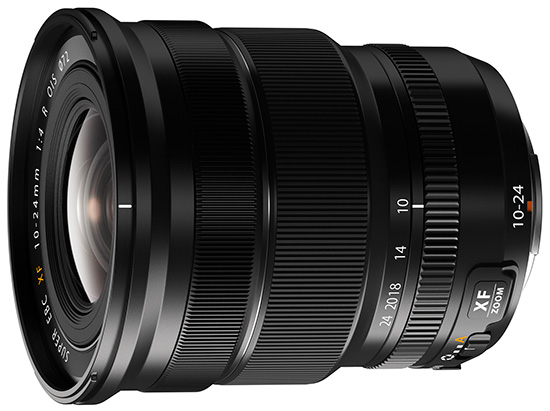 Fuji announced a new XF 10-24mm f/4 R OIS lens that will available in March 2014 for $999.95 (pre-order: Amazon | B&H). The company introduced also two new handgrips for the X-Pro1 (MHG-XPRO) and X-E2 (MHG-XE) models. Press releases after the break:

Fujifilm launches the FUJINON XF 10-24mm f/4 R OIS — an ultra wide to standard zoom lens with an F4.0 aperture throughout
FUJIFILM Corporation (President: Shigehiro Nakajima) is proud to announce the launch of the FUJINON XF10-24mmF4 R OIS lens compatible with all Fujifilm X mount compact system cameras.
The new FUJINON XF lens is a 2.4x zoom lens — equivalent to 15-36mm in 35mm format. Its ultra wide to standard focal length capabilities make it the perfect choice for shooting dynamic, high impact landscapes images with maximum detail from the foreground to the far distance. It also comes into its own when shooting interiors, making small rooms look more impressive, while the maximum F4.0 aperture that is available throughout the zoom range, enables handheld shooting even in low light conditions.
Fujifilm's introduction of the FUJINON XF10-24mmF4 R OIS means its X mount series can now boast (in 35mm equivalent) focal length options ranging from 15mm to 350mm.
Key features on the FUJINON XF10-24mm lens:
Newly designed optical system with 4 high-precision aspherical lenses and 3 extra low dispersion glass lenses which maximize performance of the X-Trans sensor.
A powerful Optical Image Stabilization function which boosts the ability to work handheld when shooting in low light.
Ghosting is minimized by Fujifilm's unique HT-EBC* multi-layer coating that is applied to all sides of FUJINON lenses.
An additional newly developed coating has been added to the reverse side of the front lens in the XF10-24mm lens composition to further reduce the ghosting that typically occurs when using deep concave lenses.
Enhanced resolving power at all apertures when used in-conjunction with an X-series camera** that incorporates a Lens Modulation Optimizer (LMO) function.
Seven-blade aperture diaphragm that helps to create smooth and round bokeh effects.
The ability to shoot at an aperture of F4.0 from the lens' ultra-wide 15mm focal length to its longest at 36mm.
A minimum working distance of 24cm means that with macro photography you can capture both the small foreground detail and the wider surroundings to give your subject greater context.
Its high-speed AF is achieved via its inner focusing system which drives smaller lenses in the middle or rear lens groups without moving the larger lenses in the front lens groups
Thanks to light weight internal lenses and the addition of a stepping motor, the XF10-24mm lens is also very quiet to use.
With its precision-made, responsive, and finely-tuned metal aperture and focus rings, you are ensured a superb handling experience.
*High Transmittance Electron Beam Coating
**As of December 2013 "FUJIFILM X-E2"
Fujifilm launches new handgrips for the FUJIFILM X-Pro1 and X-E1 / X-E2, giving enhanced performance when using a tripod
Fujifilm Corporation (President: Shigehiro Nakajima) has announced that it will release two new hand grips, the MHG-XPRO and MHG-XE, which provide enhanced grip and hold for the X-Pro1 and X-E1/E2, plus allow access to the battery and memory card slot without removing the grip.
The main product features are:
(1) High quality X Series design

Maintaining the quality associated with X Series cameras, the new hand grip bases are milled from aluminum block with the grip designed to integrate perfectly with the camera, to deliver firm grip whilst keeping a stylish silhouette.
(2) Optimum balance that allows sufficient clearance from the camera body base when the camera is tripod mounted with a large-diameter lens

The new hand grips allow an additional 8mm clearance from the camera body base to prevent large-diameter lenses such as the XF23mm and XF55-200mm from interfering with the tripod head.
(3) Allows battery and memory card access without removing the grip

The MHG-XPRO and MHG-XE hand grips are designed specifically to allow users to open the camera's battery cover for speedy access to the battery or memory card even while the grip is mounted on a tripod.
(4) Enhanced operability with a tripod

The hand grips have a tripod-mounting screw hole positioned so that the rotation axis of the tripod is aligned with the optical axis of the lens to enable panning and framing free of rotation displacement. The base part also features a 38mm-wide protrusion that acts as a quick-release dovetail plate for use with a dovetail tripod mount.