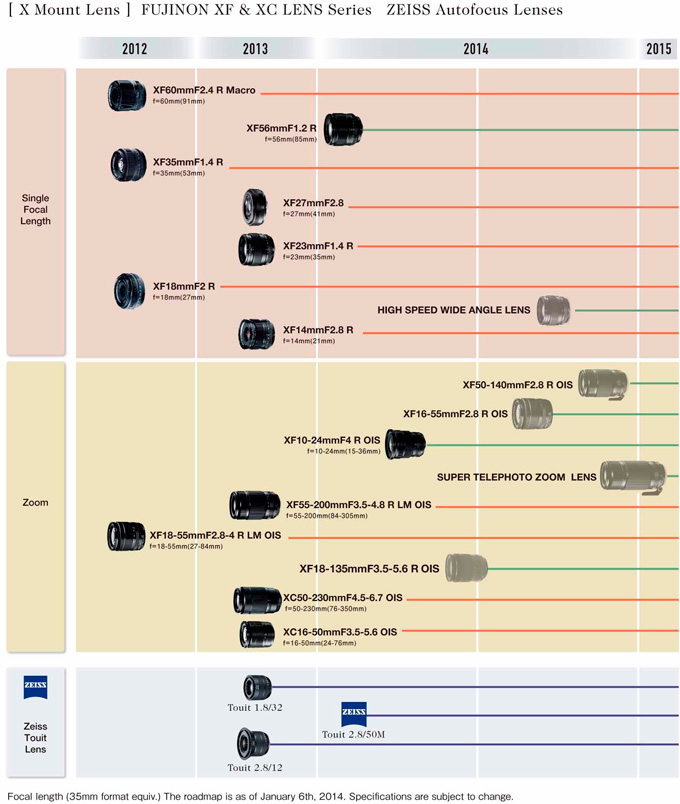 As previously reported, Fuji announced a new X mount lens roadmap that include four zoom lenses and one prime lens:
FUJIFILM Corporation (President: Shigehiro Nakajima) has released its latest roadmap for X mount lenses, adding five new lenses including four zoom lenses to the lineup of X mount products, which are highly regarded for their outstanding resolving power and fast aperture that produces beautiful bokeh.

Since first introduced in January 2012, the X mount series of lenses have boasted advanced resolution to all corners of the image, and fast aperture across their focal lengths. They produce sharp images and beautiful bokeh which expands users' expressive potential.

The latest roadmap shows that the lineup will be enhanced with the introduction of four new zoom lenses. A bright standard lens XF16-55mmF2.8 R OIS, a bright tele-photo zoom XF50-140mmF2.8 R OIS and a high magnification zoom XF18-135mmF3.5-5.6 R OIS are planned as well as the further addition of a SUPER TELEPHOTO ZOOM LENS and a HIGH SPEED WIDE ANGLE LENS for even creamier bokeh. This will bring the total number of lenses in the X mount lineup to 17.

Fujifilm will continue to integrate the rich optical expressions made possible by the X mount lens series with the company's color reproduction and other image processing technologies to further expand its photographic offering.