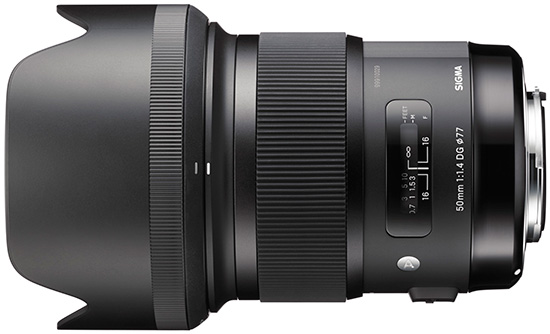 During CES Imaging-Resource talked to Sigma about their new 50mm f/1.4 DG HSM Art lens and reported some interesting bits of information – the lens is not just a refresh of the previous version, but has a completely new design, with more glass elements inside and the performance should be very close to the $4,000 Zeiss 55mm f/1.4 Otus Distagon T* lens:
"But the most impressive information we gleaned? When discussing their goals of image quality and sharpness for the lens, Sigma mentioned they're confident they'll surpass competitive products from Canon and Nikon and are instead gunning for Zeiss's new 55mm Otus lens. It's a serious claim. The Zeiss 55mm f/1.4 Otus lens — with its $4000 price tag — is squarely aimed at high-end professional shooting such as fashion, advertising and editorial work."
That's a serious claim that will probably be reflected in the price of the lens (not yet revealed). The Sigma 35mm f/1.4 DG HSM lens was priced significantly below its Nikon equivalent, hopefully the new Sigma 50mm f/1.4 DG HSM Art lens will cost less than the Nikon 58mm f/1.4G.