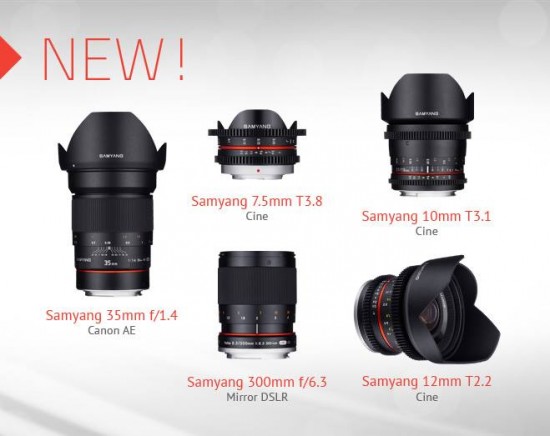 Today Samyang released several new lenses (see teaser):
For pricing and availability check this link.
Press release and additional images:
Samyang company announces expansion of its sales portfolio and market release of new photographic and cine lenses. New Samyang 35mm f/1.4 Canon AE, 300mm f/6.3 Mirror DSLR photo lenses and VDSLR series is to be released on April 29th 2014. Samyang 10mm T3.1, 12mm T2.2 and 7.5mm T3.8.
New products branded with Samyang logotype include an interesting 35mm f/1.4 lens with Canon EF mount, the latest version will feature AE (Auto Exposure) function, which was fitted only in lenses with Nikon F mount before. The newest version of the lens that is marked with AE symbol comes with a microprocessor which can electronically confirm the focus value from the body level. The lens's construction remained unchanged and still ensures a perfect optical and mechanical quality. Samyang 35mm f/1.4 has been designed to work with Canon digital reflex cameras equipped with full-frame and APS-C sensors.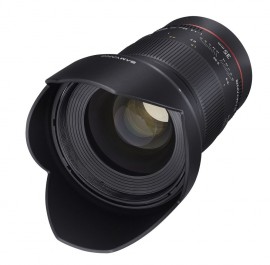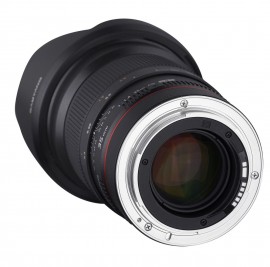 Samyang offers light and compact 300mm f/6.3 Mirror UMC CS mirror lens in DSLR version with Canon EF, Nikon F, Sony A and Micro 4/3 mounts. Optical construction includes 8 lens elements arranged in 8 groups. The lens elements have been covered with anti-reflective, multi-layer (UMC) coatings of new generation to minimize light reflections and increase contrast. Owing to large focal length, really affordable price and small sizes (the lens weighs only 260g), your lens will become inseparable companion for all reflex camera users in "the field".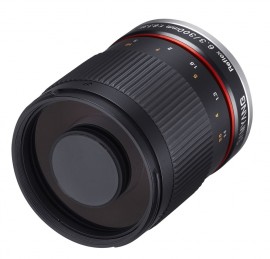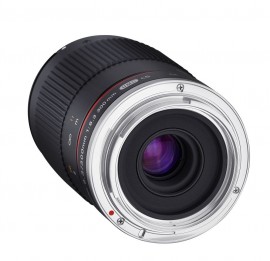 Nearly a month after their market release, Samyang 10mm f/2.8 ED AS NCS CS and Samyang 12 mm f/2.0 NCS CS lenses are now available in their equivalent cine versions: Samyang 10mm T3.1 Cine and 12mm T2.2 Cine. Samyang VDSLR cine lenses feature aperture and focus rings with sprocket wheels controlling their work through Follow Focus systems. This allows for noiseless and smooth adjustment of the above parameters during filming.
Samyang 10mm T3.1 Cine and 12mm T2.2 Cine have nanocrystal anti-reflective layer (NCS) that ensures better light transmission, increased resistance to light reflections and higher contrast, which improves optical resolution of the lenses.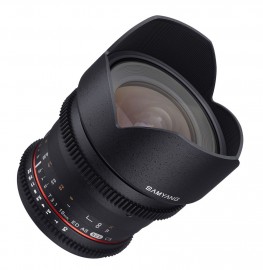 Samyang 12 mm in photo and cine versions fills the gap among lenses dedicated for mirrorless cameras with APS-C sensor, large angle of view and high brightness. The lens has been designed for cameras fitted with a high resolution sensor (above 24 mln pixels). Samyang Optics company is renowned among clients for great quality optics offered at affordable prices. And this is also the case with 10mm and 12 lenses which provide technical parameters and optical potential that can easily compete with the best wide-angle prime and zoom lenses available on the market.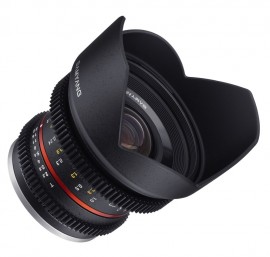 And last, but not least, the offer also includes Samyang 7.5mm T3.8 Fish-eye Cine. This is a cine version of a meticulously designed manual fish-eye lens which provides diagonal field of vision equal to 180 degrees. Despite its small size, Samyang 7.5mm T3.8 Cine produces images with splendid parameters and exceptional vividness, and the minimal focusing distance amounts to only 0.09 meters.