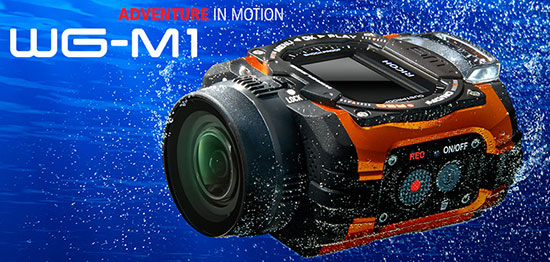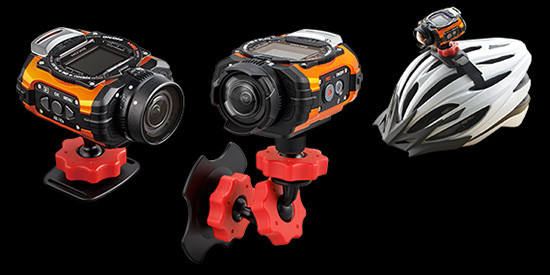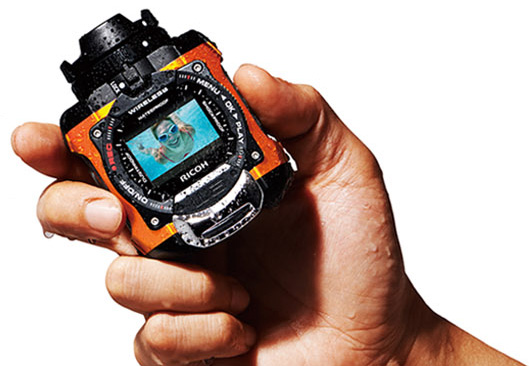 The already leaked Ricoh WG-M1 "adventure" camera is now officially announced. For pricing and availability check B&H, Adorama or Amazon (info not available at the time this post was published). Here are the detailed technical specifications: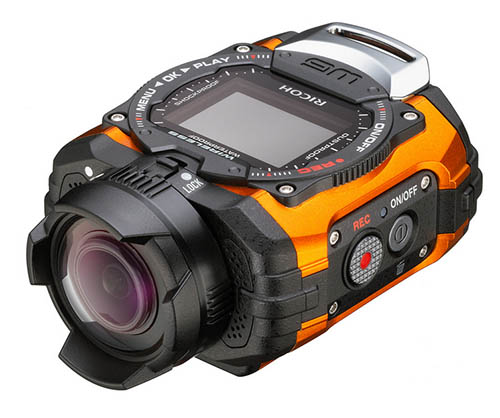 Type

Compact Digital Camera

Sensor

Type: CMOS w primary color filter
Size: 1/2.3 inch CMOS
Effective pixels: 14MP
Total pixels:
Recorded resolutions
Still: (4:3) 14M (4320×3240), 5M (2592×1944), (16:9) 10M (4320×2432)
Movie: 1920×1080(30fps), 1280×960(50fps), 1280×960(30fps), 1280×720(60fps),
1280×720(30fps), 848×480(60fps), 848×480(120fps)

Lens

Type/construction: RICOH lens, 6 elements in 6 groups (2 aspherical elements)
Focal length: FIXED 3mm 16.8mm (35mm equiv).
Maximum FOV: Still: 160° (4:3) Movie 137° (1280 x 960)
Aperture: F2.8

Focus System

Type: FIXED
Focus range
With O-LP1531, O-LP1532 – (in air): 23.6" to infinity
With O-LP1532 (underwater): 31.5" to infinity
Zoom: n/a
FOV (selectable): Wide, Medium, Narrow, Underwater

Viewfinder

LCD screen: 1.5 inch LCD
LCD resolution: 115,000 dots
Viewfinder: n/a

Storage Media

Internal memory: approx. 100MB
Removable memory: micro SD, micro SDHC

Interfaces

Ports: USB2.0 (Hi-Speed), HDMI port (Type D)
Video out: HDMI

Power Supply

Power source: Rechargeable Li-Ion battery DB-65
Charging time: approx. 200 min.
Recordable images: approx. 350 (CIPA)
Playback time: approx. 400 min (RICOH tested)
Movie recording time: approx. 150 min (RICOH tested)

Physical Specs

Dimensions (W x H x D): 2.6" x 1.7" x 3.5" (excl. protrusions)
Weight:
Without battery, removable memory and lens protector: 5.3 oz
Loaded and ready: 6.7 oz
Construction material(s): Reinforced polycarbonate plastic w aluminum accents
Operating temperature: 14°F (coldproof)
Ruggedized features: Waterproof (10m) (JIS 8), Shockproof (2m), Coldproof (-10°C),
Dustproof (JIS 6)

Language Support

English, Chinese (Simplified and Traditional), Japanese, Korean, French, Spanish,
Portuguese, Thai, Indonesia, Vietnamese, Italian, German, Dutch, Russian, Polish,
Swedish, Danish, Finnish, Norwegian, Greek, Turkish, Hungarian, Croatian, Czech,
Arabic, Hindi

Image Stabilization

Movie only: Electronic – Motion Blur Reduction

Metering System

Type: TTL – AiAE, Face AE (not switchable)

ISO Sensitivity

Automatic (ISO 100-800)

White Balance

AWB, Daylight, Cloudy, Fluorescent, Underwater

Shutter

Type: Programmed AE mechanical and electronic shutter mechanism
Shutter speed:

Capture Modes

Mode selection: Still, Movie, Time Lapse, Loop recording, Motion detection
Face Detection: (up to 10 faces)

Drive Modes

Mode selection: Still: Single, Burst Shot (10 fps)
Movie: High Speed Movie (120 FPS capture, 30 FPS playback)

Playback Modes

Mode selection: Single-frame, Movie

File Formats

Still: JPEG (conforms to Exif 2.3), conforms to DCF2.0
Movie: MOV/H.264, 30fps / 50fps / 60fps / 120fps
Sound: PCM system, stereo sound (sound recording not available at 848 x 480 –
120 fps)

Computer Requirements

*For device connectivity. Bundled software requirements may vary.
WINDOWS: Vista, 7, 8, 8.1 USB port
Mac: Mac OS X 10.6, 10.7, 10.8, 10.9 USB port
Update: here is the press release:
BUILDING ON THEIR LEGENDARY ADVENTURE SERIES, RICOH IMAGING ANNOUNCES THE NEWEST EXTREME MODEL IN THE WG LINE-UP
The inspired Adventure-in-motion Ricoh WG-M1 with built-in WiFi
Denver, Colorado September 10, 2014 RICOH IMAGING AMERICAS CORPORATION announces the launch of the RICOH WG-M1 digital action camera. From the creators of the original adventure camera the newest addition to the waterproof, cold proof, and shock resistant WG series is equipped to capture life's moving adventures. The WG-M1 is the must have adventure camera for capturing your life in motion.
The RICOH WG-M1 is WiFi enabled, waterproof to an impressive depth of 32 feet without requiring a protective housing, shock-resistant against a fall from 6 feet, and cold-resistant to temperatures as low as -10°C. With its ultra-wide-angle lens, this extraordinary camera captures dynamic Full HD movies with a realistic sense of depth. The WG-M1 provides a host of advantageous features including multitasking that allows the user to check real-time images during both still and movie recording, and a 1.5-inch color LCD monitor.
Approximately 14.0 effective megapixels captures vibrant, high-resolution still images, while its high-speed, continuous shooting capability records subjects at a speed of roughly 10 images per second. In keeping with the rugged theme of the WG series, its lightweight body features an unparalleled outdoor-oriented design and large control buttons that make operating the camera a breeze in any condition. Combining the WG-M1 with an array of newly introduced camera-mount accessories opens many options and creative solutions in capturing adventure-packed images and movies.
"With the WG-M1 we're building on the foundation of the adventure-proof, WG World." said Jim Malcolm, Executive Vice President, Ricoh Imaging Americas Corporation. "By combining WiFi connectivity and dynamic image quality the WG-M1 captures life's adventures in motion, from the top of a mountain to your own backyard."
The WG-M1 comes complete with a carabiner-equipped strap for easy carrying, and a WG adhesive mount to attach the camera to different surfaces using a powerful adhesive tape. In addition, there are numerous optional accessories available including a wrist strap mount, a helmet mount, and a magnet mount. Create and capture your own adventures with the Ricoh WG-M1.
Pricing and Availability
The WG-M1 will be available at retailers nationwide and at www.us.ricoh-imaging.com in October 2014 for a suggested retail price of $299.95