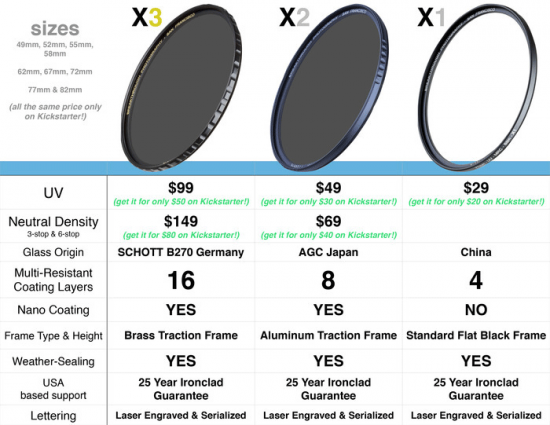 There is an interesting Kickstarter project on new series of ultra-slim, weather-sealed X-Series ND and UV filters:
Highest Quality Optics: Capture critically sharp images with SCHOTT B270 and AGCglass from Germany and Japan allows near 99% light transmittance. The X-Series filters have been precisely designed and engineered with the highest quality lenses in mind.
Traction Frame: CNC Machined no-slip Traction Frames makes taking filters on and off a snap. No more wasted time removing filters means when you use your X-Series Traction Filter you'll have more time to capture your time sensitive shots
Multi-Resistant Coating (MRC): State-of-the-art MRC hardens both optical surfaces, increases light transmittance, achieves true color neutrality, and maximizes contrast fidelity - while at the same time decreasing flaring and ghosting. This means you don't have to worry about loss of image quality - your photos are more true to life and will have more impact with your audience bringing you more satisfaction in your work… or more sales!
Nano Coatings: Our new nanotec® nano coating layer protects your lens by repelling dirt, water and other elements by beading rather than absorbing. This means your X-Series Traction Filter stays crystal clear for years to come.
Eliminates Vignetting: Machined down to 3.5mm (X2, X1) and 3.2mm (X3) to eliminate unintended and undesired optical vignetting on full-frame wide-angle setups. Again, this means your photos are more true to life and you can save time in post-production correcting optical vignetting
Completely weather-sealed construction: Residue left after evaporation can make your lens appear dirty and lead to hours of tedious cleaning and post production "spot removal." When you're shooting in the elements with your the X-Series Traction Filter, you don't have to worry about moisture getting into the lens because of the weather-sealed construction.
25 Year Ironclad Guarantee: We're so confident in our materials that we offer an unparalleled 25 Year Ironclad Guarantee.