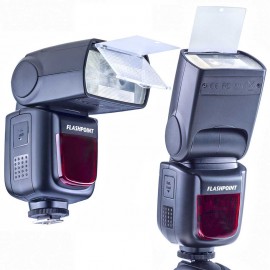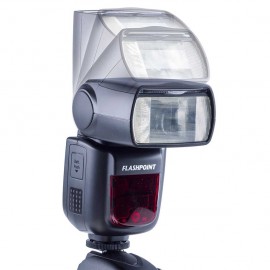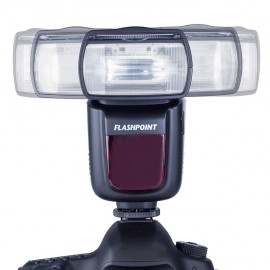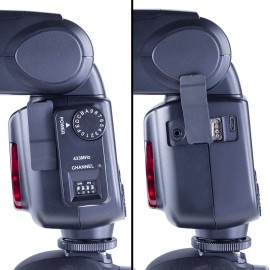 Adorama announced a new Flashpoint zoom Li-on TTL flash for Nikon and Canon cameras with 1.5 second full-power recycle time:

The Flashpoint Zoom Li-on TTL Flash for Nikon represents a significant breakthrough in speedlight power technology while featuring full connectivity and interaction with all Nikon strobe functions. From standard iTTL, to Exposure Compensation (FEC), FV Lock, High Speed Sync, and an automatically zooming flashhead, all the way to complete IR TTL control connectivity with other Nikon flashes, group control, Slave and Master options, and advanced flash functions, the Zoom Li-on flash takes you as far as you want to go.
The key component that makes this flash stand apart from others is the Lithium Ion Polymer battery with exponentially more power than AA batteries of any type, while fitting into roughly the same amount of space. Packing an amazing 11.1 volts and 2000mAh, this battery can power your flash longer and with faster recycle than any shoe mount speedlight on the market. Full power recycle times are less than 1.5 seconds, even if you fire 5 full power shots in fast succession! One completely charged battery can deliver up to 350 of those full power shots. Even in iTTL mode, you can try to drain the battery, but the Zoom Li-on keeps on going strong .
Besides TTL and manual control, there are 2 optical slave modes, and a stroboscopic mode as well. The metal shoe features a locking pin, so even if the foot is not tightened properly it will not accidentally fall off of the camera or mount. Remote power control using a Flashpoint Commander and Receiver allows you to view and change your flash output as you shoot as well as trigger the flash and adjust other functions from more than 150 feet away, for extreme off camera work.
The simple layout and familiar controls make using this flash intuitive. The flashhead rotates 180 degrees in any direction and tilts over 90 degrees for any type of bounce or modifier use. The head zooms automatically or manually from 24-105mm, to ensure the necessary coverage without wasted spill. The built-in pull out wide angle diffuser spreads light evenly for use with lenses wider than 24mm to 14mm.

With a charge time of just 2.5 hours and enough juice to run you through even the most difficult shoots, (and extra batteries available,) this high powered, speedy recycling, compact and durable Lithium Ion battery powered iTTL flash is sure to become a pivotal part of your photography equipment lineup. 
Features:
Extremely Powerful Flash with a GN of 112 @ISO 100 / 105mm

Uses an advanced Li-Ion Polymer battery for speedy recycle and longer life

Full power recycle time of less than 1.5 seconds

Approximately 350 full power flashes per charge

Complete compatibility with the Nikon iTTL system

iTTL features like exposure compensation, flash value lock, and high speed sync

IR iTTL communication With Nikon flashes as a Master or Slave

Control of three different wireless groups through the Nikon IR System

Remote manual power control with the Flashpoint Wave Commander System

Zooming head for proper coverage with automatic zoom or manual control

High Speed Sync for shutter speeds up to 1/8000 second

Front or Rear Curtain Sync

Modeling flash

Regular and Intelligent Optical Slave Modes

360 degree rotation and 90+ degree tilt

Perfect for on and off camera use
Specifications:
GN
112 Ft / 34 Meters @ISO 100 – 105mm zoom
 Flash Exposure Control
iTTL
Manual FlashRemote iTTL (Master or Slave, with Groups)
Remote Manual Flash (using Flashpoint Commander and Receiver)
HSS
 Lens Coverage
24-105 mm with automatic or manual zoom control and a pull out 14mm angle diffuser
 Triggering Modes
Hot Shoe
Nikon IR TTL
Radio Controller
2.5mm Sync Port
Optical SlaveIntelligent Optical Slave
 Bounce Function (Tilt)
0 to 360° horizontally (180° in any direction) and -7° to 90° vertically
 Power Source
11.1V/2000mAh Li-ion polymer battery
 Power Control
1/128th power to full power in 1/3 stop increments
 Recycle Time
< 1.5 seconds
 Full power flashes per charge
Approx. 350
 Flash Duration
1/300 to 1/20000 seconds
 Exposure Compensation Range
± 3 stops in 1/3 of a stop increments
 Dimensions
2.5 X 3.0 X 7.5 / 64 X 76 X 190 mm
 Weight without battery
14.8 oz / 420g
 Weight with battery
19 oz / 540g
In the box:
TTL Flash unit

Li-ion Battery Pack

Battery Charger with cable

Mini Stand

Protective Case

Instruction manual