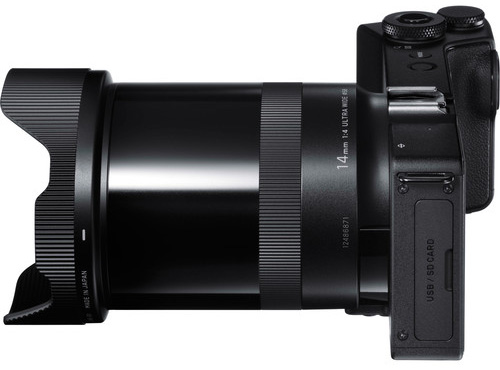 Sigma announced a new dp0 Quattro compact camera with 14mm f/4 fixed lens. Sigma already has three other cameras in the dp Quattro line:
Here are the dp0 Quattro basic specs:
29MP Foveon X3 Quattro CMOS Image Sensor
TRUE III Image Processing Engine
14mm f/4 Lens (35mm Equivalent: 21mm)
3.0" 920k-dot TFT LCD Screen
ISO Range: 100-6400 in 1/3 Steps
RAW Image Capture
Max RAW Resolution of 5424 x 3616
Contrast Detection Autofocus
Manual Focus Ring
P/S/A/M Exposure Control
Price: $999 (available for pre-order)
Detailed specifications and press release:
Detailed specifications
Focal Length
14mm
35mm Equivalent Focal Length
Approx. 21mm
Lens F number
F4~F22
Number of Diaphragm Blades
7 Blades
Lens Construction
11 Elements in 8 Groups
Shooting Range
18cm~∞, LIMIT mode(It is possible to select Macro, Portrait, Scenery and Custom)
Maximum Magnification Shooting
1:7.8
Dimensions
161.4mm/6.4" (W) × 67mm/2.6" (H) × 126mm/4.9" (D)
Weight
TBD(without battery and memory card)
Image Sensor
Foveon X3 Direct Image Sensor (CMOS)
Image Sensor Size
23.5×15.7mm
Color Photo Detectors
Effective Pixels:Approx. 29MPT(Top):5,424×3,616 / M(Middle):2,712×1,808 / B(Bottom):2,712×1,808Total Pixels: Approx. 33MP
Storage Media
SD Card / SDHC Card / SDXC Card
File Format
Lossless compression RAW data (14-bit), JPEG(Exif2.3)、RAW+JPEG
JPEG Image Quality
FINE, NORMAL, BASIC
Aspect Ratio
21:9, 16:9, 3:2, 4:3, 7:6, 1:1
Number of Recording Pixels
RAW

| | | |
| --- | --- | --- |
| | HIGH | T:5,424×3,616 / M:2,712×1,808 / B:2,712×1,808 |
| | LOW | T:2,704×1,808 / M:2,704×1,808 / B:2,704×1,808 |

JPEG

| | | |
| --- | --- | --- |
| [21:9] | SUPER-HIGH | 7,680×3,296 |
| | HIGH | 5,424×2,328 |
| | LOW | 2,704×1,160 |
| | S-LO | 1,920×816 |
| [16:9] | SUPER-HIGH | 7,680×4,320 |
| | HIGH | 5,424×3,048 |
| | LOW | 2,704×1,520 |
| | S-LO | 1,920×1,080 |
| [3:2] | SUPER-HIGH | 7,680×5,120 |
| | HIGH | 5,424×3,616 |
| | LOW | 2,704×1,808 |
| | S-LO | 1,920×1,280 |
| [4:3] | SUPER-HIGH | 6,816×5,120 |
| | HIGH | 4,816×3,616 |
| | LOW | 2,400×1,808 |
| | S-LO | 1,696×1,280 |
| [7:6] | SUPER-HIGH | 6,352×5,120 |
| | HIGH | 4,480×3,616 |
| | LOW | 2,224×1,808 |
| | S-LO | 1,584×1,280 |
| [1:1] | SUPER-HIGH | 5,120×5,120 |
| | HIGH | 3,616×3,616 |
| | LOW | 1,808×1,808 |
| | S-LO | 1,280×1,280 |

ISO Sensitivity
ISO100~ISO6400 (1/3 steps for appropriate sensitivity), AUTO: High limit, low limit setting is possible between ISO100~ISO6400. When using with flash, it changes depending on the low limit setting.
White Balance
10 types (Auto, Auto (Lighting Source Priority), Daylight, Shade, Overcast, Incandescent, Fluorescent, Color Temperature, Flash, Custom)
Color Mode
11 types (Standard, Vivid, Neutral, Portrait, Landscape, Cinema, Sunset Red, Forest Green, FOV Classic Blue, FOV Classic Yellow, Monochrome)
Auto Focus Type
Contrast Detection Type
AF Point
9 points select mode, Free move mode (It is possible to change the size of Focus Frame to Spot, Regular and Large).
Focus Lock
Shutter release halfway-down position (AF lock can be done by AE lock button from menu setting)
Manual Focus
Focus Ring Type
Metering Systems
Evaluative Metering, Center-Weighted Average Metering, Spot Metering
Exposure Control System
(P) Program AE (Program Shift is possible), (S) Shutter Speed Priority AE, (A) Aperture Priority AE, (M) Manual
Exposure Compensation
±3 EV(1/3 stop increments)
AE Lock
AE lock button
Auto Bracketing
Appropriate, under, over; 1/3EV steps up to ±3EV for appropriate exposure
Shutter Speed
1/2000* - 30sec. (*Depending on the aperture value, shutter speed changes)
Drive Modes
Single, Continuous, Self Timer (2sec. /10sec.) Interval timer
LCD Monitor Type
TFT color LCD monitor
Monitor Size
3.0 inch
LCD Pixels
Approx. 920,000 Pixels.
LCD Monitor Languages
English/ Japanese/ German/ French/ Spanish/Italian/ Chinese (Simplified)/Chinese (Traditional)/ Korean/ Russian/ Nederlands/ Polski/ Português/Dansk/ Svenska/ Norsk/ Suomi
Interfaces
USB / Cable Release Switch
Power
Li-ion Battery Pack BP-51, Battery Charger BC-51, AC Adapter SAC-6 (with DC Connector CN-21) (Optional)
Battery Life
Approx. 200 (+25℃)
Accessories
Lens Cap (on the camera) / Hot shoe cover (on the camera) / Strap / Li-ion Battery BP-51 (2 pieces) / Battery Charger BC-51 / Battery Charger Cable / USB Cable / Instruction Manual
Press release:
Sigma Corporation of America Announces Fourth Camera in dp Quattro Series at CP+ Imaging Show
New compact dp0 Quattro offers wide angle view with 14mm F4 fixed lens
YOKOHAMA, Japan — February 10, 2015 – Sigma Corporation of America, a leading researcher, developer, manufacturer and service provider of some of the world's most impressive lines of lenses, cameras and flashes, today announced the new Sigma dp0 Quattro, the fourth compact camera in the series that was announced last year. The news comes at the start of the CP+ Camera and Photo Imaging Show 2015, which begins on Feb. 12 in Yokohama, Japan.
The dp0 Quattro incorporates a fixed, high performance 14mm F4 lens, which is equivalent to a 21mm lens on a 35mm DSLR and is optimized to maximize the performance of the series' Foveon "Quattro" Direct Image sensor. The Quattro line is great for photographers seeking a unique product, and the 14mm F4 lens is meant to take full advantage of the Foveon sensor.
"The Quattro series is such an unique line of cameras and we couldn't be more thrilled to add the dp0 Quattro camera to the line-up," said Mark Amir-Hamzeh, president of Sigma Corporation of America. "It's this wide angle lens combined with the high resolution sensor, that makes this perfect for architectural and landscape photographers, and something the dp fans can be excited for."
In order to achieve the highest optical performance, the dp0 lens features four "F" Low Dispersion (FLD) glass elements, which have performance equal to fluorite, two Special Low Dispersion (SLD) glass elements, and two aspheric lenses, including a wide double-sided aspheric lens. This reduces chromatic aberration and distortion, which are characteristics typically present in super wide angle photography. The camera offers sharp rendering performance from the maximum aperture, and the superior telecentric optical design improves image quality throughout the frame and maximizes the sensor's ability by passing on information about subjects to the sensor. In addition, the wide angle of view of 91 degrees and depth of field are ideal for architectural structures, interior photography and landscapes.
With this powerful lens and sensor, numerous glass elements to reduce distortion, and a 91 degree angle of view, this lens is ideal for landscape and architecture photography.
As with all the cameras in the Quattro series, the dp0 Quattro features the distinctive styling of the line. The Quattro sensor is the equivalent of a 39 MP conventional Bayer sensor in resolution testing. The next generation sensor builds on the distinctive properties of the X3 technology, which uniquely records red, green and blue wavelengths at each pixel location within three layers.
The Quattro sensor is a three-layered, panchromatic silicon chip whose green-sensitive middle and red-sensitive bottom layers each have 4.9 MP and record only color/chrominance information. The top blue layer captures chrominance and resolution/luminance information with 19.6 MP, resulting in greater detail capture and resolution capabilities that are higher than the Merrill DP camera line. The Quattro sensor's architecture also contributes to true color rendition, more detail capture, and faster image processing, all of which delivers even more realistic images.
With four cameras now in the line-up, photographers can select the most suitable camera based on their photographic needs with the Sigma dp0 Quattro 14mm F4 lens, Sigma dp1 Quattro 19mm 2.8 lens, Sigma dp2 Quattro 30mm 2.8 lens, Sigma dp3 Quattro 50mm F2.8 lens and Sigma dp3 Quattro with dedicated conversion 1.2x lens 90mm.
The dp0 Quattro camera will also feature:
Optional dedicated Optical Viewfinder VF-51 that offers accurate framing and makes composition easier as it is unaffected by external light conditions
The TRUE III Image processor, providing ultrafast processing of an immense volume of image data without any deterioration of the final image
Better high ISO performance with one to two stops of improvement
Improved 3A performance: Auto Color Mode, Auto Focus and Auto White Balance