Sony has a new trade-in program for Sony RX series cameras:
Trade in your Smartphone, Camera, or Camcorder toward a new Sony RX100 ($50 Bonus), RX100 II ($50 Bonus), RX100 III ($50 Bonus), RX10 ($100 Bonus).
Choose which camera/kit you would like and click "Add To Bundle".
You will see this item get added to your Bundle Summary on the right side of your screen.  Then Click on "Add Bundle To Cart."
After going through checkout, you will receive the kit/bundle at the reduced price as well as instructions explaining how to send in your Smartphone, camera or camcorder.
When you send in your model our used department will evaluate the product and contact you.  You will receive a check for the determined value of your product.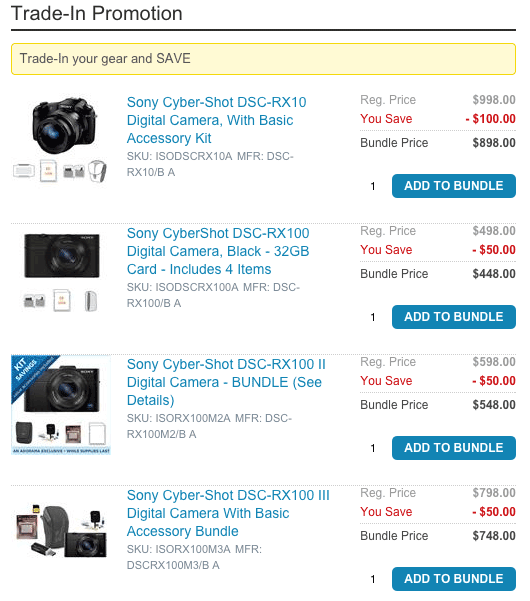 With the new Sony trade-in program you get:
Up to $100 towards the purchase instantly
The trade-in value of your used item. (Depends on the condition of the used item)
The terms of this program are subject to change by Sony. Additional information is available here.
Check out also the current Sony rebates.