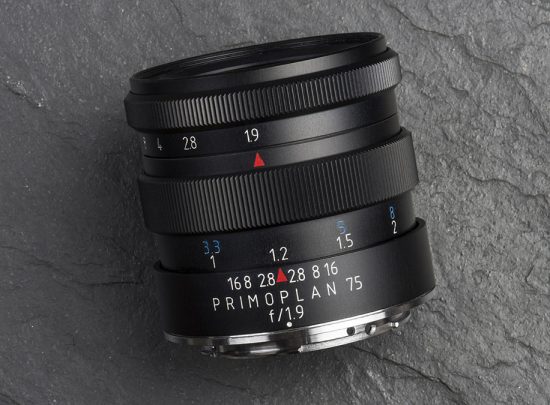 So there were two new Meyer-Optik lenses on that teaser after all – the company just announced today a second lens, the Primoplan 75/f1.9, that will join the Primoplan 58/f1.9 on Kickstarter:
Additional infromation: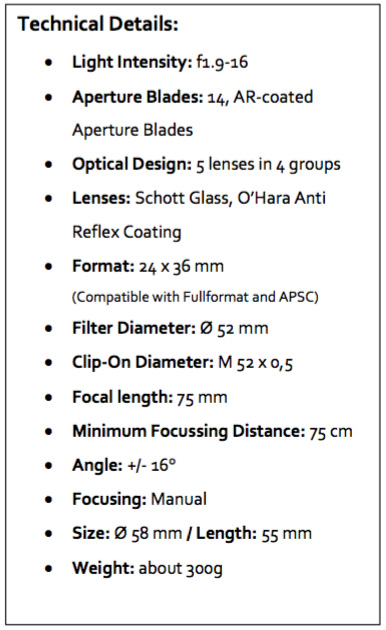 At the request of many of its backers from around the world, German lens manufacturer Meyer-Optik-Goerlitz announced today that it is adding the Primoplan 75/f1.9 to its already successful Kickstarter campaign to resurrect the Primoplan 58/f1.9.
Both lenses are now available as a package deal on the Kickstarter campaign, which launched on Friday and has already raised more than $350,000 in pledges.
The original Primoplan 75 was sold from 1935 as the Nacht Exakta by Exakta, but was then redesigned after the war between 1952 and 1955, this time with a 'V' in its name. In this short time, the Primoplan 75 established its legendary reputation as a lens for portraits and sports. Today, the vintage Primoplan 75s sell for thousands of dollars on the second-hand market.
The new Primoplan, which will go into serial production immediately, will maintain the classic sharpness and versatile bokeh that vintage enthusiasts love while incorporating modern technological advances for today's DSLRs and mirrorless cameras.
The Primoplan 75 is known for its fine progression from sharpness to blur, exceptional base sharpness and unique, dreamy bokeh. It is also hailed for its almost perfect skin tone reproduction, which greatly simplifies post-production.
The 75mm focal length ensures a natural viewing angle and does not compress as much as longer focal lengths. Thanks to its 14 aperture blades, it features impressive blur patterns even when stopped down.
"I've worked with many lenses, but none of them perform as well as the Primoplan 1.9/75. It's like a paintbrush that I never want to let go of," said Benedikt Ernst, internationally renowned fashion and portrait photographer.
The Primoplan 75/f1.9 was developed by legendary designer Paul Schäfter. The new version will also be handbuilt in Goerlitz, with Meyer-Optik developing them with the support of engineer Dr. Wolf-Dieter Prenzel, who was part of the former Meyer-Optik engineering team in Goerlitz in the 1970s. He has been working hand-in-hand with Meyer-Optik to rebuild the brand since it was relaunched in 2014.
Now, the Primoplan 75 and the Primoplan 58 mark the resurrection of the storied Primoplan family of lenses – a revival that has been met enthusiastically by the brand's supporters.
"We are deeply impressed how photographers from all around the world have reacted to the return of the Primoplan 58/f1.9," said Dr. Stefan Immes, CEO of net SE, owner of Meyer-Optik. "The response to our Primoplan 58 Kickstarter has, frankly, blown us away. We hit our initial funding goal in a half hour and received $230,000 in pledges for this ultimate art lens within 24 hours of our launch."
To see the Kickstarter, click here.
To see the Press Kit, click here.
The Primoplan lens will be available with mounts for
* Canon EF
* Nikon F
* Sony
* FujiX
* Micro Four Thirds
* M42
* Leica M (rangefinder not supported/focusing via live view)