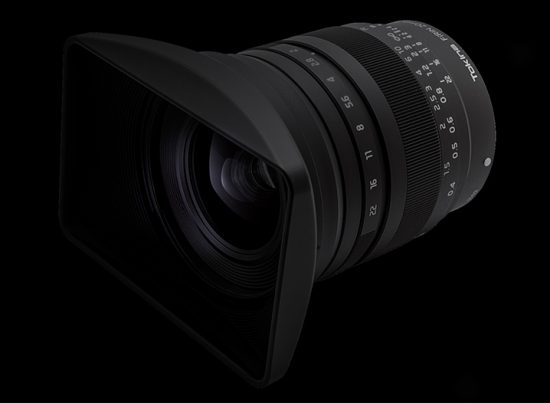 Tokina announced the previously leaked FíRIN 20mm f/2 FE MF full frame lens for Sony E-mount. Shipping is scheduled to start in first quarter of 2017. US pricing is not yet available. Here are the details:
Overview
FíRIN 20mm F2 FE MF is the first in Tokina product line compact form-factor super wide ultra fast F2 aperture manual prime lens compatible with Full-Frame E-Mount mirrorless cameras.
Name Origin
FíRIN 20mm F2 FE MF belongs to a newly launched "FíRIN" series of Tokina lenses for mirrorless cameras (or ILCs – Interchangeable Lens Compacts) marking a new epoch in Tokina history. FíRIN is a variation of Fírinne – the old Irish word for "truth". It means "that what is real" and signifies "being true to someone or something". It represents a promise from Tokina to photographers to help them capture the truth in their images with this revolutionary new lens.
Main Features
Perfect match to SONY A7 series body in terms of design, high-precision Japanese made parts and form factor.
Being compact and light-weight, FíRIN 20mm F2 FE MF performs excellent optical abilities due to perfectly placed two all-glass precision molded aspherical elements with 3 Super-Low Dispersion (SD) glass lens elements that are greatly reducing aberrations and yielding higher resolution and contrast. All lens elements are carefully multi-coated that helps to reduce reflections and flares to an absolute minimum.
The FíRIN 20mm F2 FE MF has an ability to encode and transmit aperture, distance and optical data to the camera body making this lens fully suitable in terms of using MF assist function, 5 axis image stabilization and view finder electronic distance scale. Lens CPU with optical correction data noticeably contributing to final image processing inside the camera.
Design devoted to manual shooting and cinema enthusiasts includes a wide manual focus ring, aperture ring and depth of field index bar.
De-Click Aperture function makes this lens suitable for cinema/video shooting.
Specifications
Focus distance : 20mm
Brightness : F2
Compatible format : Full format
Minimum aperture : F22
Lens configuration : 13 elements in 11 group
Angle of view : 92.651°
Filter size : 62mm
Shortest object distance : 0.28m / 11 in.
Macro maximum magnification : 1 : 10.33
Focus method : Internal focus
Number of aperture blades : 9
Maximum diameter : 69mm
Full length : 81.5mm
Weight : 490g
Hood : Square, bayonet type
Mount type : Sony-E
Additional images: