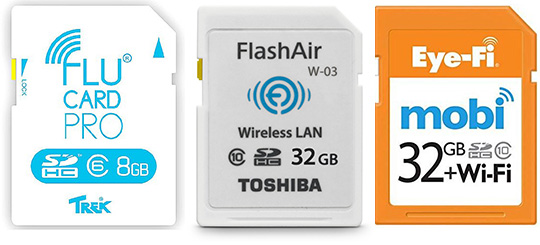 Few weeks ago I reported about the strange "disapearing" of Eye-Fi. A reader (thanks Petter!) did some more digging and sent me this detailed report/timeline on what's going on with the Wi-Fi card manufacturers:
We have three major Wi-Fi-card manufacturers:
Update: on November 18th Ricoh Imaging had renamed the Eye-Fi Cloud service to Keenai. It seems that existing users can still use their Eye-Fi cloud account to log in, but everything (app name and icons) are now all replaced by the new name.
Here is a timeline:
2011
Toshiba launched their first FlashAir. (source)
2013
April 2014
Eye-Fi launched theirEye-Fi Cloud service. (source)
June 2015
Eye-Fi closed down their third party cloud support for their cards.
March 2016
Treks stock price took steep dive. (source)
27 April 2016
Trek suspends its stock trading.
June 2016
News about Ricoh buying the Eye-Fi Cloud and associated apps from Eye-Fi. 

Eye-Fi's card business were not to be impacted and Ricoh would give Eyefi card owners 100% continued cloud support. (source)
30 June 2016
Eye-Fi closed down, as previously announced, their legacy support for Pro X2 card et al. (source)
23 august 2016
Toshiba presents a deal with Eye-Fi which will give the next gen FlashAir cards features like "Eye-Fi Connected" support in cameras. (source 1, source 2)

Eye-Fi releases an update to their apps to support Toshibas FlashAir with upload intoEye-Fi Cloud – which now is owned by Ricoh.
September 2016
Eye-Fi suddenly linked their "Shop Now" button to Toshibas FlashAir cards at Amazon. (source)
31 October 2016
Trek's new CFO has stepped down after less than two months on the job. (source)

Ricoh have been selling Trek's Flucards for camera control and image transfer from their own cameras, b

ut Ricoh UK are out of stock: "currently not available" as they write on their site. (source)

Trek do bundle a free service called Flucard Pro Portal for unlimited photo upload. 

Trek also seems to be having a close out sale and barely have any cards left in stock. 

And they are also selling FlashAir cards in their own online shop. (source)
Many questions remain without answers:
Ricoh is apparently going all-in on cloud photo storage directly from their cameras.

Toshiba is a huge company and they are probably planning a new card (W-04?). Will they get Eye-Fi's future business. How long will separate Wi-Fi cards exist?

Will Eye-Fi cease to exist in any other way other than as a trademark? Eye-Fi has removed every bit of corporate information like press releases etc from their website. (source)

Flucard will cease to exist as Trek seems to focus on IoT and connected medical world.

The other two companies left in the Wi-Fi market are Transcend and ez Share. 

Transcend have their own semiconductor manufacturing but their sales have been decreasing for some time. Ez Share is owned by Chinese LZeal Information Technology.