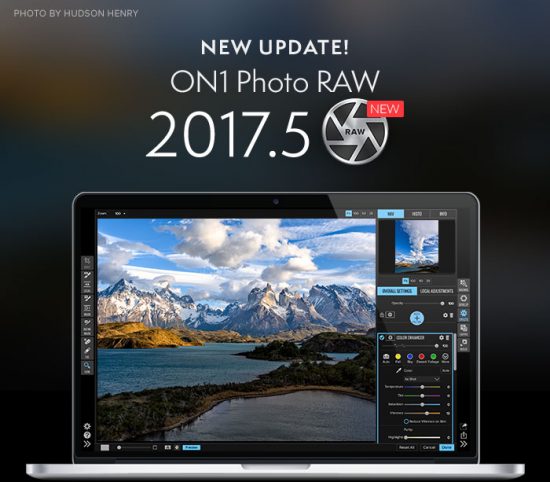 A new version of the ON1 Photo RAW 2017.5 photo editor was released and available for download. Additional information:
Price and Availability:

ON1 Photo RAW 2017.5 is available today with an introductory price of $99.99, regularly $119.99. Previous owners of ON1 Photo (or Perfect Photo Suite) can upgrade for just $79.99, regularly $99.99. For a limited time, ON1 Photo RAW 2017.5 is bundled with some excellent training materials. Four ON1 Photo RAW 2017.5 Master Courses by industry leading educator Matt Kloskowski and Director of Product Dan Harlacher are free with purchase. Also included is activation via user account for up to five computers. A full-functioning 30-day free trial is also available for download from the ON1 website.
About ON1 Photo RAW 2017.5:
The NEW all-in-one photo organizer, editor, raw processor, and effects app is just what photographers have been waiting for. It includes the best new and must-have ON1 editing features and tools for opening, viewing, and editing photos in an instant. The next generation of ON1 Photo works as a standalone photo editor, a plug-in for Adobe® Photoshop® & Lightroom®, or a host app for other editing apps.
ON1 Photo RAW 2017.5 also supports the key online storage services, including Dropbox, Google Drive, and Microsoft's OneDrive. ON1 Photo RAW 2017.5 works on both macOS and Microsoft Windows. Version 2017.5 also supports Adobe® Photoshop® CC or CS6, Lightroom® CC/6, 5, Photoshop Elements® 15, 14 and 13.
New Features in ON1 Photo RAW 2017.5:
LENS CORRECTION — The new Lens Correction pane will automatically detect your lens and reduce distortion, chromatic aberration and peripheral fall-off.
COMPARE MODE — Select a series of photos and zoom and pan each of them at the same time.
DETAILS PANE — Sharpening and Noise Reduction is improved and has been merged into a new Details Pane for global corrections on raw photos giving better results in both areas.
IMPROVED SEARCH — Search using a variety of metadata fields and decide if the search must match all or any of the search criteria.
CLONE STAMP — The powerful clone stamp retouching tool from Layers is inside Develop and Effects as part of the non-destructive workflow.
STACKING PRESETS — The Insert Preset command is now available to stack presets in Effects.
LIGHTROOM® MIGRATION ASSISTANT — Migrate photos, their metadata and collections.
IMPROVED PRESET MANAGEMENT — Delete and rename preset categories as well as export categories for sharing and back-up.
CAMERA UPDATES — Added or improved support for: Apple iPad Pro 9.7, Canon EOS T7i/ 800D / Kiss X9i, Canon EOS M6, Canon EOS 77D / 9000D, Fuji X100F (compressed), Huawei Mate 9, Panasonic LX10, Sony NEX5n, Olympus Pen F, Panasonic DC-ZS70 / TZ90, Pentax KP, Olympus E-PL3, Sony Alpha ILCE 9.