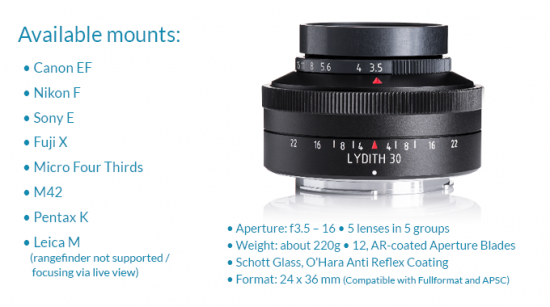 Meyer Optik Görlitz launched a new Lydith 30mm f/3.5 project on Kickstarter. The new lens is described as "the sharpest and most contrasty lens" in the company's history.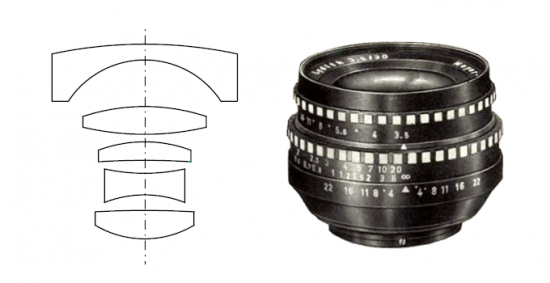 Designed in the late 1950s and introduced in 1964, the modern version of the Lydith will be updated with high-perfomance lens coatings and a short minimum focusing distance of 8 inches (16 cm). Like all of Meyer-Optik's lenses, the Lydith will be fully manual, 100 percent handmade in Germany.
Additional information:
The Lydith is maybe the sharpest and most contrasty lens in our historic art lens portfolio and of course, as a Meyer-Optik lens, it can produce extraordinary bokeh.

The Lydith has an extremely low minimum focusing distance of 0.16m. So you can get very close to your object, while still displaying a good portion of the surroundings. If you have a lens at a focal length, you might have things in mind you want to shoot with it. But due to the Lydith's performance, you will try out setups you wouldn't have shot with any other lens at this range.

The Lydith 30mm f3.5 is built using the same platform that we used for our Trioplan 50 and 35mm lenses. Thus we take advantage of some economies of scale and can offer this breathtaking lens to our backers at a very special price. Following our design principles, this lens is compact and light and weights just above 220g.

We have set extremely tight standards in our lens design that can only be met by using the best Schott and O`Hara glasses and having them produced under the toughest quality measures. We will be using a special coating in the front and back lens that will make the lenses extremely durable and tough for a lifelong enjoyment.
Some of the Meyer Optik Görlitz lenses are also available for direct purchase at retailers.