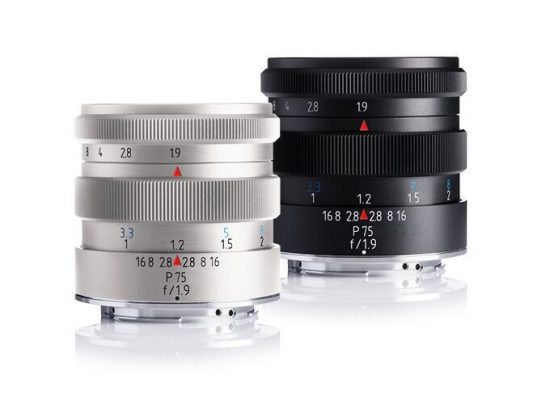 Today Meyer Optik Goerlitz started a new campaign on Indiegogo for a Primoplan 75/1.9 lens (P75 II). The new version can now cover mirrorless medium format cameras like the Hasselblad X1D or Fuji GFX 50s:
New Primoplan 75 Sets Bar Even Higher for Versatility, Optical Performance
Meyer Optik Goerlitz announced today that it is developing the next generation of the Primoplan 75/1.9, its premier portrait lens known for its versatile bokeh that spans from dreamy and swirly to circular, along with melting colors and smooth transitions from sharpness to soft blurs.
The company is calling the new version of the Primoplan 75 the P75 II, and is launching a campaign for the lens today on Indiegogo. Backers can be the first in line to get the lens for as low as $629 during the first 24 hours of the campaign. The upcoming P75 II maintains the special character of the original Primoplan 75, but the new lens follows an innovative optical design making use of Schott and OHARA glass and coatings.
In its new P75 II, Meyer Optik has reduced the lens' minimum focal distance by almost 30% to just 55cm or 1.8 ft. The company is also offering a specially designed achromat front lens as a possible add on by which the minimum focusing distance can be reduced to 25 cm or less than a foot. The designers have also enlarged the image or frame size so that image contrast and resolution in the P75 II are dramatically improved, making the lens idea for black and white photography, as well as the perfect tool for portrait and nature photography. Furthermore, the lens can now cover mirrorless medium format cameras, such as the Hasselblad X1D or Fuji's GFX 50s.
The new optical innovations for the P75 II are an advancement of the Primoplan 75, which had been last produced in the 1950s in East Germany. The lens was originally developed in the 1930s by legendary German designer Paul Schaefter for Meyer Optik Goerlitz.
Two more interesting crowdfunding projects:
120 degree professional pinhole lens for both DSLR and mirrorless cameras.
CamFi Pro: the fastest wireless camera controller.