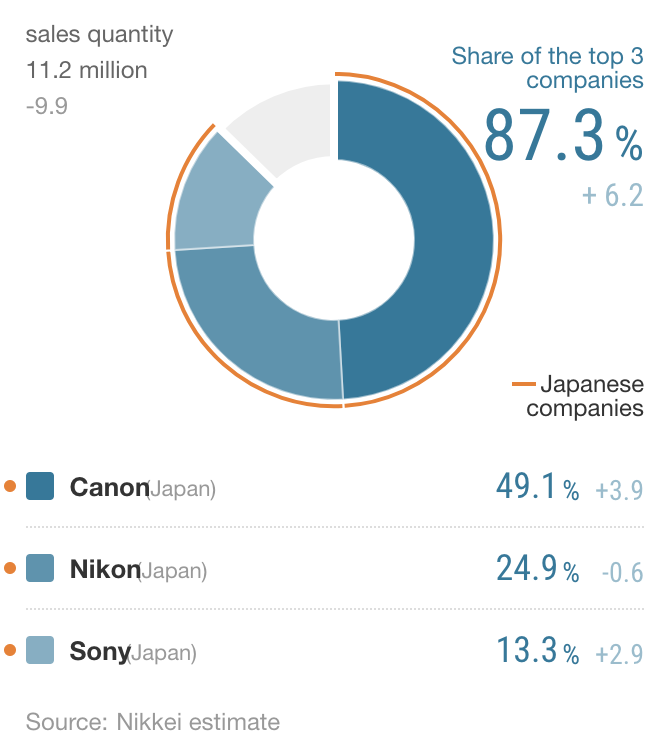 Nikkei published their 2018 interchangeable lens camera worldwide market share report:
Canon: 49.1%
Nikon: 24.9%
Sony: 13.3%
All other companies (Fuji, Olympus, Panasonic, Ricoh) combined have less than a 13% market share (the top 3 camera manufacturers gained 6.2% in 2018 to a total of 87.3%). The compact (fixed lens) digital camera market share shows similar numbers.
The latest Canon's financial report confirms that Canon is #1 in the mirrorless market in Japan for 2018:
Fixed-lens cameras: #1 is Nikon with 31%
DSLR camera: #1 is Canon with 58.9%
Mirrorless camera: #1 is Canon with 30.1%
Video cameras: #1 is Panasonic with 44.1%
Action cameras: #1 is GoPro with 72.9%
Here is the report from CanonRumors:
"Canon has released their financial results for the 2nd quarter of 2018, while there was continued contraction of the ILC market, it did slow for the quarter. The EOS M50 appears to have driven sales in 2Q 2018 and Canon claims they now have the #1 spot for mirrorless marketshare in Japan for the first half of 2018 and continue to increase their marketshare in other markets around the globe."
CIPA published their June report - the numbers remain pretty much unchanged from last month (orange: 2018, black: 2017, blue: 2016, the table with the actual numbers can be found here):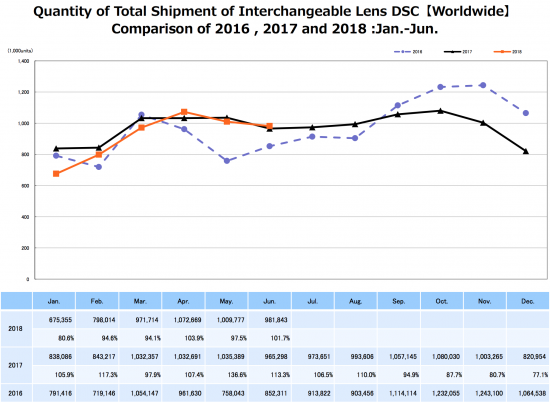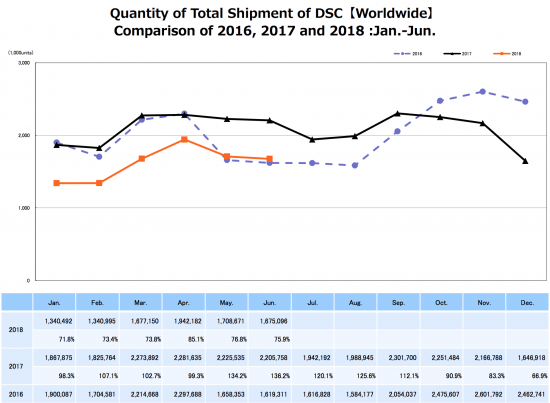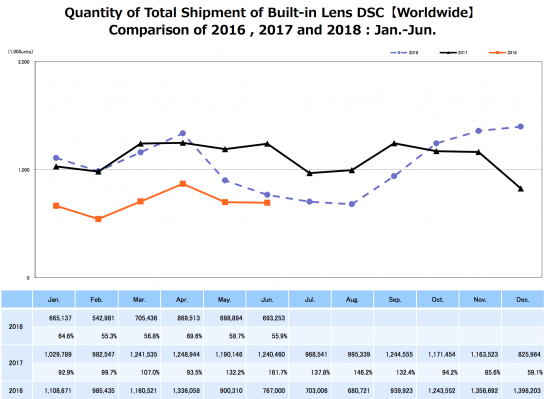 Related - the top 11 spots taken by Nikon and Canon in June's BCN ranking camera sales report:
June's BCN ranking camera sales report: the top 11 spots taken by Nikon and Canon