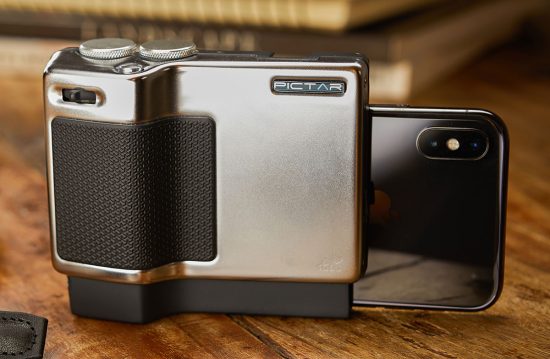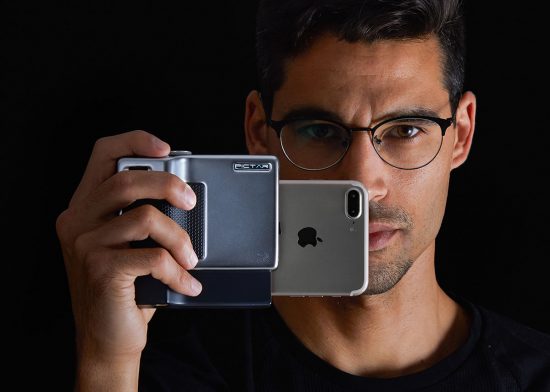 Pictar Pro is a new smartphone attachment that recently was launched on Kickstarter (currently at $194,538
with a goal of $25,000):
Here are some of the camera features: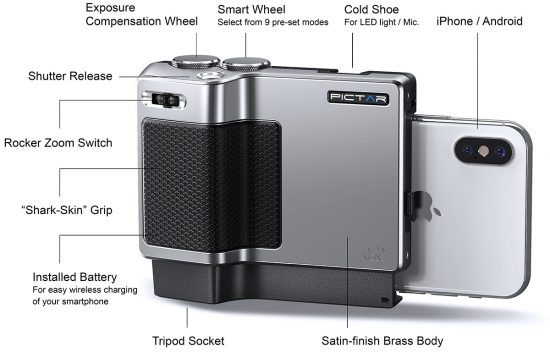 New classic satin-finish brass body with sturdy camera grip that provides the feeling of a real camera and allows for one-handed shooting.

Four external

larger control wheels and

buttons for easy one hand and one-touch use with

 

better control over the camera's features for sharper pictures.

Exposure compensation wheel

for superior control over

the exposure and darkness or brightness of the image.

   

Multi-state Shutter Release button

offers two modes: a half-press to lock the focus and exposure, and a full click to shoot.

Rocker Zoom Switch

for ease of use and continuous smooth motion of the zoom, even in video shooting. And depress it to change from a front-to-back camera for fun selfies.

Smart Wheel -

Rotate the wheel left and right to switch between 9 different shooting modes: Auto, Shutter Priority, ISO Priority, Manual, Macro, Video, Selfie, Sport and Filters.

Press the wheel to switch between the different flash modes.

 

The button can be easily programmed to change its function via the application.

Viewfinder, which easily connects to see the smartphone's screen even on a very bright day.

Qi wireless charging via an internal battery to keep smartphone going to never miss a great shot.

Shutter speed control for "freezing" or blurring the image.

ISO control for "cleaner" pictures.

Larger zoom range over iPhone to get even closer to the object.

Advanced image formats: jpeg/tiff/raw for larger and more detailed files.

Multi-featured camera app (free) for better performance and many more options.

Tripod attachment great for night photography,

long exposures

and family selfies.

"Cold shoe" connector designed for a microphone

or

lighting accessories for adding

light to any dark scene.

 

Designated side-window allows cord connection

Breakthrough wireless connectivity to connect to Pictar Pro to the Pictar App, transferring commands from the various buttons using patented technology of high-frequency sound waves.