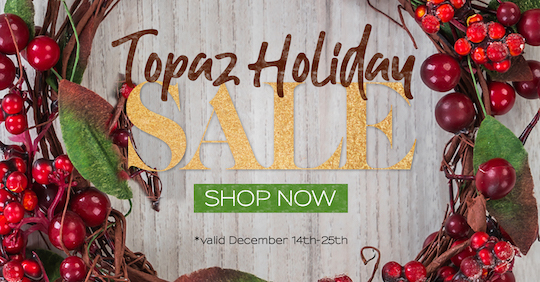 The Topaz Labs holiday sale promotion is now live – here are the details:
Get everything we own in one purchase – the Everything We Own Bundle is only $499.99 (Plugins, Pro Adjustments, and Standalone Products – all in one bundle).
Artistic Bundle (a Holiday Sale Exclusive) for $199.99 (top artistic tools including Glow in Studio, the Impression Adjustment, A.I. ReMix, Simplify in Studio and Texture Effects in Studio, in one bundle).
A.I. Gigapixel at the lowest price of the year – only $69.99 (that's $30 off the original price of A.I. Gigapixel).
25% off all individual items storewide: if you don't want to take advantage of the bundles above, you can still get 25% automatically when they purchase any items during this promotion.
Give a gift and get 15% back in store credit – for every gift you buy, you get 15% back in store credit to use for yourself.