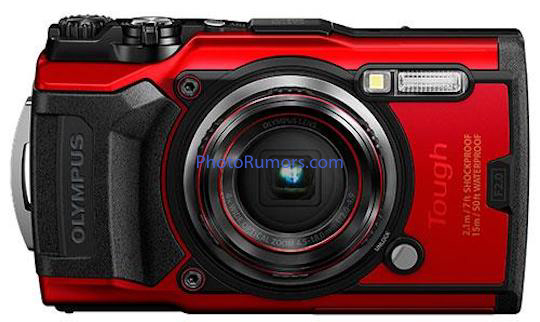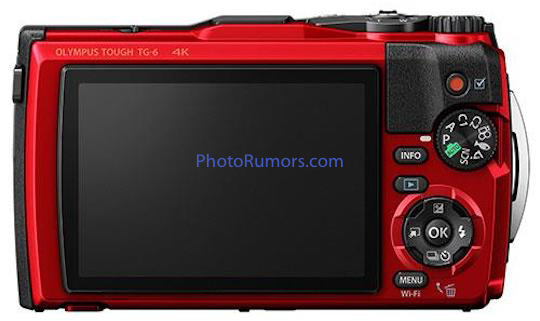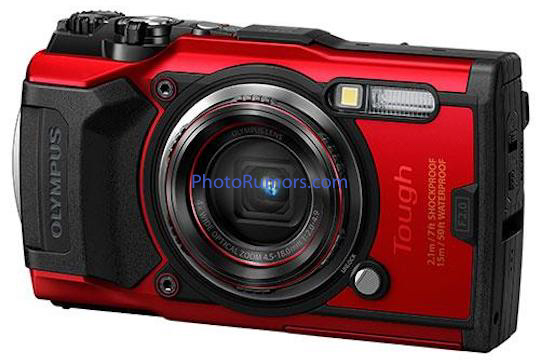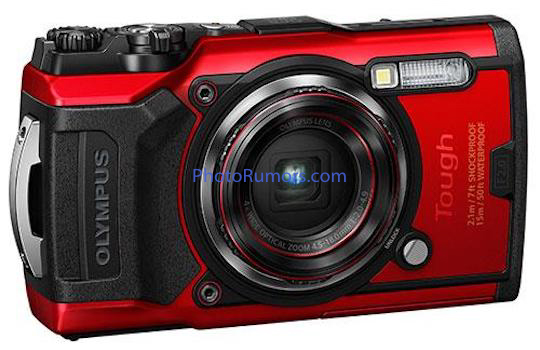 I received the first pictures and detailed specifications of the upcoming Olympus TG-6 waterproof, dustproof, freezeproof and shockproof camera that will replace the current TG-5 model (previoulsy rumored here). Here is a much better version of what I reported in my previous post:
The Olympus TG-6 is the latest in Olympus Tough series all-weather cameras. The TG-6 is waterproof down to 15 metres, crushproof, shockproof and freezeproof so you can use this compact camera in all conditions. The TG-6 includes upgraded features such as new underwater modes, more versatile macro photo options as well as a better monitor with improved resolution. The 12 megapixel backlit CMOS sensor, high ISO and ultra-bright lens give great results in low light. You can record great quality video in 4K 30P Video as well as high-speed Full HD modes. You can also share your footage easily with the built-in Wi-Fi or and use your smartphone with the app.
The TG-6 is waterproof to a depth of 15m, dustproof, shockproof to 2.1m, crushproof up to 100kg, freezeproof to -10ÅãC, and features a dual-pane protective glass construction for excellent anti-fogging performance. The Olympus field sensor system makes it possible to record log data such as location, altitude/depth as well as air/water temperature while capturing still images or movies.
Equipped with a class-leading f/2 zoom lens and a 12MP hi-speed back-lit CMOS image sensor that has superb high-sensitivity performance, the TG-6 allows its users to take fantastic photos and video. . Anti-reflective (AR) coating on the image sensor glass now reduces ghosts and flares while the TruePic VIII image processor from the OM-D E-M1X professional model helps to reduce noise levels and improves the resolution in low contrast areas. The option to capture RAW data enables TG-6 users versatile editing options with Olympus Workspace or other image editing software supporting TG-6 RAW files.
For spectacular close-up shots, the Tough TG-6 has an advanced Variable Macro system that goes beyond the limits of what the human eye can see: boasting a closest focusing distance up to 1cm from the end of the lens and a maximum shooting magnification of 7×3, the camera captures high-quality images of microscopic worlds. The macro system features four modes: Microscope, Microscope Control, Focus Bracketing and Focus Stacking. In Focus Stacking mode, users can now set between 3 and 10 shots for more versatility and to fine tune settings for different subjects and more precision in the finished shot.
Tough TG-6 is equipped with five underwater modes, including Underwater Wide, Underwater Snapshot, Underwater Macro, Underwater Microscope, and Underwater HDR. Each mode switches to shooting settings optimized for different situations. The popular Underwater White Balance mode has been expanded to three options, providing appropriate colour adjustment for deep water shooting.
Olympus Stylus Tough TG-6 Specifications
Sensor Type

1/2.3″ BSI CMOS SENSOR

Effective Pixels

12 million

ISO Sensitivity

AUTO ISO: 100 – 1600 with customizable upper limit from 100 to 12800 Manual ISO: 100 – 12800 (adjustable)

Processor

Olympus TruePic VIII

Waterproof

IJIS/IEC protection class 8 (IPX8) – Waterproof to depths of 50 ft / 15 m

Dustproof

JIS/IEC protection class 6 (IP6X)

Freezeproof

Freezeproof to 14 deg. F / -10 deg. C

Crushproof

Crushproof to 220 lbf / 100 kgf

Shockproof

Shockproof from 7′ (2.13m)

Lens Cover Glass

Anti-fog dual pane

Focal Length (35mm Equiv.)

4.5mm – 18mm (25mm – 100mm)

Aperture Range

F/2.0 (wide) – f/4.9 (tele)

Focus Range

Throughout entire zoom range : 0.1m – infinity
(Super Macro: less than f=5.4mm, from 0.1m to 0.3m/above 5.4mm, from 0.01m to 0.3m, microscope : 0.01m – 0.3m)

Shutter Speed

1/2 – 1/2000 sec. (Night Scene, A mode: up to 4 sec.)

Optical Zoom

4x

Image Stabilization

2.5 EV (Focal length set to 18mm. 35mm Equivalent Focal Length: 100mm)

Live View Image Stabilization

Throughout entire zoom range : 0.1m – infinity
(Super Macro: less than f=5.4mm, from 0.1m to 0.3m/above 5.4mm, from 0.01m to 0.3m, microscope : 0.01m – 0.3m)

AF System Type

CMOS Contrast Detection System

Focusing Points

25

AF Focus Modes

Single AF (S-AF) / AF Tracking / Manual Focus (MF)

AF Illuminator

Yes

Face Detection

Yes

Manual Focus Assist

Focus knob rotation activates Live View image magnification and/or focus peaking when in S-AF+MF or MF mode

Peaking Function

Yes; Color selection: white, black, red, yellow

Built-in Flash

Yes

Flash Modes

Auto, Red Eye Reduction, Slow sync. (1st curtain), Red-eye Slow sync. (1st curtain), Fill-in, Manual (1/1 (FULL)~1/64), Flash Off

Flash Intensity Control Method

TTL Auto, Manual

Flash Intensity Control

Up to +/-2 EV in 1/3 EV steps selectable

External Wireless Flash Control

Compatible External Flash
FL-50R, FL-36R, FL-300R, FL-600R, FL-900R, FL-700WR

External Wireless Flash Control Method

Triggered and controlled by Olympus Wireless RC Flash system
Commander Flash: Built-in flash
Channel 1 channel
Group No. 1 group

Monitor Type

Color LCD

Monitor Size

3.0″ (Aspect Ratio 3:2)

Monitor Resolution

1,040k-dots

Touchscreen

No

Monitor Brightness Adjustment

+/-7 levels

Live View

Approx. 100% field of view, exposure compensation preview, WB adjustment preview, gradation preview, face detection preview (up to 8 faces), grid line.
Display modes: Standard, Histogram, Highlight & Shadow, Level Gauge, Off.

Removable Memory Type

SD, SDHC, SDXC, Eye-Fi Card compatible

Recording Format

DCF2.0, Exif2.3

Still Image File Format

RAW (12-bit lossless compression), JPEG, RAW+JPEG

Recording Image Size

[RAW] 4000 x 3000
[JPEG] 4000 x 3000 – 640 x 480

One Touch Tele-converter

x2 (P, A, Movie mode), x2/x4 (Microscope mode)

Exposure / Shooting Modes

Intelligent Auto (iAUTO), Program Auto (P), Aperture Priority (A), Movie (Standard, 4K, High-speed), Custom1, Custom2, Underwater (Underwater snap, Underwater wide, Underwater macro, Underwater microscope, Underwater HDR), Microscope (Microscope, Focus stacking, Focus bracket, Microscope control), Scene Mode (SCN)

Sequential Shooting

[Sequential shooting H]: approx. 20 fps with selectable 10/20 fps
[Sequential shooting L]: approx. 5 fps
[Pro Capture]: approx. 10 fps

Sequential Shooting Recordable Frames

[Sequential shooting H] RAW: Max. 14 frames, JPEG (LN): Until card is full
[Sequential shooting L] RAW: Max. 40 frames, JPEG (LN): Until card is full

Maximum Recordable Frames

Prior to Full Shutter Press (Pro Capture Mode): 5 frames (fixed)

White Balance Mode

Auto WB, 6 Preset WBs, 3 Underwater WBs, 4 Capture WBs, Custom WB(Kelvin setting)

White Balance Compensation

+/- steps along A-B / G-M axis * Except for Custom WB

Picture Modes

I-Enhance, Vivid, Natural, Muted, Portrait, Monotone, Custom, e Portrait, Art Filters

Gradation

Auto, Normal, High Key, Low Key
[except when using i-Enhance, Underwater, Art Filters, Color Creator]

Scene Modes

Portrait, e-Portrait, Landscape, Portrait +Landscape, Hand-held Starlight*, Nightscape, Portrait + Nightscape, Children, Sport, Candlelight, Sunset, Fireworks, Beach & Snow, Panorama, Live Composite, Backlight HDR
6 images are automatically captured and combined into a single image composite

Art Filters

Pop Art (I, II / a.b.c.d.e.f.)
Soft Focus ( – / c.e.)
Pale & Light Color (I, II / a.b.c.d.f.)
Light Tone ( – / d.f.)
Grainy Film (I, II / b.c.d.g.h)
Pin Hole (I, II, III / d.)
Diorama ( I,II / d.)
Cross Process (I, II / b.c.d.f.)
Gentle Sepia ( – / a.b.c.d.f.)
Dramatic Tone (I / b.c.d.e.f.) (II / b.c.d.e.f.g.h)
Key Line (I, II / a.b.c.d.e.)
Watercolor (I, II / a.b.c.d.)
Vintage (I, II, III / a.b.c.d.e.f.i)
Partial Color (I, II, III / a.b.c.d.e.f)

Detail of Art Effect

A. Soft Focus Effect
b. Pin-Hole Effect
c. White Edge Effect
d. Frame Effect
e. Star Light Effect
f. Blur Effect (Top & bottom, Left & Right)
g. B&W Effect (None, Yellow, Orange, Red, Green)
h. Pict. Tone (None, Sepia, Blue, Purple, Green)
i. Shade Effect (Top & bottom, Left & Right)

Color Ring for Partial Color

18 Selectable Colors

Live Composite

Update interval time / composite method
.5sec – 4.0 sec / Lighten Mode (Bright area prioritization)

Interval Mode

Interval Time 1 sec. – 24 hours, max 299 frames. Available when automatically creating Time-lapse video.

Exposure Compensation

+/-2 adjustable by 1/3 EV steps

Focus Bracketing

Number of images 10 / 20 / 30
Focus step : Wide / Standard / Narrow

Focus Stacking

Available*
* Angle of view becomes slightly smaller

Video File Format

MOV (MPEG-4AVC / H.264)

Video Modes

[MOV]
3840×2160 (4k) / 30p, 25p (Bit rate: Approx. 102 Mbps)
1920×1080 (FHD) / 30p, 25p / IPB (SF,F,N)
1920×1080 (FHD) / 60p, 50p / IPB (SF,F,N)
1280×720 (HD) / 30p,25p / IPB (SF,F,N)
60p: 59.94fps, 50p: 50.00fps, 30p: 29.97fps, 25p: 25.00fps
FHD IPB (SuperFine / 52Mbps, Fine / 30Mbps, Normal / 18Mbps)
HD IPB (SuperFine / 52Mbps, Fine / 30Mbps, Normal / 18Mbps)

Maximum Video Recording Time

[MOV] Approx. 29 min

Art Filter for Movie

Yes (Frame rates may drop when certain Art Filters are used)

Time Lapse Movie

[MOV]
3840×2160 (4K) / 5fps
1920×1080 (FHD) / 5fps, 10fps, 15fps
1280×720 (HD) / 5fps, 10fps, 15fps, 30fps

High Speed Movie

1920×1080 (FHD) / 120fps, recording time 20 sec.
1280×720 (HD) / 240fps 20 sec., recording time 20 sec.
640×360 (SD) / 480fps 20 sec., recording time 20 sec.

Image Stabilization for Video

Digital stabilization (angle of view becomes slightly smaller)

Audio Recording

Wave Format (Stereo linear PCM/16-bit, Sampling frequency 48kHz)

Microphone

Built-in stereo microphone

Speaker

Built-in mono speaker

Live View Output via HDMI

Monitor Mode (outputs video and info display to a connected monitor)

Wi-Fi

Built-in (IEEE 802.11 b/g/n)

Action Track Sensors

GPS (GLONASS, QZSS), compass, manometer, temperature sensor, accelerometer

PC Connectivity

USB 2.0 (Micro-B)

HDMI

Micro HDMI (Type D)

PictBridge Easy Print

Print reservation (DPOF), Direct print (PictBridge compatible)

Battery Type

LI-92B Li-ion battery

AC Adapter

F-5AC

Sleep Mode

Available (1 / 3 / 5 min. off)

Battery Life

Approx. 340 images
Approx. 50 minute video (under standard JEITA testing)
Approx. 110 minute video (when zoom and other operational functions are not used)

Self Timer

Operation time: 12 sec., 2 sec., custom (wait time: 1-30sec., number of shots: 1-10, shot interval: 0.5 / 1 / 2 / 3sec.)

Languages

34 selectable languages: English, French, German, Spanish, Italian, Japanese, Korean, Traditional Chinese, Simplified Chinese, Russian, Czech, Dutch, Danish, Polish, Portuguese, Swedish, Norwegian, Finnish, Croatian, Slovenian, Hungarian, Greek, Slovakian, Turkish, Latvian, Estonian, Lithuanian, Ukrainian, Serbian, Bulgarian, Rumanian, Indonesian, Malay, Thai

Dimensions (WxHxD)

113 x 66 x 31.9mm (4.45 x 2.60 x 1.26″) (based on CIPA standards, excludes protrusions)

Weight

Approx. 253g (8.92 oz) (with battery and memory card, based on CIPA standards)