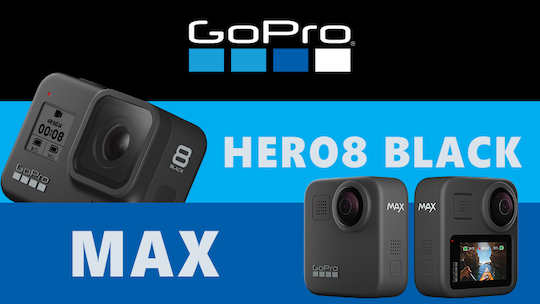 The previously rumored GoPro cameras are now officially announced: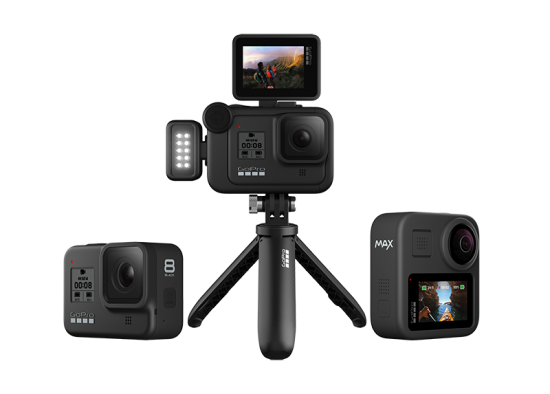 Additional information on the new models:
GoPro HERO8 Black Key Features:
Streamlined Design – Frameless mounting with built-in folding mounting fingers, more pocketable and 14% lighter. The frameless design also makes changing batteries and SD cards even faster; plus, the lens is now 2x more impact resistant.
HERO8 Black Mods – Vloggers, pro filmmakers and aspiring creators can do more than ever imagined with quick-loading accessories that bring flashes, microphones, LCD screens and more to HERO8 Black.
HyperSmooth 2.0 – Improved overall baseline performance and dramatically improved stabilization in pitch-axis movement. HyperSmooth 2.0 also features a new Boost mode that cranks up the stabilization when desired. Plus, HyperSmooth 2.0 works in all resolutions and frame rates and features in-app horizon leveling.
TimeWarp 2.0 – Automatically adjusts speed based on motion, scene detection and lighting. Tap to slow down to real time and again to speed back up.
Digital Lenses – Toggle between Narrow, Linear, Wide and SuperView.
Capture Presets – Customize up to 10 presets, or use preloaded video presets for Standard, Activity, Cinematic and Slo-Mo shots, for quick access to settings
On-Screen Shortcuts – Customize your screen with the shortcuts to the features you use most.
LiveBurst – Record the moments 1.5 seconds before and after your shot, so you can choose the best single frame for the perfect 12MP photo or share an awesome 4K 4:3 video.
SuperPhoto with improved HDR – Capture killer 12MP photos with improved HDR—while in motion or stationary—with reduced blur and serious detail even in low-light areas.
Pro-Quality 4K60 + 1080p240 Video – Stunning video resolution, with studio-quality bit rate options of up to 100Mbps, and 8x slo-mo ultra-high frame rate 1080p240 video.
RAW in All Photo Modes – RAW mode delivers the most flexibility and is now available for time lapse and burst photos.
Night Lapse Video – Shoot awesome time lapse videos at night in 4K, 2.7K 4:3, 1440p or 1080p, all processed in-camera.
Live Streaming in 1080p – Get HyperSmooth stabilization as you broadcast via the GoPro app and save footage to your SD card to check out later.
Voice Control – Go hands-free with 14 voice commands in 15 languages and dialects; "GoPro, take a photo."
Advanced Wind-Noise Reduction – Enjoy crisper, clearer audio quality with a new front mic location and improved algorithms that actively filter out wind noise.
Rugged and Waterproof – Waterproof without a housing to 33ft (10m).
GPS-Enabled – Track speed, distance and elevation, then highlight them by adding stickers to videos in the GoPro app.
Transfer to Phone – Your photos and videos transfer automatically when connected to the GoPro App for on-the-go sharing.
GoPro MAX Key Features:
Built-In, Folding Mounting Fingers
HERO + 360 Capture Modes – Switch between traditional HERO-style video and photo or immersive 360 footage.
Max HyperSmooth – MAX gives you unbreakable stabilization by using 180° capture as the ultimate buffer.
In-Camera Horizon Leveling – In HERO mode, game-changing horizon leveling gives you that silky-smooth cinematic look.
Max TimeWarp – Warps time in both 360 and HERO modes. In HERO mode, TimeWarp automatically adjusts speed based on motion, scene detection and lighting + slow capture to real-time in one tap.
Digital Lenses – 4 digital lenses make selecting a field of view easy and include the ultra-immersive Max SuperView option.
Max SuperView – Our widest, most immersive view yet can be applied using digital lenses.
PowerPano – Pano without the pan. Take incredible 270° distortion-free panoramic photos without having to scan the horizon. Perfect for capturing action shots and epic selfies.
Premium Image Quality – 5.6K30 360 video, 1440p60 and 1080p60 HERO video, 5.5MP HERO photos and 6.2MP PowerPano photos.
Premium 360 + Stereo Audio – Six mics capture true-to-life 360 audio and deliver the best stereo sound ever from a GoPro.
Directional Audio – Directional audio in HERO mode lets you prioritize sound from either side of the camera, no matter which lens you're using—perfect for vlogging.
In-Camera Stitching – Offload and edit your 360 footage in the GoPro app.
Reframe + the GoPro App – Use the new keyframe-based workflow in the app to easily Reframe 360 footage into traditional videos and photos you can play back, edit or share.
1080p Live Streaming – Shoot in HERO mode and share while you're there in HyperSmooth stabilization.
Rugged and Waterproof – It's a GoPro—built tough. Really wanna go hard? Snap on the included protective lenses and charge. And it's waterproof down to 16ft (5m).
Voice Control – 12 commands in 15 languages and dialects.
GPS-Enabled – GPS captures your location, altitude and speed. Add GPS performance stickers to your videos in the GoPro app.
Scene Detection – In HERO mode, MAX knows if you're in the snow, at the beach, under water and more.
Auto Backup to the Cloud with GoPro PLUS – Offload videos and photos from MAX to the cloud—automatically.