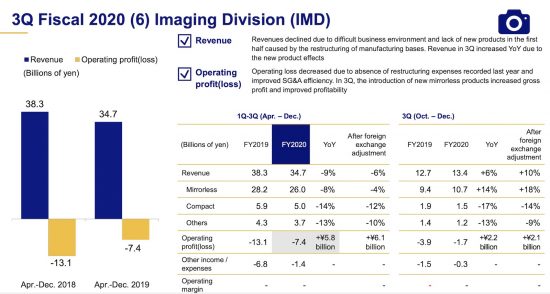 Olympus released their Q3 financial results. Imaging Division revenue is down by another 9% and the 2020 forecast has been furhter revised downward (see previous Olympus financial results):
Revenue decreased by 9% year on year to ¥34.7 billion while this segment also posted an operating loss of ¥7.4 billion.
The decline in revenue was due primarily to difficult business environment alongside a lack of new product introductions in the first half of the fiscal year, caused by the restructuring of manufacturing base.
Although loss was reduced due mainly to the absence of expenses for the restructuring of manufacturing base recorded in the same period of the previous fiscal year and to increased efficiency in SG&A expenses, this was insufficient to improve profitability as much as expected.
Nonetheless, looking solely at the third quarter, revenue was up 6% due to the introduction of new mirrorless products, and profitability improved together with gross profit.
While the tough business environment continues, including a shrinking of the camera market, we will strive to improve profitability by expanding sales of new products and appropriately controlling SG&A expenses.
Olympus fiscal 2020 forecasts – revenue and operating profit forecasts have been revised downward in the Imaging Division due to difficult business environment: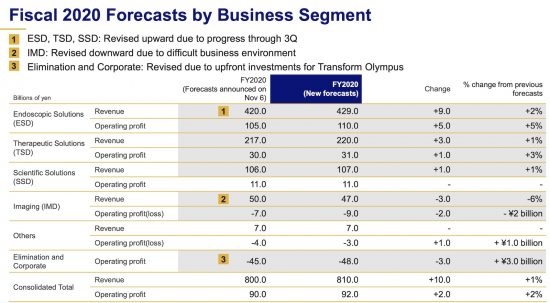 Source: Olympus