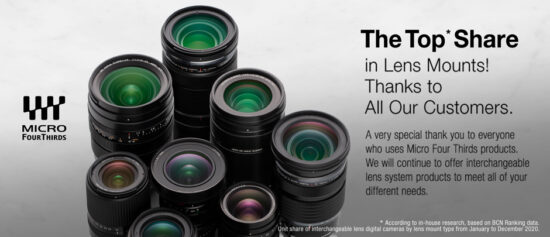 Similar to last year, OM Digital Solution issued a press release today confirming that Micro Four Thirds still has the #1 market share by lens mount in Japan with 21.7% (based on the number of digital interchangeable lens cameras sold in Japan by lens mount):
Micro Four Thirds Achieved the Best-Selling Lens Mount Type in the Japanese Interchangeable Lens Digital Camera Market in 2020

January 29, 2021, Tokyo, Japan, January 29, 2021 – OM Digital Solutions Corporation (*1) and Panasonic Corporation (*2) are pleased to announce that the Micro Four Thirds System, the standard both companies jointly announced in 2008, was the best-selling (*3) lens-mount type in the Japanese interchangeable lens digital camera market in 2020.

The Micro Four Thirds System offers product lineup development opportunities unique to a joint standard, fulfilling market needs and further enhancing imaging enjoyment. There are now 56 participating companies in the Micro Four Thirds consortium, including BtoB corporations, demonstrating commitment to the standard. Four new interchangeable lens cameras conforming to the Micro Four Thirds System standard were introduced in 2020, in an effort to revitalize the domestic market in Japan. As a result, Micro Four Thirds products achieved a 21.7% share in the Japanese market, making them the top-selling by lens mount type3.

As the company responsible for initiating both the Four Thirds System and the Micro Four Thirds System standards, OM Digital Solutions and Panasonic will continue to develop and enhance the product line-up to meet the diverse needs of our customers.

*1 Olympus Imaging Corporation at the time of announcement in 2008
*2 Matsushita Electric Industrial Co., Ltd. at the time of announcement in 2008
*3 According to in-house research, based on BCN Ranking data.
The 2020 BCN Ranking Japanese camera market share report is out
Source: OM Digital Solution