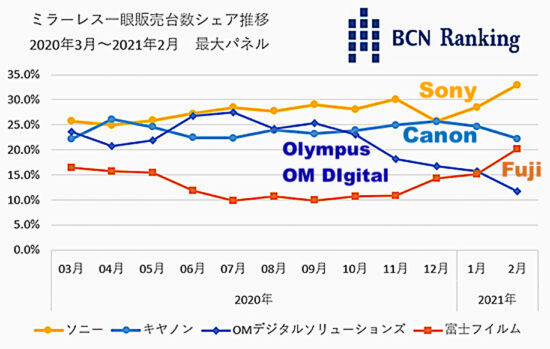 Fujifilm is gaining market share in Japan – the company just surpassed the shrinking  Olympus/OM Digital according to the latest data from BCN quoted by FujiAddict:
According to the "BCN Ranking", the number of mirrorless interchangeable-lens digital cameras sold in February 2021 was 73.0% compared to the same month of the previous year. Although improvement was seen from the previous month, which was 61.1%, full-scale recovery has been delayed due to the effect of prolonged self-restraint from going out.
In terms of the share of sales volume by manufacturer, Fujifilm, which had been in the 4th place until now, has surpassed OM Digital Solutions to move up to the 3rd place. The company's share in February was 20.2%, approaching the second-placed Canon (22.2%). Meanwhile, Sony, the leader, rose to 33.0%, the highest in the last year.
In the sales volume share ranking by series, Sony's "α6400" stands out at 15.3%. Canon's "EOS Kiss M" has the old model in 2nd place and the new model in 4th place. The best-selling FUJIFILM X-A5 is the FUJIFILM X-A5. It ranked in 3rd place with 7.0%.
BCN Ranking collects real sales data from approximately 40% of the Japanese retailers – this is not a worldwide market share report. Previous BCN reports can be found here.
BCN Ranking published their latest full-frame cameras market share report for Japan
The 2020 BCN Ranking Japanese camera market share report is out