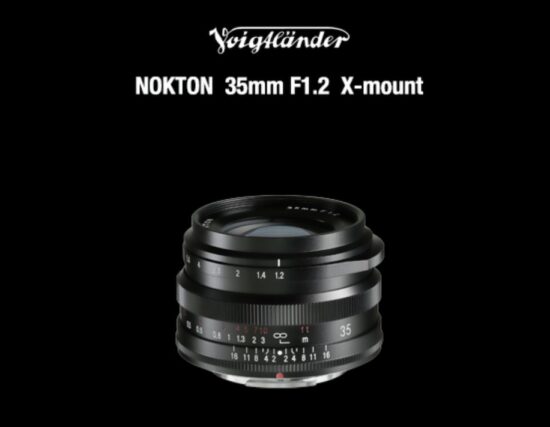 The new Voigtlander NOKTON 35mm f/1.2 lens for Fuji X-mount is now available for pre-order at B&H Photo:
Voigtlander 35mm f/1.2 X Nokton Overview


Distinguished by its extremely fast maximum aperture, the Nokton 35mm f/1.2 X from Voigtlander is a versatile wide-angle prime lens optically optimized for FUJIFILM APS-C image sensors. The bright f/1.2 aperture benefits working with selective focus techniques and aids when shooting in low-light environments. The optical design employs one abnormal partial dispersion element for improved clarity and sharpness throughout the aperture range. The lightweight, compact design and manual focus operation permits working with subjects as close as 11.8″ away. The wide aperture and 12-blade diaphragm contribute to a pleasing bokeh quality, making it well suited to portraiture in addition to general photography. The Nokton 35mm f/1.2 X incorporates electronic contacts to provide Exif data and focus check with feature-enabled camera bodies. Camera firmware update may be required.
New optical formula designed exclusively for FUJIFILM X-mount
Information communication with the body through electronic contacts
Precision and durable all-metal lens barrel
Manual focus for reliable, precise focus operation
Focus Check with enabled camera bodies
Aperture ring for direct mechanical aperture operation in 1/3-Stop increments
Beautiful enhanced bokeh with 12 aperture blades
This time for real: the Voigtlander NOKTON 35mm f/1.2 lens for Fuji X-mount officially announced
Voigtlander NOKTON 35mm f/1.2 mirrorless lens for Fujifilm X-mount already announced in some countries
Via FujiAddict