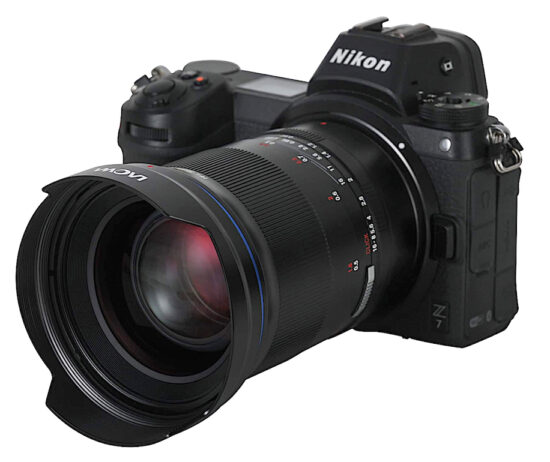 Today Venus Optics officially announced the previously rumored Laowa Argus 35mm f/0.95 FF full-frame mirrorless lens for Nikon Z, Sony E, and Canon R mounts. The lens is now available for pre-order at the Laowa online store (international shipping available). Adorama and B&H always list Laowa lenses a few weeks later.
Laowa Argus 35mm f/0.95 FF key features:
Wide perspective with ultra-shallow depth of field
Ultra-fast f/0.95 aperture for low-light shooting
Superb sharpness at f/0.95
Aperture Ring Click Switch
Internal focus design
Low Focus Breathing with extended Focus Throw
Exquisite Bokeh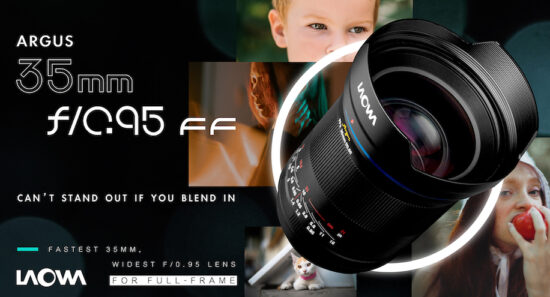 Additional information:
Specifications

Format
Full Frame
Focal Distance
35mm
Aperture Range
f/0.95-16
Angle of View
63.4°
Lens Structure

14 elements/ 9 groups

( Aspherical Lens*1, ED glass*1, UHR glass*4 )

Aperture Blades
15
Min. Shooting Distance
50cm
Max. Magnification
0.1X
Focusing
MF
Filter Thread
Ø72mm
Dimensions
About Ø76.8mm*103mm
Weight

About 755g

(without lens hood and caps)

Mounts
Sony E / Nikon Z / Canon R
Laowa announce the World's Fastest 35mm lens for full-frame cameras, Laowa Argus 35mm f/0.95 FF
Anhui China, Sept 10, 2021 – Venus Optics, the manufacturer specialized in making unique camera lenses, is proud to introduce Laowa Argus 35mm f/0.95 FF, the world's fastest 35mm lens and widest f/0.95 lens ever designed for full frame cameras. It is a breakthrough of the camera lens industry, and it inherits Venus Optics' objective to offer innovative and groundbreaking products. It provides a wide 63.4° angle of view together with superb shallow depth of field for both photography and videography.
Widest f/0.95 lens & Fastest 35mm lens for Full Frame Format
Laowa Argus 35mm f/0.95 FF is the FIRST full frame 35mm with f/0.95 ultra-fast aperture. Makes it the fastest 35mm and widest f/0.95 lens in the market. The optical performance is maximized by incorporating 1 ED glass element, 1 aspherical lens element and 4 high-refractive-index glass materials. The extraordinary shallow depth of field and dreamy bokeh created by f/0.95 is the trump card for portraits. In the meanwhile, its unbeatable performance in low light conditions for obtaining sharp and outstanding images makes it a must-have tool for every photographer and videographer. The wide FoV allows more backgrounds being recorded into the image and thanks to the f/0.95 aperture, a shallow depth of field can still be achieved.
Aperture Ring Click Switch
Aperture ring click switch mechanism offers options for the photographer and videographer to choose either clicked or de-clicked aperture ring. No uneven exposure change when changing the aperture during shooting.
Internal Focusing
Laowa Argus 35mm f/0.95 FF inherits an internal focusing characteristics from Argus 33mm f/0.95 CF APO. It maximizes the optical performance in both infinity focus and minimum focusing distance by enhancing the stability. Also, it prevents the dust or ashes falling into the lens. This feature is extremely welcomed by videographers as accessories like matte box will not move while pulling focus. Absolute advantage for both photography and videography.
Low Focus Breathing with Long Focus Throw
The low focus breathing and long focus throw are perfect for narrative filming and selective focus control. It eliminates the distraction of the changes in angle of view when moving focus from one object to another. Along with the accurate focusing obtained by the 300° focus thread makes it become the ideal lens for videography.
Exquisite Bokeh
The 15-aperture blade produces silky smooth, round bokeh without hard edges. A dreamy Bokeh adds character to the images which is perfect for visually appealing images.
Technology breakthrough
f/0.95 and wide angle lenses with good optical performance are known to be heavy and bulky, making it inoperable in certain conditions. Dayong Li (Chief optics designer of Venus Optics) has managed to strike a balance between the ease of customer operation and optical performance. They push the optics design to another level by crafting a lens that can cover mainstream full frame sensor, have a good optical performance, offer a wide perspective and extremely shallow depth of field.