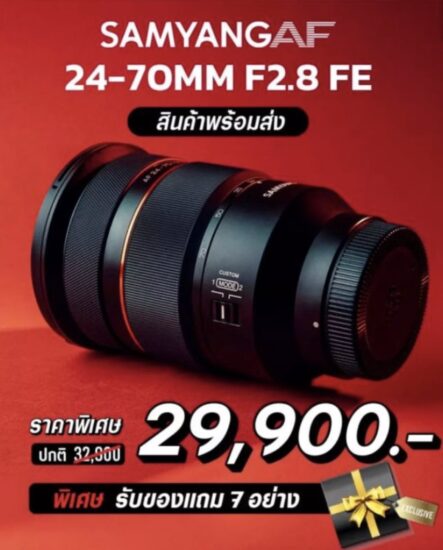 Some additional information on the upcoming Samyang AF 24-70mm f/2.8 FE lens leaked online from an Asian retailer:
Wide aperture F2.8 – F22
Par-Focal zoom lens that can focus accurately at all focal lengths
Linear STM focusing system
17 Elements in 14 groups
2 special ASP lens elements, 1 HB, 3 HR, 3 ED
Special UMC lens element coating
The minimum value of the aperture: 22
The maximum value of the aperture: 2.8
Number of aperture blades:19
The closest focus is 35 cm.
Beautiful round bokeh with up to 9 aperture blades
Front lens size 82mm
Weather Sealing, waterproof and dustproof
There is a Custom Switch button, you can choose the settings to use the ring.
Product warranty for 2 years
Packed with quality and superior protection with Weather Sealing
Samyang AF 24-70mm F2.8 FE consists of up to 17 lens elements divided into 14 groups, and is also packed with as many as 9 special lens elements: 2 ASP lenses, 1 HB lens, 3 HR lenses, and lens elements. 3 ED elements, resulting in a high-sensitivity lens. Can focus as close as 35cm with superior protection with Weather Sealing that helps prevent water and dust.
Par-Focal zoom lens that can focus accurately at any focal length
The Samyang AF 24-70mm F2.8 FE autozoom lens is designed as a par-focal lens that can maintain focus even when zooming in or out. The focus position of the lens does not change with the zoom like a normal lens. Therefore, it meets video and cinema photographers who need precision AF system when changing focal length. which is usually present in the pro-grade cinematic lens group But with Samyang's lens element arrangement and optic design, this lens is a superbly functional autofocus lens. Especially when used with the Sony A7C, Sony A7s III and Sony A1 cameras that stand out for their focusing system.
A versatile wide-aperture lens up to F2.8 that comes with Custom Switch.
Samyang AF 24-70mm F2.8 FE is equipped with a "Custom Switch" designed to provide a convenient function for photographers. You can switch the lens operation mode between Focus Ring and Aperture Ring via Custom Switch.
Source: shopee.co.th