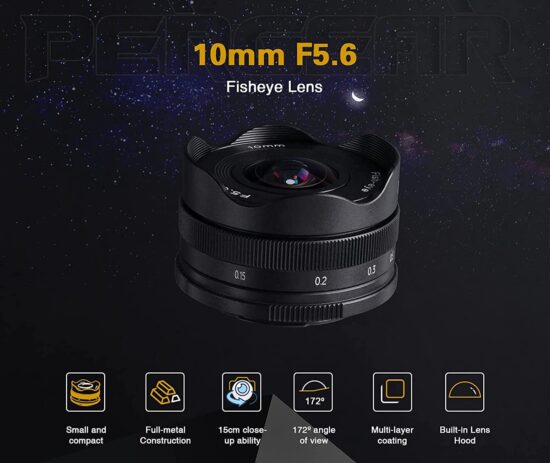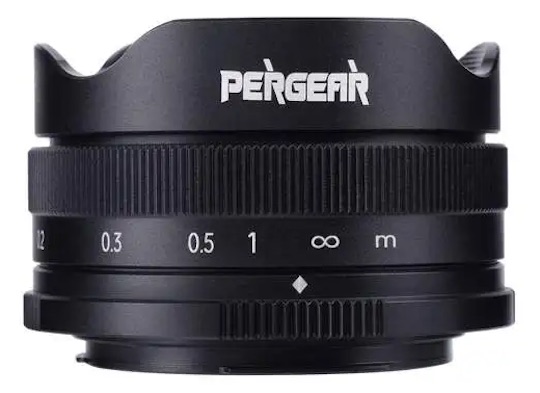 Pergear announced a new 10mm f/5.6 pancake fisheye APS-C lens for Fuji X, Sony E, and MFT mounts. The lens is now available for $89 at Amazon US, Amazon CA, Amazon UK, Amazon DE, and at the Pegear online store with free international shipping. Additional information:
Pergear 10mm F5.6 is with a 172-degree angle, while our previous 10mm F8 is 150 degrees, so the new one is with a wider angle than F8
For Fuji X, Sony E, MFT mount, Nikon Z mount is not available for this lens
Pergear 10mm F5.6 is a true fisheye lens, but for 10mm F8, you have to do some work with the pictures to have a fisheye effect
Solid metal construction: This light and compact lens is made of full metal and weighs only 100g.
Manual Wide Angle Fisheye Lens: With a 172 ° angle of view, it's perfect for exploring the creativity of wide-angle lenses by distorting and exaggerating normal perspectives. It's a great lens for close-ups and funny portraits.
Multi-layer coating: The front lens has a multi-layer coating to suppress stray light and ghosting for more contrast and color fidelity when working in strong light conditions.
Built-in lens hood: The built-in petal-shaped lens hood provides some protection for the lens, but most of all it helps to prevent stray light.
Please note: the lens is with manual focus and cannot be automatically recognized by the camera. Please change the camera setting to "Shoot without lens" before using this lens.