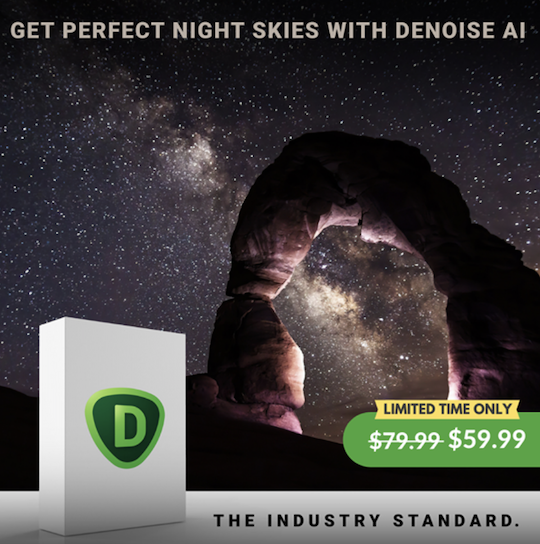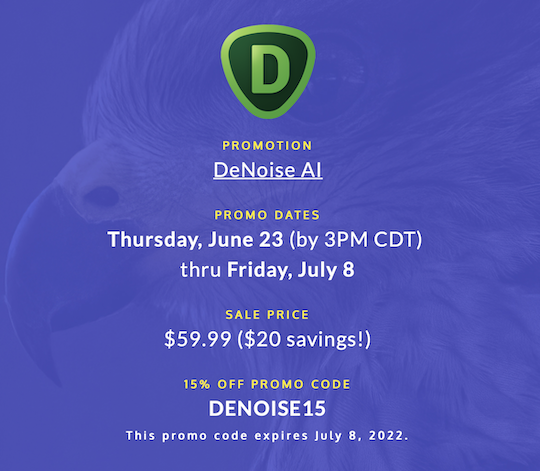 Topaz Labs released DeNoise AI version 3.7 which introduces improved color consistency with Low Light v4, updated TensorRT models, important stability improvements, and bug fixes:
Improved color consistency with Low Light v4 – Improvements to how we trained Low Light v4 allows us to provide more consistent color while reducing blotchiness in the highlights and shadows.
Updated TensorRT models – Users of supported NVIDIA GPUs will experience performance improvements, especially when using the RAW model.
Important stability improvements and bug fixes – Additional camera model RAW files are now supported, including the highly requested Olympus OM1. Bug fix highlights include plugging up a memory leak when batch processing using the RAW model, improved handling of batch import into Adobe Lightroom Classic, and a new workflow that prevents crashes when applying the RAW model to Canon CR2 files.
For a limited time, DeNoise AI is $20 off and you can get an additional 15% off with promo code DENOISE15 (expires July 8, 2022).
Additional information on the latest Topaz Labs DeNoise AI version 3.7:
Improved color consistency with Low Light v4
When using the Low Light v3 model in DeNoise v3.6, you may have experienced blotchiness, or patterns, especially in the highlight and shadow regions of very noisy photos. This was due to the Low Light model preserving some of the color in the noise pattern of the original at a very local level, in an effort to provide more consistent color.

To alleviate that issue, we adjusted our approach and reduced that color consistency constraint (say that three times fast 😁) to work on larger regions of the image as opposed to at a very local level. This new approach allows the model to focus on improving noise reduction without worrying about color consistency… yet. That's because we added a smaller model with the sole purpose of matching the input and output color, thereby establishing improved color consistency of the image after the model processes it.

With these updates, color blotchiness and patterns are significantly reduced, especially in the highlight and shadow regions. The improvements will also be most visible with images suffering from stronger color noise. Here are some examples that illustrate the improvements between Low Light v3 (in DeNoise AI v3.6.2) and Low Light v4 (in DeNoise AI v3.7).

Updated TensorRT models

With the implementation of TensorRT models, users who have computers containing NVIDIA GPUs that are 30, 20, or 10 Series will experience model performance improvements. We optimized the library used for NVIDIA GPUs from DirectML to TensorRT and have included these models with the DeNoise AI installer. While users should experience performance boosts with all models, the RAW model will yield especially huge gains when using a supported NVIDIA GPU. Here are two benchmark tests comparing the NVIDIA RTX 3080 and RTX 3060 performance of the DeNoise AI RAW model using DirectML and TensorRT. As you can see, the performance gains are notable.

Important stability improvements and bug fixes

We're constantly working to improve our support of new camera model RAW files. With DeNoise AI v3.7, we've added support for the Olympus OM1, as well as a number of other camera models. We've also improved the JPEG Quality and PNG Compression sliders, giving users more granularity for those settings when saving those respective files. Now, the slider for both formats goes from 1 – 100 instead of 1 – 10.

While DeNoise AI v3.7 has a large number of bug fixes, here are some notable ones:

We fixed an issue that prevented Adobe Lightroom Classic from not being able to import all images from large batch processes.
We've improved the reliability of applying the RAW model to Canon CR2 files. Previously, this could have resulted in the app crashing.
Previously when batch processing a large amount of RAW files, a memory leak could cause the program to crash. This should now be resolved.

Major Changes:

Updated Low Light model and some color correction changes
Updated Libraw to support OM-1 files
Added TensorRT models on Windows which should speed up processing on Nvidia GPUs in the 10, 20, and 30 series

Changes:

Added new processing error messages (updated wording, missing model dialogs, etc)
Added ability to cancel update in manual update mode
Added Ctrl/Alt/Shift + Scroll shortcuts for Masking mode to change radius/softness/opacity
Added show password toggle on the login screen
Added a Lightroom Classic troubleshooting link under the Help menu on Mac
Changed JPG and PNG quality/compression sliders go from 1-100 now instead of 1-10
– JPEG quality settings should now get reset to 95 whenever the user last used anything 30 or lower (prevents bad saves)
Changed default quality from 90% to 95% when preserving input settings to match default JPEG quality
Removed animations when loading files which should make the program feel faster

Fixes:

Fixed CR2 files crashing on open
Fixed Lightroom not being able to import all images in large batch imports
Fixed memory leak when saving a large amount of RAW images
Fixed JPG DPI not being saved when overwriting file
Fixed TIFF metadata being lost when overwriting file
Fixed apply/cancel both being hidden when in external editor mode with no images selected
Fixed black block issue on first proc on Mac
Fixed Make/Model exif data not being written correctly when it comes from manufacturer specific tags
Fixed issue where PS last filter would freeze forever
Fixed issue where PS last filter wouldn't show the preview for the image being processed
Fixed issue where manual update would be disabled after adding strokes in masking mode
Fixed mouse area for the file list view delegate not taking the entire area
Fixed zoom and view selection buttons being enabled when exporting
Fixed links inside of dialog boxes not being link colored
Fixed CoreML cache not being cleared between app updates which caused some processing errors
Fixed file list view height being incorrect when exporting in plugin mode