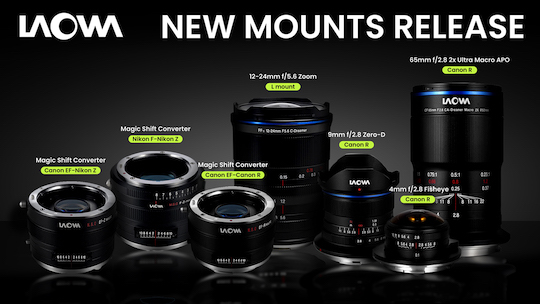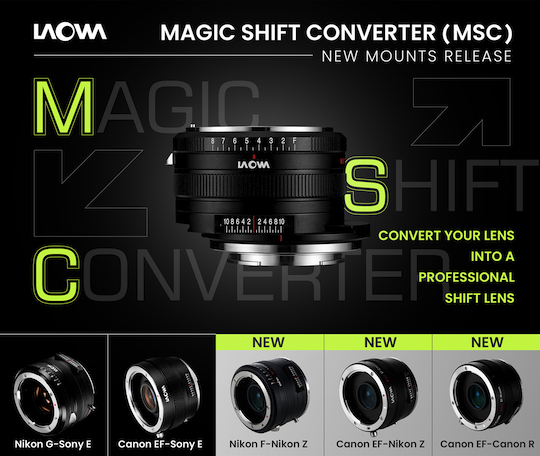 In addition to the new Laowa 19mm f/2.8 Zero-D GFX lens, Venus Optics also announced new mounts for the following lenses:
Additional information:
New mounts for multiple Laowa products

Anhui China, December 13, 2022 – Venus Optics, a pioneer in producing unique photo and cine lenses, announced today the addition of new mounts for the Magic Shift Converter (MSC), transforming the normal lenses into a professional shift lens with ±10mm shift capability. On top of the existing Canon EF, Nikon F and Nikon G to Sony E options, the brand is adding Canon EF to Canon RF, Canon EF to Nikon Z and Nikon F/G to Nikon Z to the portfolio. With the MSC, the Canon and Nikon DSLR lenses can be mounted on mirrorless cameras while retaining optical performance. It is optimized with the Laowa 12mm F2.8 Zero-D ultra-wide angle lens but you can use any full manual EF and F mount lenses, supporting photographers to capture straight architecture, interior and real estate photos.

Additional mounts for other Laowa lenses are also announced – new Canon RF mount for 4mm f/2.8 Fisheye, 9mm f/2.8 Zero-D, and 65mm f/2.8 Ultra Macro APO and new L mount for 12-24mm f/5.6 Zoom.

Laowa Magic Shift Converter Key Features:

Patented Optical System
±10mm Shift Amount
Low Chromatic Aberration
360° Rotation
Lens Support
Built-in Aperture Ring for Nikon F/G lens

Laowa 4mm f/2.8 Fisheye (Canon RF)
Featuring a one-of-a-kind 210° field of view, Laowa 4mm f/2.8 fisheye lens can create a circular fisheye perspective on Micro Four Thirds (M43) & APS-C cameras. Photographers can create a 360° full panorama image with a minimum of 2-3 shots. The lens weighs only 4.8 oz (135 g) which makes it extremely portable and allows photographers to have creative shots anywhere, anytime. The lens can also be mounted on DJI drones for creating a unique perspective you have never seen before. Mounts available: Canon RF (NEW) / MFT / Fuji X / Sony E / Canon M / Leica L / Nikon Z

Laowa 9mm f/2.8 Zero-D (Canon RF)
This exciting prime lens provides ultra wide-angle coverage up to 113° angle of view (100° on MFT system). The tiny size & light weight match perfectly with mirrorless cameras and are suitable for use with gimbals. 2 aspherical elements plus 3 extra-low dispersion elements successfully correct chromatic aberration, realize close-to-zero distortion & deliver excellent corner-to-corner sharpness. Mounts available: Canon RF (NEW) / Fuji X / Sony E / Canon EF-M / DJI DL / MFT / L mount / Nikon Z

Laowa 65mm f/2.8 2x Ultra Macro APO (Canon RF)
The Laowa 65mm f/2.8 2X macro APO is the first macro lens that Venus Optics designs for systems other than full-frame cameras. This is the only macro lens in the market that is capable of producing 2X life-size images and designed specially for mirrorless cameras. The new 65mm is remarkably light and compact which makes it ideal for macro photography, daily still photos, portraiture and more. Mounts available: Canon RF (NEW) / Fuji X / Sony E / Canon EF-M / Nikon Z

Laowa 12-24mm f/5.6 Zoom (L mount)
The 12-24mm f/5.6 zoom is an ultra-wide zoom lens designed for mirrorless cameras. With an angle of view from 84° to 121°, the lens can be very useful for multiple scenarios. It also has a fixed f/5.6 maximum aperture throughout the whole zoom range which gives the photographer much greater control over the photo. The lens is relatively lightweight in its class. It is compressed to be around 3.3″/ 84mm long and weighs about 1.09 lbs/ 497g. The lens is also compatible with 77mm filters (With the lens hood) and has a 15cm close-focusing distance.