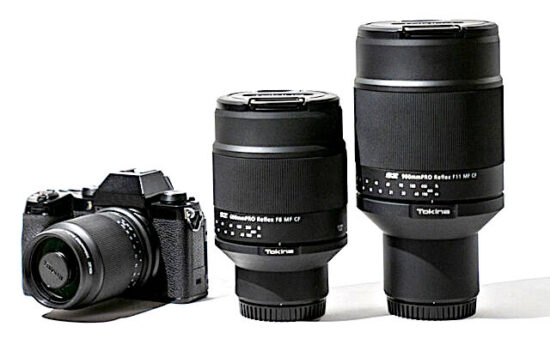 Tokina officially launched the trio of SZ PRO Reflex 300mm f/7.1, 600mm f/8, and 900mm f/11 MF CF compact super-telephoto APS-C lenses for Sony E, Fujifilm X, and Canon EF-M mount. Shipping will start on February 3rd. The full press release can be found here. Pre-orders should be open soon at Adorama and B&H.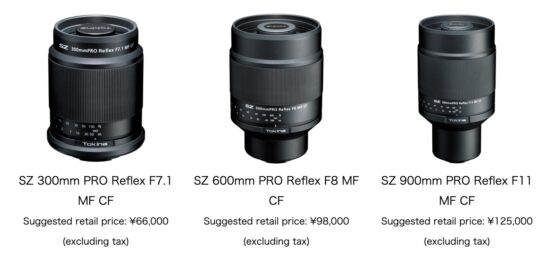 Additional information on the new lenses can be found here:

Features of the new lenses:
Ultralight and compact.
Better suppression of chromatic aberrations.
Low level flare and ghosting.
Integrated mount.
270° focus rotation angle.
Perfect round-shaped donut bokeh.
1:2.5 (0.4x) macro capabilities.
Tokina SZ 300mm PRO Reflex F7.1 MF CF
Body size: maximum diameter Φ61mm x total length 74.5mm
Supported formats: APS-C
Lens construction: 8 elements in 8 groups
Filter size: Φ46mm
Minimum Focus Distance: 0.92m
Maximum magnification: 1/2.5
Focusing method: Manual focus (front lens extension method)
Weight: about 235g
Hood: MH-461
Tokina SZ 600mm PRO Reflex F8 MF CF
Body size: maximum diameter Φ88.6mm x total length 125mm
Supported formats: APS-C
Lens construction: 8 elements in 8 groups
Filter size: Φ77mm
Minimum Focus Distance: 1.77m
Maximum magnification: 1/2.5
Focusing method: Manual focus (front lens extension method)
Weight: about 545g
Hood: MH-775
Tokina SZ 900mm PRO Reflex F11 MF CF
Body size: maximum diameter Φ96.1mm x total length 168mm
Supported formats: APS-C
Lens construction: 7 elements in 7 groups
Filter size: Φ86mm
Minimum Focus Distance: 2.61m
Maximum magnification: 1/2.5
Focusing method: Manual focus (front lens extension method)
Weight: about 725g
Hood: MH-861
Tokina announced three new lightweight, compact super-telephoto manual focus lenses for APS-C mirrorless cameras