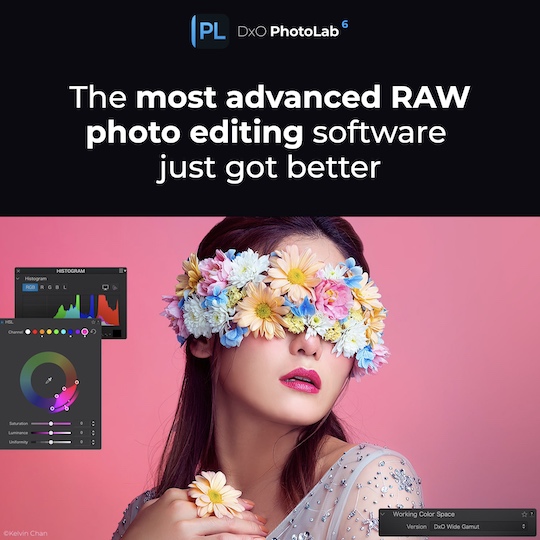 Today DxO announced a new update to their RAW photo editing software – PhotoLab 6.3:
DxO PhotoLab 6.3 brings new tools for perfect color:
Simulate paper & ink when soft proofing
Edit JPEGs and TIFFs — not just RAW files — within PhotoLab's vast new working color space
Access the maximum image area captured by your sensor
Press release:
DxO PhotoLab 6.3, the most powerful RAW photo editing software, brings a new level of control over color and a host of other upgrades
Photographers can now simulate the ink and paper when soft proofing and benefit from the new DxO Wide Gamut when editing JPEG and TIFF files.
Paris (France): DxO Labs, the company that pioneers cutting-edge software for demanding photographers, today announces a new version of DxO PhotoLab, the most powerful raw converter on the market. Version 6.3 introduces the ability to simulate papers and inks when soft proofing, expanding the performance of DxO Wide Gamut, as well as giving photographers the option to edit JPEG and TIFF files within this powerful new working color space.
In addition, upgrades have smoothed the installation of DxO Optics Modules, and photographers can now view the entire image area (going beyond what photo editors typically display) when cropping.
"We're proud of continuing to evolve color technology in our software that gives photographers confidence and precision in their work," explained Product Manager Fabrizio Dei Tos.
With these updates, version 6.3 reinforces DxO PhotoLab's position as the industry's leading RAW photo editing software — and still without a monthly subscription.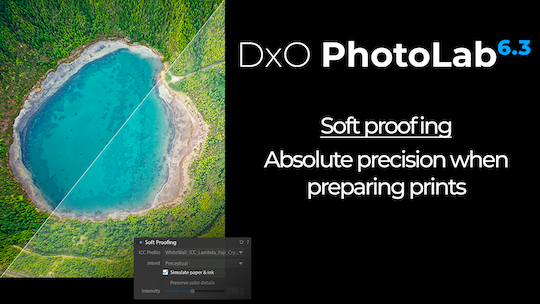 Soft proofing: Absolute precision when preparing prints
DxO PhotoLab 6 introduced a vast new working color space and with it, soft proofing options that give photographers greater precision when preparing their images for display. Version 6.3 develops this further, adding paper and ink simulations when soft proofing, and ensuring that prints are as accurate as possible.
DxO PhotoLab's soft proofing palette already features the unique 'Preserve color details' slider which protects color detail in highly saturated parts of the image when moving to smaller color spaces. In addition, it now has a checkbox to activate paper and ink simulation as specified by the selected ICC Profile, giving photographers even greater accuracy when preparing their files for printing.
DxO Wide Gamut now supports RGB image files
DxO's vast new working color space was designed to give photographers the ultimate color workflow for their RAW files. With version 6.3, photographers now have the option to edit JPEG and TIFF files in the new color space, giving greater flexibility when editing files, and maximizing color capabilities.
See everything that your lens gives you
Photo editing software typically crops an image as it corrects distortions, making the image conform to the standard ratio of the camera. This can cause part of the image to be lost. Sometimes photographers might want to access the maximum image projected by the lens and DxO PhotoLab 6.3 offers this option when using the Crop tool.
Installing DxO's pioneering Optics Modules is now more efficient
For maximum image quality, photographers have long been prompted to download DxO Optics Modules – corrections that have been produced in DxO's own purpose-built laboratory. Now, it's possible to quickly select or deselect all of the modules that a photographer wants to install, making the process smoother.
Price and availability
DxO PhotoLab 6.3 (Windows and macOS) is now available for download on the DxO website (https://shop.dxo.com/) at the following prices:
DxO PhotoLab 6.3 ESSENTIAL Edition € 139 / 14,900 円 / £ 129 / $ 139
DxO PhotoLab 6.3 ELITE Edition € 219 / 23,900 円 / £ 199 / $ 219
A free, 30-day trial is available. Existing owners will be prompted to upgrade for free from within the application.
DxO released 1,693 new Optics Modules for Canon EOS R6 Mark II, Fujifilm X-T5, Sony A7R V cameras and Sigma/Tokina lenses